You Meet The Nicest People On A Strom
---
There I am sitting at the Huntington Border Crossing, talking on the cell phone to my wife to see if the line up at Aldergrove is shorter by looking at the webcam. Just as she says that she can see me on the Huntington webcam two gents on silver Wees pull up beside me. Since it took us about 35 minutes to make it to the front of the line up, I had a good chat with the Stromers. Turns out they were doing the same loop of the northwest corner of Washington State as me, just in the opposite direction.

I bid farewell to my new friends, enjoy my ride on some fine twisties on a warm day. Wave to couple of other Stromers, among hundreds of other bikes, and eventually make my way back to the border. I clear customs fairly quick (I lucked out and picked the faster line), pulled over to the side to put my helmet back on, look over at the line up to see how long it is now, and who do I see at the back of the line (in the slow lane - sorry guys) but my friends from the morning. We give each other a big wave, then I motor on home.

And on a final note, after averaging a none to steller 50mpg(Can), mainly because I always seem to be running at 6000rpm on the highway, today, because of the lower speeds and not hardly exceeding 5500rpm, I averaged 59.3mpg, that's much better. The 16 tooth countershaft sprocket goes on this week.......
---
[B]Paul[/B]
[COLOR="Red"]2006 DL650 "Alien"[/COLOR]
[COLOR="Navy"]2005 DRZ400S "Optimus"[/COLOR]
------------------------------
[SIZE="1"]2007 TTR125L (wife)
2007 TTR90 (son)
2009 PW50 (daughter)[/SIZE]
Junior Trooper
Join Date: Nov 2007
Posts: 2
You sure do.
It was a nice suprise to be able to pass the time with you Paul.We had a very pleasant ride , what a great area to be in.
We did switch lanes as you left but the other lane is always the faster one.
On the border...
---
Yup. Enjoyed talking to Paul about the bikes and the various set-ups everyone has. Love the way these machines are instant ice-breakers.
On our trip, Bob, who's on the left in the photo, spotted a great bumper sticker in Sedro Wooley: "Who would Jesus bomb?"
A great day and a great ride.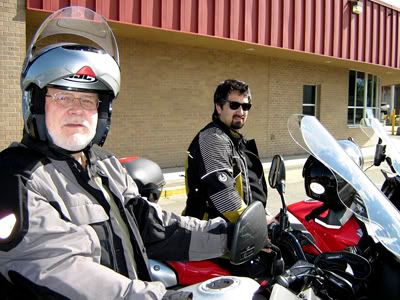 ---
[I]Love the horse beneath you. - Cossack saying[/I]

[B][COLOR="DarkRed"]DL650 2008 black[/COLOR][/B]
[SIZE="2"]
[B]Member No. 0006 of the Flat Black Club[/B]
Givi V46 top case w/light kit
OEM center stand
CeeBailey 23.5[/SIZE]
OEM Hand guards
Rapid Transit tank bag