Scaring the children and grannies now.
---
Here you go Tom, a pic for you. I finally got around to getting them on. With the pipes and the decals I'll be scaring the grannies and children will have nightmares about the evil, black beast bike.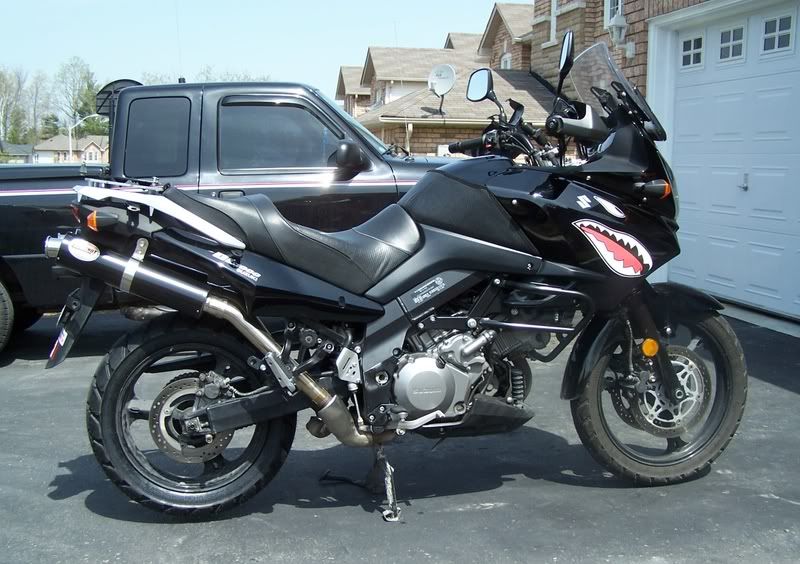 Thanks go out to Gerhard for the idea.
---
Ian

'07 KLX250S - Road
'00 CBR600F4 - Track

"The World is a book, and those who do not travel read only a page" - St. Augustine

I thought you were hiding the motor like Gerhard did.. I really like the teeth!

I have been thinking it would be cool to put some teeth under the headlights to make it look like a scary face from head on.

There was mention rcently that the more a bike looks like a face from front view the more drivers see it.. the facial recognition part of our brain does a great job at seeing faces in spite of lots of background clutter.

.Tom
---
2006 DL650: 202,000 km 125,500 miles, Sold
2012 DL650 139,500+ km, 86,700+ miles. Sold
2015 DL1000 New July 2015 200,000+ km, 125,000 miles.
This can help preventing from cars pulling out in front of you (SMIDSY)
SMIDSY detailed report
.
$tromtrooper
Join Date: Feb 2006
Location: The gateway to Cottage Country, Ontario, Canada
Posts: 4,406
Looks sweet Ian.

I still want to hear those Holeshots really sing. Too much sand on Southwood for you to really crank it up.
---
DL1000K6

Proud to be a Road Toad...Member #5
Have you added the horn from hell yet????
---
2007 Wee Strom
Stromthusiast!
Join Date: Feb 2007
Location: Pembroke,Ont,Canada
Posts: 234
---
AHHH ! The finest form of flattery!
Lookin real good Shep!
Gerhard: