What's the coolest tool you've bought in recent years?
---
Mine has got to be " the spring installation tool" , just purchased from AVC..

Years a go I set out to install a center stand on my BMW 650 Dakar, followed the directions to a T.. Every thing going according to plan until it came to installing the double spring.

Prying, cursing, prying, cursing, blood from my knuckles , more cursing, having now taken most of the paint off the stand because I was using it for leverage.

Finally I got it .. after 20 plus minutes .... Touched up the paint ..almost good as new.

The skin finally grew back on my knuckles...

Fast forward 2014 ... Winter, new strom, new center stand, followed the directions ..once again to a T... Came time to install the spring.. With the spring installation tool in hand I hooked it into the sping , positioned it in line with the tab on the stand... In a nano second the spring was pulled into place...amazing

Cheers

Gary
I've always just shoved nickles between the coil stacks when stand springs are recalcitrant. That and installing the pivot bolt after the spring is hooked at both ends keeps the knuckles pristine.
Favorite tool acquisition has to be a 3/8ths t-handle socket driver with a roller barrel on the shaft. Its more fun to use than my model t crank looking speed wrench. I liked it so much I added a 1/4 inch version as well.
---
An original quote by Nostromdumbass;

Facebook: making humanity yearn for the times when people used to talk behind others backs.
---
2007 Blue DL650 V-Strom - running out of farkle's to do so bought the VEE
2006 SILVER DL1000 - Running out of Farkles also!!!
2017 EX300 Kawasaki Ninja
Las Vegas, NV
For me, it wasn't a tool I bought but one that was given to me by a local mechanic - it makes removing and refitting those spring clamps on coolant hoses dead easy.
---
Ron B. VK2OTC
2007 Yamaha XJR1300

RIP Bucko
1979-2008 - Riding on forever
Quote:
Mine has got to be " the spring installation tool" , just purchased from AVC..
This
is my latest favourite
---
Marc, rider of a black 2009 V-Strom 650A ABS

"To the Companion who knows how to go light and fare hard, who is friendly with the rain, and finds no road too long." William Blake in "Brown Waters and other Sketches", Malbaie, May, 1915.
I tell ya I bought a cordless lithium powered Dremel about 6 months ago and I love it. Makes tedious jobs easy and I pretty much find excuses to use the damn thing.
---
2006 DL650
Growing farkle list: Aux LED's on SW Motech Light Bar, Bark Busters, OEM Touring Screen, Bestem LED Top Case, Charging Port, DL1000 Seat, Madstad Bracket w/MP Cycles Windscreen, Pat Walsh Design Radar Shelf, Neslon Rigg CL-855 Luggage, Givi Engine Guards, Sargent seat.
Iron Butt Association Member - Qualified with 1,118 mile Saddlesore
The Cool'ist tool has to be the "Cool Tools" web site:
Cool Tools
I follow it via RSS and continually learn of neat stuff when folks post their favorite widget of the day. Lots of cool tools; I've bought several of them for myself.
---
Cheers... [B][I][COLOR="Red"][FONT="Comic Sans MS"]Russ[/FONT][/COLOR][/I][/B]

2012 DL650AL2 Adventure (Sold)
2013 TU250x
10" Knipex parallel jaws pliers. Push the button to lock the size, like having a pliers AND 13 open end wrenches,
up to 1 3/4". Made tough enough to use with a "persuader" over the handles for more torque. Brown Aviation Tool
aka, browntool.com. Axle nut, fork caps, most bolts, crimptool, etc.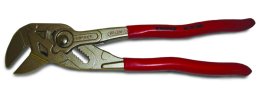 I got one of the old fashioned "Ford" monkey wrenches from them too. Very handy for square plumbing fixtures
or working stuck fasteners in skinny places with a persuader pipe over the handle.
---
Austin
2002 DL1000 - 70K of joy, so far...
1978 GS1000 - One owner, still putt'n
Not really a tool but a pair of safety glasses that my boss gave me at work. They have movable lights on each temple and bifocals as well. They work great for detail work or reading prints. Besides that, my wife bought me the Dewalt 20V drill and impact driver kit. I can damn near take apart the entire bike with them.
Join Date: May 2012
Location: Avondale Az
Posts: 491
---
My two wheel history
'72 Honda XL250
'73 Yamaha RD350
'75 Yamaha XT500
'76 Yamaha XS650
'78 Yamaha XS750
'77 BMW R100/7
'76 Triumph Bonneville T140-V
'07 Triumph Bonneville America
'11 Suzuki V Strom 650