Please Keep Your Stuff At Home!
---
From the National Weather Service .....

A COLD BLAST OF CANADIAN AIR WILL PRODUCE UNSEASONABLY COLD TEMPERATURES IN MIDDLE TENNESEE THIS WEEKEND...AVERAGING 20 TO TO 25 DEGREES BELOW NORMAL.

THIS UPCOMING EASTER MORNING COULD BE ONE OF THE COLDEST ON RECORD. FOR EASTER SUNDAYS THAT OCCUR DURING THE FIRST FIFTEEN DAYS OF APRIL...LOW TEMPERATURES AT NASHVILLE ARE MOST COMMONLY IN THE 30S AND 40S. HOWEVER...LOWS THIS UPCOMING SUNDAY ARE EXPECTED TO RANGE FROM THE UPPER TEENS ALONG THE CUMBERLAND PLATEAU TO THE 20S OVER THE REMAINDER OF THE MID STATE. THE FORECAST LOW AT NASHVILLE IS 25 DEGREES.

I wasn't sure who to blame for this cold weather we are having, and now I see that it's coming from you guys. We would appreciate it if you would please keep your cold up there, we don't need it down this way. I know, you were just being neighborly and trying to share, but we really don't need it! :mrgreen:

Just kidding guys. Just wanted you to know that you aren't the only ones with cold weather right now. It's spread all the way down here to. The high here last Monday was 75 and on Tuesday it was only 50. It's been downhill since then and today is forecast to top out about 40.
OK now I feel much better.
The forecast of +16 (60F) for Sunday got changed to +2 (36F) and I was bummed but on the bright side I guess its better than being in Nashville
Are you guys down there sucking the cold air from the North Pole across us?:rolleyes:
Every weekend I decide I'm going to get out my winter-stored-in-my-shed Wee only to be met with near freezing temps. A week ago the forecast was plus 10 celsius for tomorrow. Now it's barely plus 1. I wish I could have a job where I could get everything wrong (the weather) and still have a job the next day. Grrr... Sorry for the crappy weather SCraig... but hopefully something warm will come your - and our - way. Eastern Canada is supposed to be hit with a major dump of snow today. Not good....


S
Sorry, guys. No, I don't think we are pulling air off the pole and making it cold up there, but you never know.
It's been very nice here the past few weeks. I rode to Tupelo, MS a couple of weeks ago (450 miles round trip). I wore my light-weight gear and actually had shed my jacket liner, over pants, and leather gloves before I got back home. It was about 60 when I left and mid 80's when I got home. Now we are back in winter mode and I hate it
Hopefully things will start to get better for all of us pretty soon and we can get out and ride some more.
I really do wonder about the weather forecasts sosmetimes. The forecast for today has been changed frequently over the past few days. Yesterday they said the high today would be +2 . It is currently +9 and when I was out riding it was somewhere around 12.
Sure was nice to be out on the open road and to try out some of the farkles that got installed over the winter.
The steble horn scares deer by the way.
It is CRAZY here. We set an all-time record low last night of 24F (-4C). I rode to my mother's for Easter today and it was just above freezing when I left. It wasn't too bad coming home but we are still WAY below normal while only a couple of weeks ago we were way ABOVE normal. Sooner or later I guess it will stabilize and we'll all have a decent summer but right now it is crazy and I can sympathize with you guys in the frozen north
We were surprised today with a nice plus 13 C - so I was able to do all the spring maintenance on the bike - oil change in progress... - I still can't believe the weather in Nashville. Crazy.
Actually the farther the cold is from here the happier I am.. Perhaps it won't snow tomorrow. I'm not holding my breath though. :rolleyes:
---
Nothing is more destructive of respect for the government and the law of the land than passing laws which cannot be enforced.
Albert Einstein

14 DL 1000
15 Capo
Stromthusiast!
Join Date: Jan 2007
Location: Sandy, Ore. USA
Posts: 942
Weather forecasts
---
"The difference between 'climate' and 'weather' is 'climate is what you expect; weather is what you get.'"

What I hate is when I plan my day based on the forecast and it turns out to be totally different. Here's an example ... At 9am on Sunday morning the local news channel's weather man (Jim Donavan on KGW, Portland) said that rain was on its way but wouldn't arrive until 4pm at the absolute soonest, and would more likely not get here until 6pm -- and even then it would only be a few sprinkles.

At noon I was riding in a downpour.

"They can't forecast their way out of a wet paper bag." I've heard that the Pacific Northwest in spring time is the most difficult time/place to forecast in the lower 48 states.
---
2007 Suzuki V-Strom 650, "The Grey Mule"
2012 Suzuki GSX-R750, "Shoot to Thrill" (sold 2017)

Author, "[URL="http://www.taesia.com"]The Taesian Chronicles[/URL]"

BLOG "[COLOR="DarkSlateGray"][B]Two-wheeled Astronaut[/B][/COLOR]": [url]http://www.ruckerworks.com/category/motorcycling/[/url]
It was supposed to snow here on Saturday, but this is what we had instead...
:-D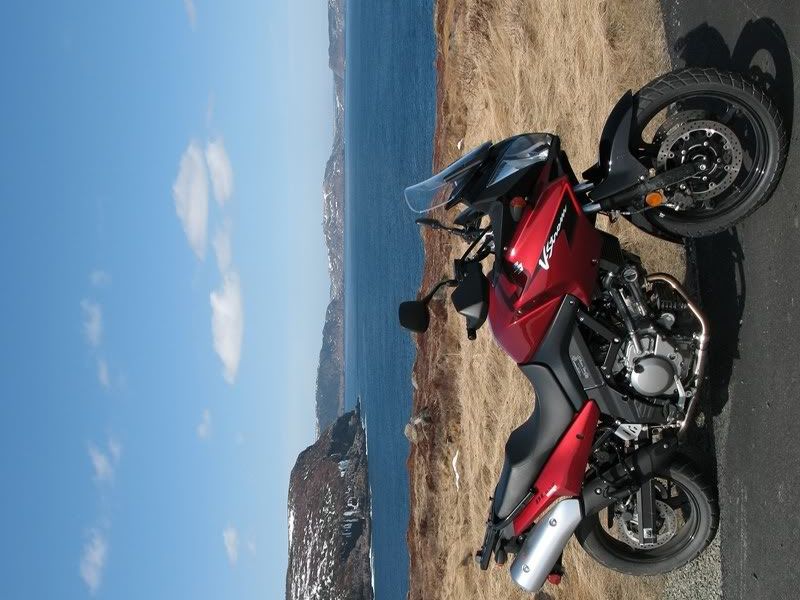 ---
2008 Yamaha FZ1
2009 Kawasaki KLX450R