Love it, Dave!!
Thanks for those.
Stromthusiast!
Join Date: Apr 2007
Location: Melbourne, Australia
Posts: 13
Here is mine. I like to think that Mr. Farkles is worshiping it, but in reality he preparing to to burn it because he can't stand how dirty it is.
Only farkle you can really see is the Euro sports screen I got for it a few months ago.
K1W1 - I have stolen your link to the photo because I am too lazy to put my own up
My WEE With Farkles
---
Here is my WEE.
Heated Grips
Hand Guards
Tomtom Rider Gps
Braided Brake Lines
Staintune Exhaust
Jmv Lowers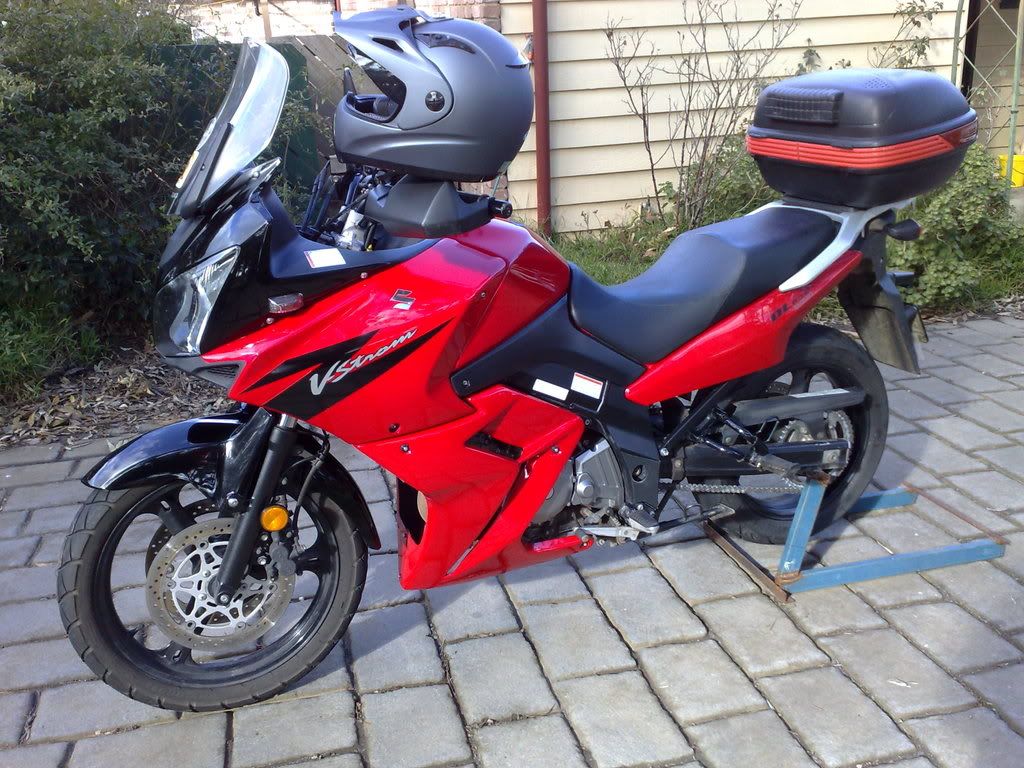 Stromthusiast!
Join Date: Apr 2008
Location: Gippsland Lakes, Australia
Posts: 58
I thought it about time that I added mine.
Geared up and heading south.
---
[B]SmartArt[/B]

[I]"Shiny side up, rubber side down"[/I]
---
Last edited by SmartArt; 10-11-2008 at

05:32 AM

.
Thought I would stick my wee baby up here: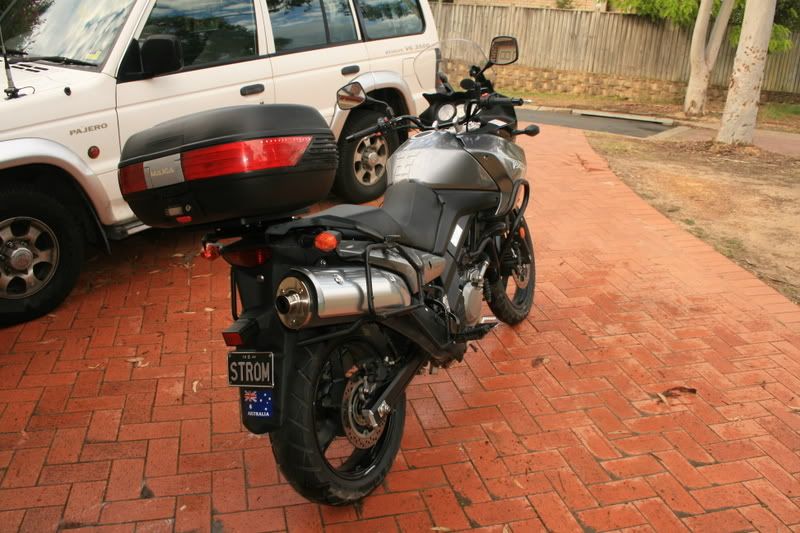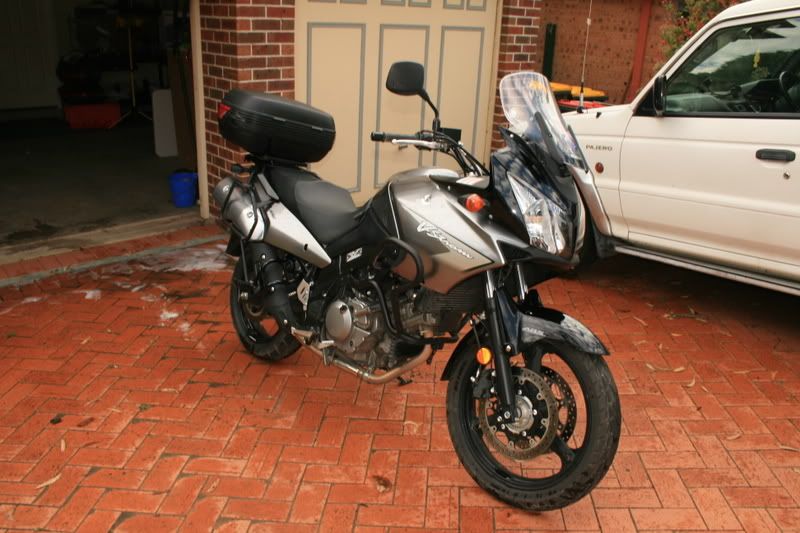 Cheers
GFB
---
Last edited by Geordie Fat Bastard; 10-22-2008 at

07:38 AM

.
Stromthusiast!
Join Date: Dec 2007
Location: Canberra, Australia
Posts: 486
GFB, WTF?
you're not holding a snake are you? dead or alive you crazy fool...
how many times i've accidently run over guys, or come close to it, my heart always double it's beats and I raise my legs high....
Stromthusiast!
Join Date: Apr 2008
Location: MELBOURNE EASTERN SUBURBS
Posts: 27
My other Strom
---
Hi folks,
Thanks to all that have posted pics up of their respective Stroms.
i thought i would add my other Strom which is currently for sale.
link is
http://www.bikepoint.com.au/DesktopD...lse&TabID=3424
Cheers VStrom Pete
2007 DL 650 43,000k's on the clock
Farkles:
OEM Handguards
SW Motech
radiator guard, bashplate,
crash bars,
pannier brackets
Pelican side cases. Which are a real pain to pack.
UHF radio
Madstad windscreen adjustable mount
Airhawke seat for those long trips
Lambs wool seat cover (which I've only used once)
---
Last edited by RodC; 11-02-2008 at

02:04 AM

. Reason: After thought
Nice pics RodC, where is the ant mound....looks just like one I have driven past hundreds of times while on highway patrol near Karrajini National Park in the Pilbara, WA. Seeing your bike like that makes me yearn for the open road....did a four week trip last year
---
DL650K7, OEM centrestand, Givi crashbars, Ventura rack and bag,SW Motech Quicklock Tank "Trial" Bag, Oxford Soft Pannier Bags, Ventura headlight guard, Dan V Skidplate, Dan V Radiator and Oil Cooler guards, Dan V Luggage protector, Hyperlites, Madstad windshield bracket, Eagle Screen, Pyramid Fenda Extenda, Crampbuster, Kaoko Throttle Lock, Acerbis Handguards, Bicycle handlbar Highways Pegs Mk II, Autocom & UHF CB, Pacsafe.
Join Date: Apr 2008
Posts: 13
Fast Farkles
---
Fast Farkling
Please be gentle this is my first post to this forum.
I have had DL1000 for 4 weeks and have been adding accessories at a great rate.
The list so far:
GSXR 750K3 4 pot Front Calipers with adaptor plate
GSXR1000K2 Front Master Cylinder (Standard Brakes are Woeful)
HID Bi Zeon H4 lights
Akaprovic pipes,
Power Commander 3
K&N Filter
Hagon Rear Shock
Progressive Fork Springs
Gold Valves
Murphys Fork Brace
Stainless Steel Braided Brake Lines
EBC HH Brake pads
Givi Screen D260
Madstad Screen bracket
Metzler Tourance tyres
Givi Engine Bars
Amotostuff engine guard
HB Center Stand
Radiator Guard
Symtec heated handlebar grips
Mirror extenders
Magellan Explorist XL GPS
Fastway Footpegs
Removed secondaries and blocked Pair valves
Moto Sport Hard backed soft panniers & Rack
Ventura bags and bar.
Berry Woolstore Sheepskin pad.

Thats as much as I can remember but there is still more to come. :
I will try and add some photographic evidence.
Regards
Big John :-D
---
Last edited by bigjohn; 11-04-2008 at

05:18 AM

.