Adventuretech Above the Dash GPS Mount
---
By request we started making above the dash mounts for GPS and now of course smart phones and have versions for all V-Stroms 2004 and newer.
These mounts are designed to support the Ram Mount family of products and comes with a 1" Ram "B" ball. You add a short Ram arm and a cradle for your device.
Unlike handlebar mounts and tank bags, our mount places your GPS device or smart phone in an ideal location, just below your normal line of sight. This allows for a quick check while leaving the road and other vehicles within your field of vision.
Like most of our products, it was priced at half the cost of a similar commercial offering.
More information and reviews can be found here
Rick's GPS Above the Dash GPS Mount
and orders can be made through our website
Over the Dash GPS Mounts - AdventureTech, LLC.
---
Last edited by richlandrick; 02-03-2014 at

07:49 PM

.
By the way, our GPS mounts works with the Pat Walsh shelf ...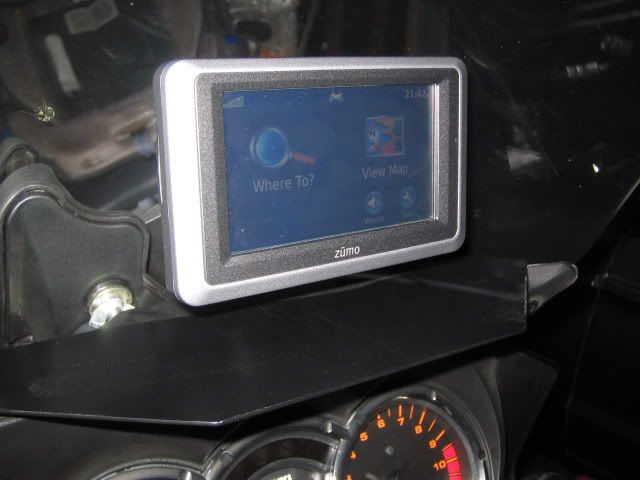 ..... and comes two optional version by request, an extra tall and a two ball version.
Our over the dash GPD/Smart Phone mounts are on sale. Normally $60.
Now on sale for $50.
See our website for ordering and other accessories for V-Stroms.
http://www.adventuretech.biz/
I noticed on another thread you mentioned you are now a dealer for ram products. Are you able to source the X-Grip and arm as well or do you just sell the balls?
---
2018 Vstrom 1000
2014 Kawasaki Vulcan 1700 Nomad
Yes we can source the arms and the X-grip. I have an X-grip sitting here in front of me now, but we it will take a few days to get them in stock. I'll order some tomorrow and post when they arrive. Shouldn't be more than a week to get them in stock.
I got mine installed today, was very easy! It took me an hour or so but I was taking my time and trying to sort out a new windshield at the same. Wound up just going back to the stock windshield, the new one I bought was to tall.

Anyways, the product is FANTASTIC. Very well made and incredibly sturdy. I was surprised by how thick the metal was, it will outlast the bike lol

Gloria was also fantastic to deal with, I live in Canada and had it brought across the border via my employers warehouse. This meant that I had all sorts of crazy requirements for Gloria and she did everyone of them!

Thanks for the great support guys! Tomorrow morning I am going to tackle the fork brace and mirror extenders. I got a new higher seat and now I think I may not have needed the pet lowering kit. I am going to ride with just the seat for a bit and see how it feels before changing it.
---
2018 Vstrom 1000
2014 Kawasaki Vulcan 1700 Nomad
Forgot to add a couple of pictures!

The second picture is taken from my Samsung Galaxy S3 while mounted to the X-Grip. This will allow me to take photos/videos from my phone. I will have to try and adjust it a bit to raise the phone up. I probably should have bought the 2" mount to clear it, I found one that was an 1.5" which works fine for everything but the camera lol. Cheaper alternative to a Go Pro and lets you have a GPS, video recorder and phone all in one!
---
2018 Vstrom 1000
2014 Kawasaki Vulcan 1700 Nomad
https://www.youtube.com/watch?v=X1hs5qQqoSo
video taken with a Galaxy S3, X-Grip and Richland Rick's above dash GPS mount. Wish I had of went with a longer arm to get a better picture but I mainly bought this for use as a GPS with the co-pilot app and for that it is PERFECT.
Anyways thought I would share the video to show another possible use
---
2018 Vstrom 1000
2014 Kawasaki Vulcan 1700 Nomad
Wow! I probably appreciate that video more than anyone else for different reasons, but I like it!

And, I'm sure Ram will sell you another longer arm for the camera.
I'm getting cold just watching that video. I'll take Phoenix summer heat ANY day!!
Sent from
Motorcycle.com App
---
2012 DL650A Adv.