Adventuretech Auxillary Shelves
---
Yes,
its 2014
and we are still going strong....
http://www.adventuretech.biz/
There is of course plenty of room for switches, lights, and other gizmos on the black horizontal part of the V-Strom fairing. However, I wasn't comfortable with the idea of reaching under the handlebars while riding to flip a grip heater switch or running power cables under the handlebars. It just didn't seem safe to me as I turned my handlebars back and forth and made motorcycle noises in the garage. It occurred to me that it was much easier to reach between the handlebars than to reach under them. After two years of use I am very happy with my little shelf. Hundreds of happy owners have indicated they like it too.
The shelves are made on a CNC mill from 0.125" 6063-T6 aluminum. Pricing varies depending on color and complexity, but they start at $50 for a simple two hole aluminum shelf.
http://www.adventuretech.biz/
The face (surface that is visible after mounting) has a brushed finish.
For an additional $5 I can powdercoat the shelf matte black
(matching the black hardware on the handlebars).
Mine (top above) supports a powerlet, a grip heater switch, and a
LED Battery Gauge with Remote Flush Panel Mount LED
the DL650 shelf mounts using the two existing cable guide bolts. Some adjustment to the cable guides may be necessary on th eVee and Wee depending on what you install. There is no problem with cable clearance on either side. The shelf for the 2012 DL650 replaces the stock cable guides. The 2012 DL650 shelf can accomosate a volt meter center, two sockets, and at least two switches, maybe more depending on hardware.
I will include TWO ROUND HOLES (one on each side) to fit your needs at NO Charge, or ship it with no holes at all. For rectanguler meter holes (e.g., Datel volt meter) add $5.00.
IMPORTANT NOTE ABOUT SWITCHES AND METERS :neutral:
Please plan for round switches. Switches with cut out sizes larger than 13/16" (0.8125") and 0.795" diameter are almost never really needed. Four switches of this size can easily fit on the shelf two per side, or a socket on one side and two switches on the other. We can make a hole for your switch or you can use one of ours
http://www.adventuretech.biz/electri...main-page.html
Meters…
I have programs for both the rectangular [1.336 (33.93)W × 0.838 (21.29)H] and new round Datel voltmeters. We can do others (e.g., 42 x 24 mm meter cut-out)if you provide the dimensions. It is very easy to buy a volt meter that is unnecessarily too big and will not fit. We also have experience with a lot of meters, so before you buy that cheap Chinese Ebay meter ask first (and then don't buy it).
See below for DL1000 pic.
The DL1000 shelf mounts on the right cable guide and upper left tripple clamp bolt.

A powerlet uses an 18 mm hole, the heated grip black rocker style switch with the Symtec grip heaters takes a 13/16", standard ciggar lighters (e.g., Casa 12 VDC panel mount, Marinco marine 12V sockets) tand those we sell use a standard 1.125" hole.
http://www.adventuretech.biz/electri...main-page.html
I will endevour to catalog them as best I can, but if you want anything other than the above please state the hole size in inches or mm to avoid a shipping delay.
Payment can be made via credit card or PayPal on our website
http://www.adventuretech.biz/
Here is a discussion of things people have put on our shelves
http://www.adventuretech.biz/typical...a-shelves.html
and more on what fits
http://www.adventuretech.biz/whats-fits.html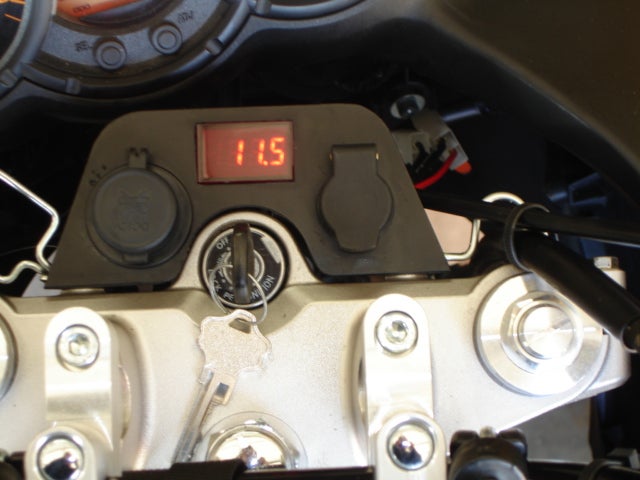 ---
Last edited by richlandrick; 02-03-2014 at

07:09 PM

.
IMPORTANT NOTE: I make all the custom shelves myself. I will be attending the eastern V-Strom agthering, touring Florida, and slowly meandering back to WA state during the month of April. So no custom shelves will be made during this period. We will have a few blank shelves and shelves with two cigarette style power sockets pre-cut ready to go. You can contact the office at 509-521-7040 for availability. You are welcome to make an order, but expect delivery of any custom shelf orders to not occur until mid June.
Our other products will be shipped out promptly despite my absence. I guess they really don't need me around here that much after all. YEA!
I recently installed my shelf and it looks great. I had Rick provide two 12V power outlet holes and will eventually install a second outlet but for now I covered over the extra hole with 3M DiNoc.
---
2012 DL1000 Adventure (Tinkerbell)
PC-V, TRE, CR8EIX , ECM, K&N, RDL, PR4, PC-8, EB H4, WERKS, Madstad 22", 17/43 gearing, AdventureTech: Fork brace, shelf, mirror extenders, SpeedoDRD, wheel spacer, Head's-Up voltage monitor, Goldwing pegs, Sonic 1.1, Wolo Bad Boy, ExTuff Helmet Hook.
FYI,

I'm back and making shelves again.

5150 miles and a pound of bugs on my three week old Vee2.

Rick
Stromthusiast!
Join Date: Mar 2013
Location: North Bay, CA
Posts: 116
Welcome back Rich.

Hope your ride was a good one!

Keep a look out for an order or two over the next few weeks!
---
2012 DL1000

Delkevic Carbon Fiber Exhaust, Corbin Cayon Dual Sport with Back Rest, Givi Crash Bars, SW-MOTECH Engine Guard, SuperBrace Fork Brace, Oxford Premium Heated Grips, Power Commander V, Updated ECU and Plugs, Pro Taper SE Raptor bar, DL1000 Adventure decals, Adventure Tech foot controls, Adventure Tech rear spacer, Adventure Tech Kick stand Foot, OEM Top case and Side bags, OEM Hand Guards. The farkles will continue....
I have been asked a few times about whether not there is a ambient temp gauge about the same size as the Datel volt meter. There is.
Mini LED Digital Thermometer
they also have a volt meter that is the same size. A pair of the volt meter and temp gauge can be put across the top center of any of our shelves.
I would like to get a shelf for my 2009 650 DL to mount a gear indicator, a cigarette lighter and I'm not sure what I would do with the extra space. Maybe a clip for sunglasses.
Any thoughts on which gear indicator to get which would dictate the size of the hole?
The only gear indicator small enough to be mounted in a hole is the GiPro DS. The GiPro ATRE is too large for a hole, but can be surface mounted (e.g., double faced tape).
Here is a discussion of what fits on a shelf.
Whats Fits - AdventureTech, LLC.
We have another page on the site with suggestions and typical items installed on shelves.
Rick
---
Last edited by richlandrick; 07-22-2014 at

04:58 PM

.
I thought this customer's shelf might be interesting to others. It has a standard cig power socket right, an "Add-On Accessories" brand temp gauge in the middle, and the new round Datel Volt meter right side.
Stromthusiast!
Join Date: Apr 2013
Location: South San Diego
Posts: 26
Just installed Rick's shelf onto my 2013 dl650a. I have to say, the service from Rick was excellent- he placed the holes I needed into the shelf exactly as I asked. I installed a 12v socket and a dual usb socket as well as a signal dynamics heads up voltage indicator and a dpst switch that I ordered from Eastern Beaver (along with the dual h4 relay, aux plug in adapter and heated grips adapter). The EB switch controls the one headlight cutoff- it works perfectly. The shelf itself was a straightforward install although I will say, getting the second bolt aligned with the shelf's hole into the threaded hole on the triple tree is pretty tough (unless you have the hands of a 9 year old Filipino boy- which I don't). I ended up making the hole a little larger and using threadlock and a locking washer to secure it in place. Also, I could not get to the bolts from underneath the bike, I went at them from in front of the ignition switch, under the triple tree.