Banned
Join Date: Jan 2010
Location: England UK
Posts: 208
Thank you. Those three threads certainly read as though some of the 07 650's had the Idle Hammer once the engine got warm.
Moderator++
Join Date: Jan 2006
Location: Evanston IL USA
Posts: 36,642
It was often present in later years too. The change was from 2006 to 2007. It seemed to be a top end noise though. That would make sense as the bottom end was unchanged and the top end had differences.
---
Beta tester Fred W checking in.
Sharealike sent me a beta version of his damper kit to trial on my severely knocking 2004 DL1000 with 46k miles. The knocking on my bike comes on as soon as the engine is
fully
warmed up and does not subside until you let it cool down fully. It is present at idle or just above idle with the clutch pulled in, or let out in neutral. It does subside if the bike is put in gear and you start to let the clutch out and slip it, to place a load on the engine.
The Sharealike Idle Hammer Elimination Damper Kit is made up of several precision machined pieces. There is a modified stock alternator rotor retention bolt, the milled alloy damper assembly itself, (which includes a pressed in bearing) a small spacer on a smaller diameter bolt that screws into the rotor bolt (shown below screwed in its appropriate place to rotor bolt) which in effect couples the end of the crankshaft to the new damper bearing, and a black plastic trim ring.
It seriously took less than 30 minutes to install it from start to finish. No need to drain the oil or remove any engine cases or faring panels. Just take off the round left side access plug (over the alternator rotor bolt), remove the old rotor bolt, screw in and torque the new modified one down. Screw the new damper assembly into where the plug previously was, then install the small spacer coupler into its center. Finally, screw the original access plug onto the end of the damper and fit the black plastic trim ring. That's it!!
And the results are fantastic. No more idle hammer. Period.
This is how it looks when fully installed: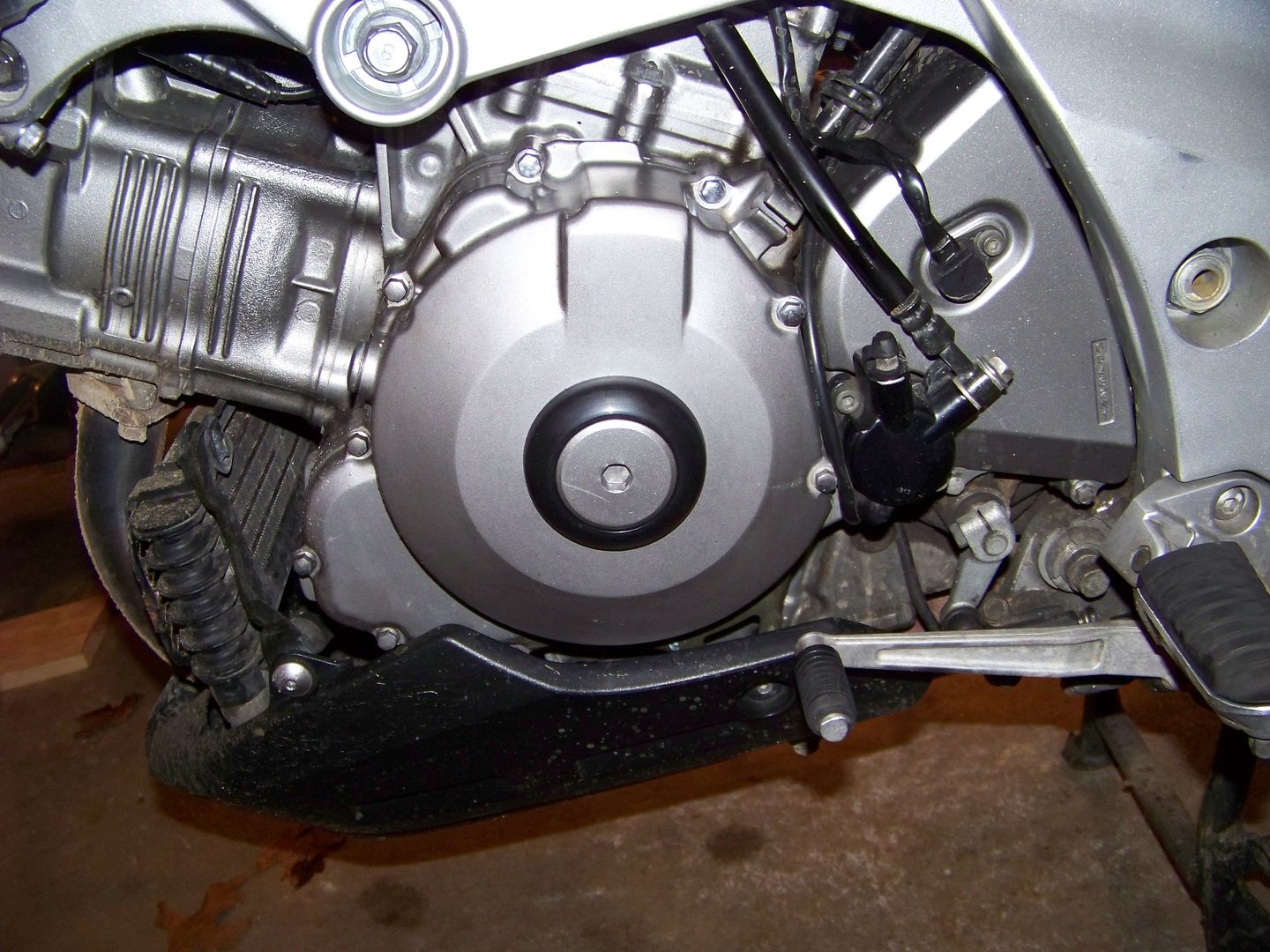 Yeah, if you have the idle hammer, you are definitely going to want one of these.
I pulled up next to a hog the other day ......
Stromthusiast!
Join Date: Oct 2008
Location: General Delivery, USA
Posts: 168
Realshelby and Arne,

Looking at Svman's IH fix in Fred W's pictures it appears that what each of you have done with your automotive alternator modifications may also dampen idle hammer by virtue of your extended rotor bolts and outboard bearings in your left crankcase covers.

Observations or comments? Have you experienced any issues with solidly attaching a ball bearing to the crankcase cover given that the end of the crankshaft may be moving radially and axially, even a little bit?
---
"Making bad choices since 1948...."
[LEFT][SIGPIC][/SIGPIC][/LEFT]
---
Last edited by Leroy; 01-10-2013 at

02:23 PM

.
Banned
Join Date: Jan 2010
Location: England UK
Posts: 208
DL1000 Clutch Basket Damper Refurbishment to cure the vibrating "chudder" as you ride
Two SV1000's I had from new started with this annoying engine vibration within 5,000 miles of delivery. It was in all gears and throttle positions as the engine passed from 3,000 rpm to 4,000 rpm. Such a vibration should not be there, even in a 1000cc Vtwin and I was determined not to accept dealerships claims that, "its just a characteristic of the engine sir". The vibrations in my second bike worsened as the miles built and I became convinced it was down to some deterioration in either the crankshaft bearings or primary drive damper in the clutch basket.
Back in 2007 some SV1000 owners experimented with spacers/washers on the springs and even replaced the springs but with less than conclusive results. With a good few years of vehicle transmission engineering and design under my belt I then set out to prove what was wrong for myself. No way could I believe a respected engine manufacturer like Suzuki could get something so wrong. Took well over a years testing and prototyping to finally prove the torsion damper in our clutch baskets could be made to work as the engine designer had first intended. In fact a whole lot better than it was when new. The vibrations were gone for good!
When I came across owners on DL forums with much the same issues I made a very open offer to modify a few baskets for them. Ten volunteers soon sent baskets here in early 2010 which we started to get out on the road by early March. Without exception the reports from these owners (complete strangers before sending their baskets) were all very positive. "it's like I got a new bike" and "now my engine behaves like it always should have from new". It soon became clear the modification of a bikes existing basket was better than a new replacement. The rest is history and owners ship DL1000 and SV1000 baskets to me from all over the world. Even from Japan. Over 150 modified and running in bikes at April 19 2011 and every one of their owners writes to say how it's improved their enjoyment of the bike.
I hope to find time to post descriptions, movies and pictures of the problems going on inside the damper (clutch basket) and fully explain the issues in there. Intention is owners can use as resource to help diagnose if it's their clutch - both while riding and once it's stripped for inspection.
After that I hope to show how the modification is managed. Information for owners interested in how to perform their own modification will also be available (only recommended for those with the equipment and experience).
Idea is to keep this thread clear and as informative for those who follow in years to come. I hope everything will be covered in what's posted later. Just got to get the DL and SV communities as self sufficient as they can be.
Watch this space..
I will put some words round these pictures and movies once I prove they upload without a problem.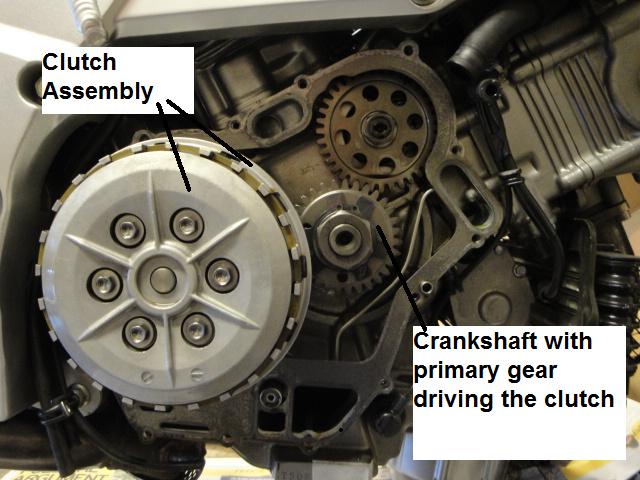 This assembly weighs 10 Pounds or 4.5kg. It only needs the slightest encouragement from a failing torque damper to start it resonating at engine speeds of 3,000 to 4,000 rpm. The wear in the damper takes it "out of tune" so the resonance is felt throught the whole bike.
Here's the Torque Damper. Does a fairly decent job when new but soon goes off and creates the vibrations that resonate through the bike.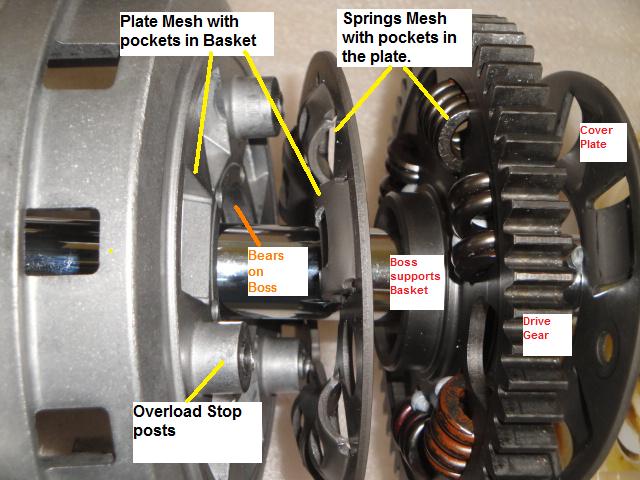 It's this excessive and jerky deflection of the damper at the critical engine/clutch rpm that causes the vibration.
YouTube - ‪5 Basket loose on the gear to vibrate.MP4‬‏
YouTube - ‪6 Inner plate loose.MP4‬‏
YouTube - ‪7 Cover removed Loose inner plate gives the effect of slack springs‬‏
YouTube - ‪8 Springs and plate eat in to seats in drive direction. Little wear in over-run direction.MP4‬‏
Details of how to perform this modification are available on request. You really need the right machine tools and engineering background to pull it off though. Been eating up much of my time supporting this so....
---
Last edited by svman; 02-17-2013 at

05:53 AM

.
Banned
Join Date: Jan 2010
Location: England UK
Posts: 208
I have often tried to describe just how the torsion damper thats built into our clutches works. Came across this movie explaining how the a Dual Mass Flywheel works in other engines. Our's may not be diesel or direct injection but the large capacity V twin creates the same sort of torque pulses that need to be isolated from the transmission and the rest of the bike.
The mass of our DL and SV engines clutch serves as one mass, while the primary drive gear and engine flywheel serve as the other. The spring arrangement and protection from overload is also much the same. All this to maintain both refinement at idle and as we ride. Just the same principles and very similar components. The automotive world is also having problems with these DMF's. Much the same as in our engines. Lucky for us our damper is robust enough and made in such a way it can be modified with re-engineering to work better than new - and with a much greater life expectancy.
Dual Mass Flywheel For Passenger Cars - How It Works - - YouTube
Svma aka Sharealike most other places
Fuller details to do your own DL or SV basket.
Shown much of this before over the years and in all sorts of places - never before such a complete set all in the same place.
From top left. Re-engineered basket and re-engineered gear.
Bottom row from left. Re-engineered inner and outer plates. New high tensile setscrews to replace old rivets.
All other components can often be used again after fine check for tolerance and signs of damage.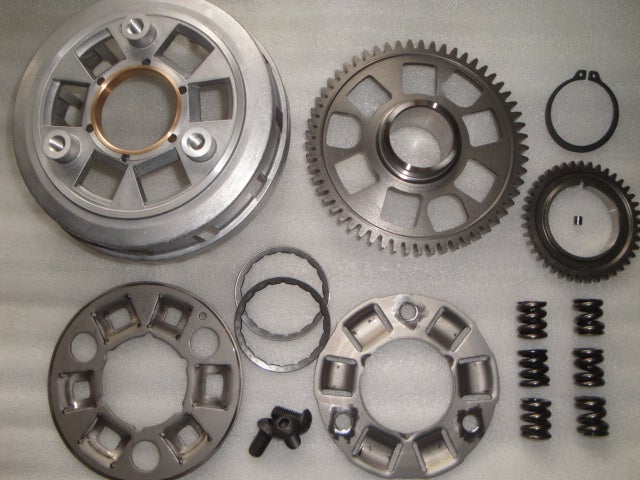 New ground finish to hub of gear.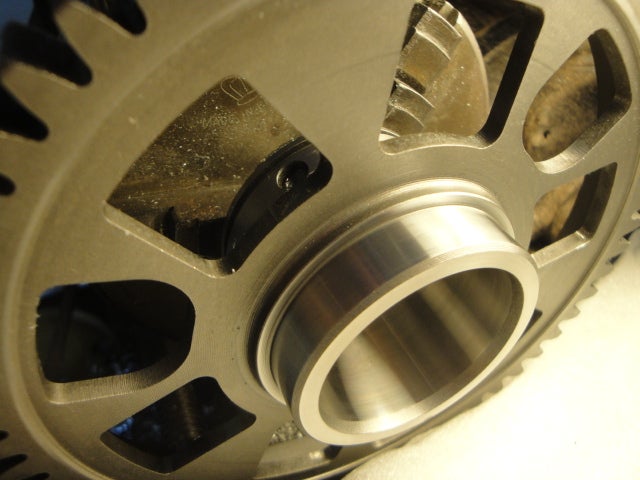 Where the new sharealike bearing - precision machined to match will run. - example of original finish to right.
Old rivet holes are drilled, tapped and counter sunk for new high tensile setscrews. Some copiers have drilled these oversize and used thread inserts. This weakens the posts as the basket is very thin where the posts meet the main casting.
Inner plate fitted to back of basket. Setting of exact position is done later after measurements.
Gear and Spring Set fitted. Position of each spring is key.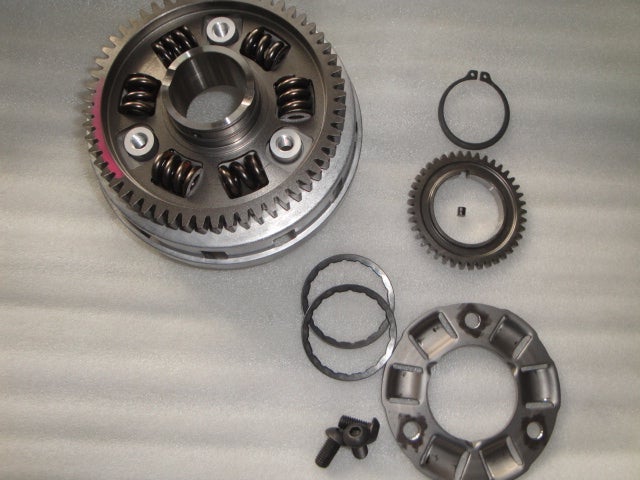 Dished Springs fitted. Look round the centre.
Fit Top Cover. Original case hardening is roughed up to ensure underside of the setscrews key into the plate. This area is often polished on older baskets because the loose rivets allowed the surfaces to fret as they chuddered.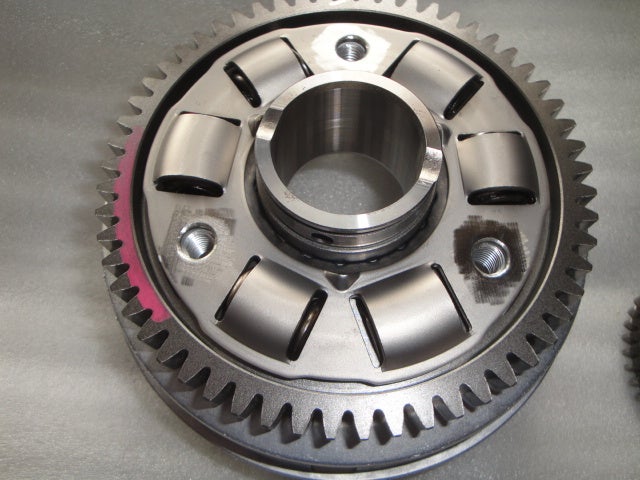 Insert and tighten three high tensile setscrews and oil pump gear drive dowel.
Fit oil pump gear. The one thing that will only fit the right way round. Circlip can be fitted wrong.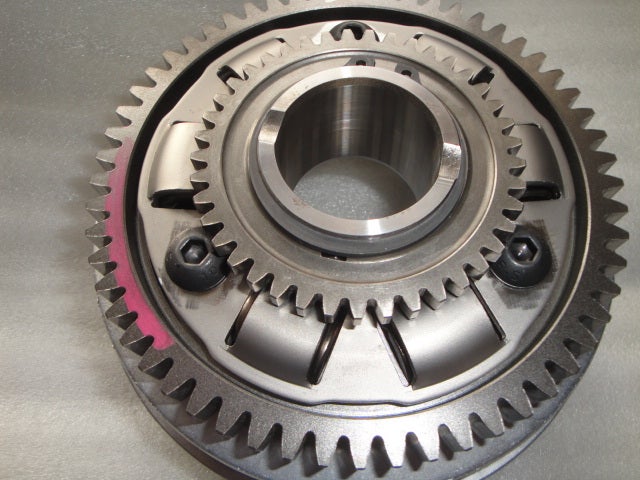 Look inside to check component positions ready for damping deflection checks.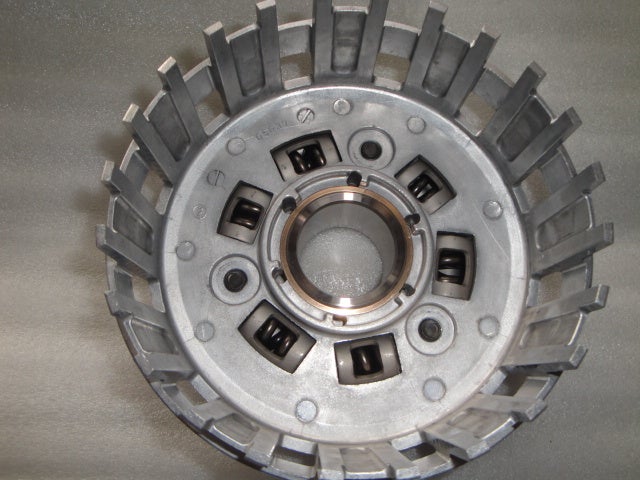 Measure damping deflection. Basket prevented from rotation while gear is rotated with increased loads.
Check the loading for each and observe the four phases of the torsion absorber working.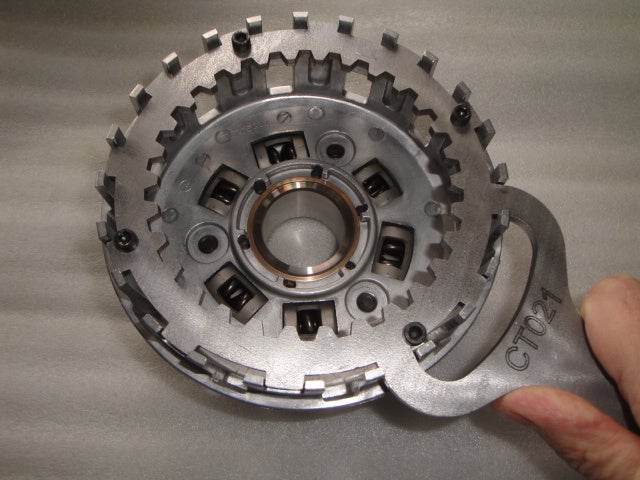 Strip after earlier test assembly. Adjust damping, deflection and phases based on measurements taken in above two stages.
Lubricate, rebuild, confirm adjutments are correct, seal to prevent moisture getting in and lubricant getting out until you are ready to fit.
This is by no means the complete process. You will need a good engineering background to perform the work. Hope it gives some insight into the original re-engineered modification.
It only used approved transmission engineering and widely accepted methods for the work. Pays much closer attention to position and tolerances of each component than when new. These dampers can now be opened up and re-adjusted after the initial modification shown above. They can then be regarded as an easily serviceable item.
Well over three hundred modified like this running in bikes all round the world. Started offering to modify them to save owners fitting replacement baskets so they could rid these lovely engines of the chudder for ever. Enjoyed helping everyone sort out their bikes.
Quote:
I know that the clutch chudder won't leave me stranded BUT I was wondering affect it has on engine enternals??.My chudder is at point where it makes the whole bike vibrate more at most every rpm.I would think that after a period of time having that clutch out there vibrating might cause a seal or worst yet a bearing failler ??
I have been sick for a couple of weeks so I have had alot of time to lay there and think !!.
Sent from my iPhone using
Motorcycle.com App
Drew this up some years ago to show what breaks inside the DL and SV baskets. You would have to ride one hard for at least 10,000 severely chuddering miles to find the plate cracked, gear striking the safety stop and the rivets loosening off. NOT ALL BASKETS GET LIKE THIS. My own SV basket had all this at only 12,000 miles except my very loose inner plate was not cracked.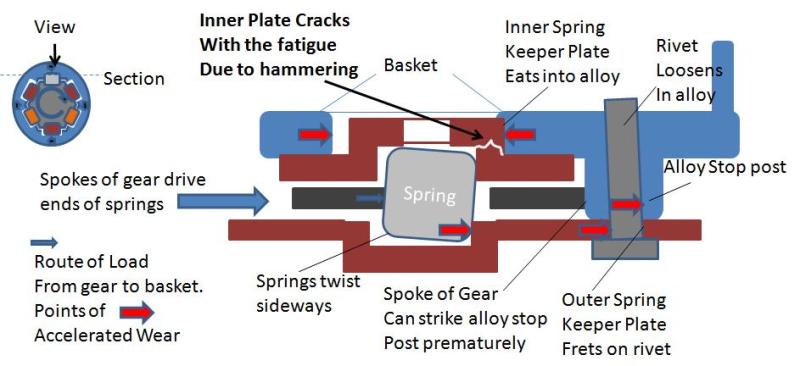 Never found any damage outside or away from the basket that could be directly attributed to the chudder in my own engines. No one else reported anything I know of. Fact the vibration originates inside the clutch basket and is felt through the bike means it must follow through a fair number of components to reach the rider. The thrust face of this gear meshed with the crankshaft often gives away how the engines vibration passes through the clutch to the gearbox input shaft.
Note the two ground out sections of the thrust face at the end of the bearings bore. These are normal and allow oil fed down the hollow gearbox shaft to lubricate the thrust faces of the gear. Look how the face immediately below the one on the right has ripples (three or four?). There are the same ripples in the face above the one on the left. These ripples are caused by constant hammering of the thrust face against the gearbox input shaft bearing. The oil entering the gap between the thrust faces is first compressed and then released by the hammering action of the vibration. This occurs so regularly at a given frequency to cause the pressure waves in the oil which form the ripples. It's the type of damage typical of repeated oil pressure and decay known as cavitation. I first found these ripples in my own SV1000 basket over four years ago and at only 12,000 miles. They are there in most baskets with a weakened torsion damper and are the exact same size and distance appart. The number, depth and distance they reach away from the oil feed points increases with miles. Have some gears where two quarters of the thrust faces are rippled. It's unlikely to be causing the same level of damage in the gearbox bearings but can't be good for any bearings or load bearing parts close by. Particularly over the life of our engines. Suzuki have made revisions to the thrust faces on SV and DL baskets but don't seem to have reduced the incidence of this damage. I see the early signs of it even in 5,000 mile baskets I have modified.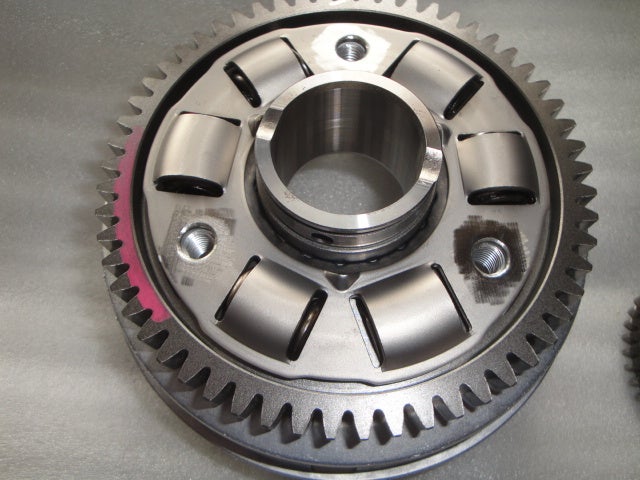 Whole point of these engine torsion dampers is to isolate and so protect our drive line from damage just like this. Their value should not be ignored nor their modification be attempted without full understanding of the long term impact on components.
---
Last edited by svman; 01-27-2013 at

11:02 AM

.
Stromthusiast!
Join Date: Mar 2011
Location: Pasadna area
Posts: 9,082
I don't seem to have a problem on my '04 650.
What I really appreciate is a finely machined bit of work and good pictures.
This is entertaining and educational. Thanks.
Banned
Join Date: Jan 2010
Location: England UK
Posts: 208
Quote:
I don't seem to have a problem on my '04 650.
What I really appreciate is a finely machined bit of work and good pictures.
This is entertaining and educational. Thanks.
Thank you.
The Idle Hammer and Engine Vibration from the clutch are both peculiar to the 1000 engine. The two engines are very, very different parts yet nearly the exact same layout. It's the heavier weight of the 1000 parts in the main.
svman
also - thanks
---
Quote:
I don't seem to have a problem on my '04 650.
What I really appreciate is a finely machined bit of work and good pictures.
This is entertaining and educational. Thanks.
Ditto on the above.
not sure if I have idle hammer - unless you mean that periodic bang bang at idle
everything seems to be running OK so I am leaving it alone.