New V Strom Owner in Australia
---
Hello everyone, I just purchased a 2007 Vee, my second bike since returning to riding. The last one was a Mark I Bandit.
Before that I had a trials bike and an Enduro before the family came along.
I'm looking forward to meeting some members, maybe riding with some and using all the great information on this Forum to get the most out of my new bike.
My real name is Peter and I live in Lake Macquarie NSW which is right next to Newcastle.
The Vee has some good Aussie Staintune pipes on it, which sound great, I not sure about the clear acrylic surfboard shaped by Mr Givi, I'm going to try the standard screen and see if I can get rid of the drumming on the top of my helmet.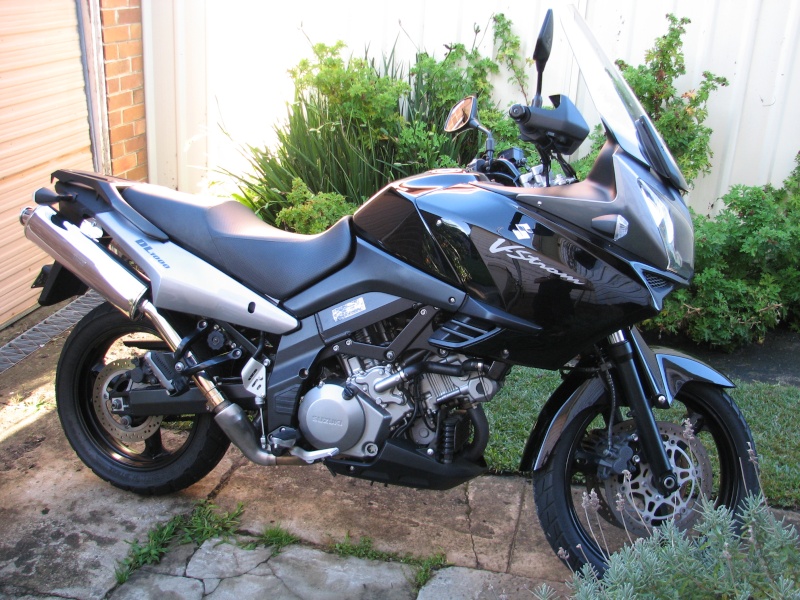 ---
[B][SIZE="4"]Cheers Peter[/SIZE][/B]
Black 2007 DL1000
---
Last edited by Re-Cycled; 12-15-2012 at

07:13 AM

.
Welcome to the nut house, lotsa good info here and a few strommers in your area. Now get to bed so you're fit for s ride in the morning

Sent from my HTC Sensation Z710a using Motorcycle.com Free App
---
07 wee with the lot (nearly)

the most important part of any trip is getting home safensound

"travel by gravel and double your map" (in memory of a great Stromtrooper. Saturn5 R.I.P.)
Thanks for the welcome Chops.
---
[B][SIZE="4"]Cheers Peter[/SIZE][/B]
Black 2007 DL1000
Welcome aboard Peter.
See if you can borrow a stock screen to try before you bin the Givi, some people get helmet buffeting, with my stock screen it depends which of my three helmets I'm wearing, my new Nolan gets none, the others get a bit.
Hey Chops, time for another "newbie" get together as there have been a few newbs in the Sydney-ish area lately.
A good excuse for a McGrath's Hill Mob reunion?
Edit:
Try moving the screen up and down to get rid of the drumming, stock screen usually gives most people side to side buffeting and can be fixed with a bigger screen, Madstad bracket or a deflector fitted to the top of the stock screen.
---
Ock. in Oz

Windsor (near enough)
NSW
Australia
---
Last edited by ockerstrom; 12-18-2012 at

03:23 PM

.
Thanks Ockerstrom, the standard screen came in the deal, I put it on at the weekend in the middle position. Instead of a hammering on top of the helmet I was getting more of a buzzing either side of the helmet. I need to experiment more to get something I'm happy with. Also I have a RJays Tourtech helmet that's due for replacement, it is the noisiest helmet known to mankind.
---
[B][SIZE="4"]Cheers Peter[/SIZE][/B]
Black 2007 DL1000
I have the RJ's Tourtech and the Dakar, same problem with both.

My new Nolan N104 is much better, but I still ride with earplugs no matter how quiet a helmet is.

The screen on my Wee is on the lowest setting, I also have an FJR 1300 screen I fitted for winter riding (almost a perfect fit, just had to re drill some holes in it).

I'm thinking of fitting an even lower screen on the Wee for summer riding, my KLE has a low screen and I get no buffeting and even less noise on it.....but do get splattered by bugs a bit more.
---
Ock. in Oz

Windsor (near enough)
NSW
Australia