Stromthusiast!
Junior Trooper
Join Date: Feb 2017
Posts: 9
Considering moving to a 2017 Wee from Burgman 650 Exec
---
Hello,

I wanted to introduce myself. I'm coming off of a 2008 Suzuki Burgman 650 Executive (scooter) that I've had since new and put about 21,000 miles on. Added a Russel Day-Long seat, audio communication system, stiffer rear forks, etc. to make it a nice touring machine. I don't get a lot of time to ride, but usually do a long ride each summer (Washington, DC to Montreal or Charleston or Savannah). I (5'9", 150#) often ride with a passenger (5'7" 135#) for long distances, also. I'm looking for a new solution that is an improvement over my Burgman in a few ways:

1) Better suspension over bumps. My Burgman easily bottoms out, even with Icon rear shocks and heavier-than-OEM front fork oil. The 15" wheels don't help!
2) A little bit more torque/horsepower. Not a ton, but beating my 33 foot-pounds of torque and 40-44HP at the rear wheel would be refreshing.
3) I've owned a BMW R1150RT, and getting around/out of the downtown Washington, DC area made me feel like my skills weren't up to par - it was just too heavy for me with the gas weight too high for quick maneuvering. I'm looking for a light, or light-feeling bike to easily maneuver around the city.
4) Least important is the idea that I may get a LITTLE bit more respect riding something that isn't a step-through. Everyone laughs at me on my Burgman.

I love my Burgman for it's smooth ride at 75MPH on long stretches of highway, ZERO heat transferred to me due to the plastic and low engine, excellent storage under the seat, near $0 maintenance, and great wind protection. I don't care much about miles per gallon, but I do appreciate having 180 miles+ to a tank.

I'm looking at the 2017 WeeStrom 650 to which I would add all three OEM luggage onto, and the 2016+ Honda NC700x which I would add a top box to. I think I've eliminated the Versys 650 LT (maybe) and the new Ducati 950 Multistrada. I like the Wee for most things, but wonder if the NC700X would also accomplish my goals, give me a less wide bike with lower center of gravity (tank under the seat), and not have me worry about shifting. Anyone who has faced this decision is welcome to give feedback.

Cheers,
Jason
Washington, DC
2008 Suzuki Burgman 650 Executive - "Scooty Puff Senior"
Hello Jason, I've never ridden a Burgman, but I bought my wife a Honda Silverwing 600 for Valentines several years ago. She rode it in five states and then said she enjoyed being a passenger more and parked it. After that I put several thousand miles on it and was constantly impressed at what that thing could do.

I've also owned a V-Strom 650 and put 10,000 miles on that until a judgement error on my part totaled that excellent machine. So...I can speak with a little experience on both types of bikes. As for the Duc or the NC700 I know very little, other than a good riding buddy has the Honda and he gets incredibly good gas mileage (65 +)!

Between the Strom and Silverwing, the easiest to maneuver around town the little wing is far and away the easiest to ride. For sportyness, the Strom is the hands down winnner. The Strom has a longer range between fill ups.

For your height the strom will make you stretch a bit more than the scooter. Ride wise I would guess the Strom would be the best in that regard.

Good luck with your decision...you are asking in the right place, there are lots of knowledgeable folk here who are willing to give good advice!
---
"Tombstone"
Beak Strom DL1K
My Alaskan Adventure
http://2mbstonestravels.blogspot.com/2015/04/alaska-or-bust.html

300,000 mile club member.
$tromtrooper
Join Date: Dec 2005
Location: Sconsin, USA
Posts: 2,372
Welcome to the forum, Jason.
---
2018 Eastern V-Strom Gathering (website) - May 17 - 20, 2018
__________________________________
2006 Suzuki V-Strom DL650K
1986 Honda Shadow VT700C
1974 Suzuki TM-250
1966 Triumph Bonneville T-120R
1965 Suzuki 80
Welcome to the Forum. Depending on your inseam measurement, to flat-foot a V-strom, may some lowering links to suit. See if you can test ride one to help make up your mind. Good luck
I moved from a Burgman 650 ( terrific bike = put 100,000 kmn on a pair of them - also with a DayLong) to a 2010 Wee specifically for long distance touring with my son.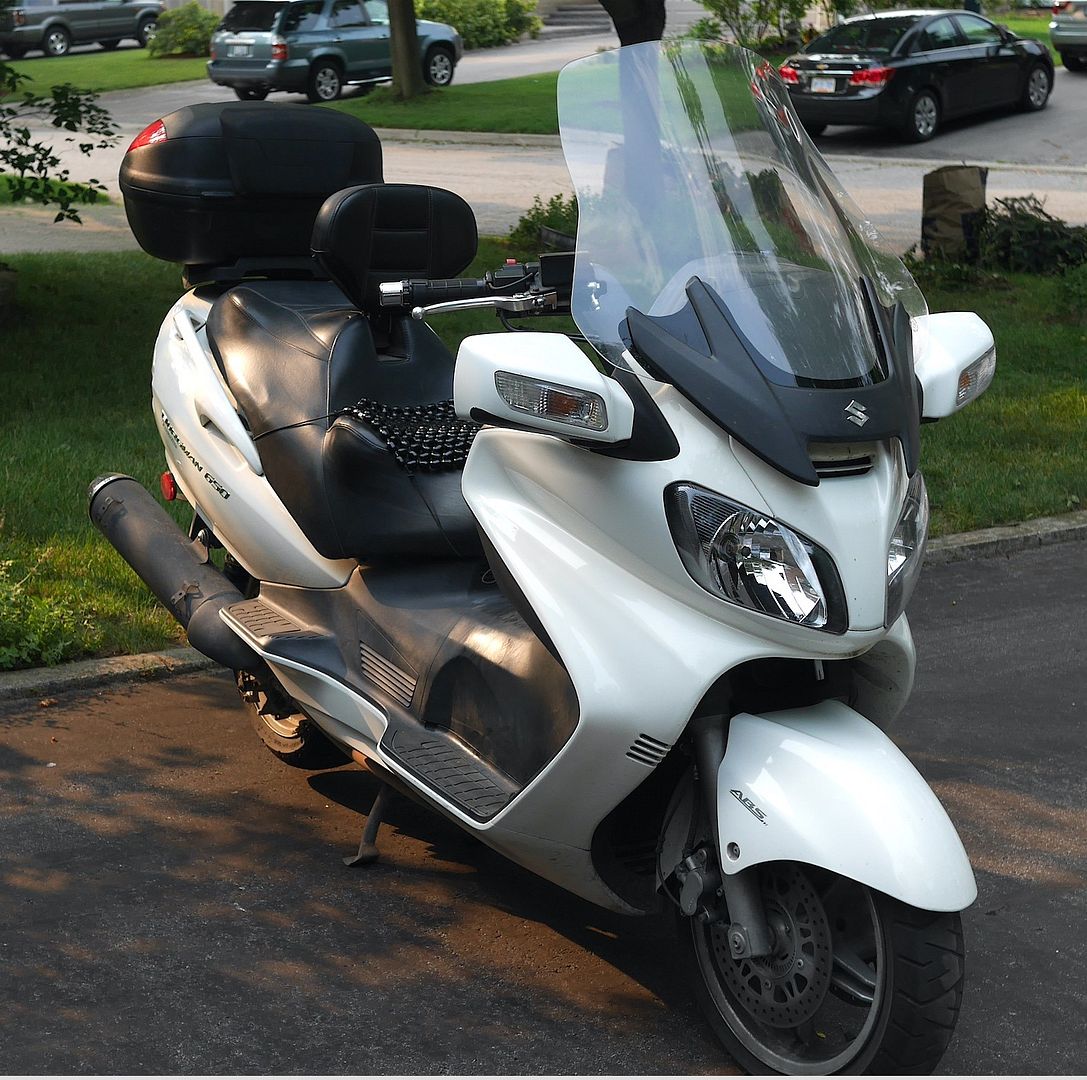 Couple of reasons
Tire life
was primary ...as you know it's terrible on the rear tire on the Burgman - I was doing 10-12,000 km ride and did NOT want to do a tire change.
Luggage space
....the Burgman is decent but there are so many farkles for the Wee as far as luggage goes - loaded for 3 weeks on the road with the kid ..I had to carry for two pretty much ....spare fuel etc. Dubbed it the Mule.
Put 15,000 km on the K60 Scouts and it easily passed safety when I sold it ( then bought another ).
Suspension
....much better on Wee...I was getting my teeth hammered on The James Bay Road while buddy on the strom was floating over them.
Range on a single tank
....Wee is much better 400 + km
Any dirt road travel the Wee is superior
and has much wider range of tires available.
Performance and handling are on par
...the Burgman brakes and lights a bit better.
Top speed on the Wee is higher
Weather protection
the Burgman is superior.
Forget about that Honda 7xx series
..motors are horrors ...6200 rpm redline. Just dull and boring. Kid and I tried them and both of us had nothing good to say.
The CB500x tho is a contender for you.
660 pages on it
Honda CB500X | Adventure Rider
Brilliant bike. One of the best demo rides I've had
It held up well against the Wee and is just plain fun to ride
https://rideapart.com/articles/suzuk...omparison-test
and a huge and growing market of farkles.
You are the same height as me but I only have 30" inseam so needed some altering to be comfortable on a heavily loaded Strom...they tend to top heavy when you add a full tank, tank bag etc. There are lots of lowering options and seats.
Strom and CB500x benefit from fork braces and better forks/springs on the Wee are a big gain to manage that longer suspension.
Two up tho the extra size and power of the Wee might be useful and there are a lot of well farkled bikes out there for reasonable prices.
---
Ontario Canada rider staying in Cairns Australian Feb to May & Aug-Oct each year
Australia> 04 KLR650 • 93 ST1100 sold • Canada >• 10 Wee ABS • 2009 CBF1000 • 09 Burgman Exec sold • 10 NT700v sold
Travel photos>
https://500px.com/macdoc/galleries
---
Last edited by Macdoc; 02-14-2017 at

04:02 AM

.
I had a B650 too! You'll love the suspension as compared to Burgman. You wont but looking for the smoother spots in the road or dread those dips at the bridges. My Glee gets similar MPG as the Burg but with a greater range, and tires will last longer! Nothing will ever compare to BMW Telever, but compared to the Burg and some other bikes I've had in the past I'm very happy with how my DL650 rides!
Quote:
dread those dips at the bridges.
I've left a few sparks in those with a heavily laden Wee but I rarely ( tho once epically ) bottomed the Burgman. I preferred it set up stiff as it stayed absolutely on line no matter what .....even at 150 kph on a big sweeper on The James Bay Road that buddy ahead of me on the Wee floated over ....I think I cracked a few teeth but the Burgman stayed rock steady on line.
But it had no tolerance for any road imperfections ....they were transmitted.
I found my first Wee nosedived when loaded but the second one had a Racetech set up in front and is lovely.
---
Ontario Canada rider staying in Cairns Australian Feb to May & Aug-Oct each year
Australia> 04 KLR650 • 93 ST1100 sold • Canada >• 10 Wee ABS • 2009 CBF1000 • 09 Burgman Exec sold • 10 NT700v sold
Travel photos>
https://500px.com/macdoc/galleries
---
Last edited by Macdoc; 02-15-2017 at

01:52 AM

.
Stromthusiast!
Junior Trooper
Join Date: Feb 2017
Posts: 9
Thanks so much - this is very helpful. I got rid of my BMW R1150RT due to the tall weight, and it sounds like the WeeStrom is going to give me similar problems, along with much less wind protection. You've made my decision more difficult, but you're right that I had not considered Honda's CB500x. This is very helpful in an area of the country where test rides are rarely allowed at dealerships!
Jason
What is your inseam?
The good thing with the Wee is so much lowering gear is available including seat and if you work at keeping the weight down low...light tank bag, only light gear in the topcase and get better side cases than factory ...it's very manageable.
My only concern with the CB500x is two up ....I'd go read the ADV CB500x forum about that.
I rode an RT1150 as a test ride and found it very wide tho dreamy at speed....came back and patted my Burgman.
The ST1100 I also found wide and top heavy tho a delight at speed....too hot in traffic....my CBF1000 would be perfect for you but they never brought it into the US for reasons unknown.
100 lb lighter than the Burgman....endless torque and top end but not in the least twitchy like the VTech bikes...suspension inbetween the Burgman and the Wee but the best brakes of all. Truly a sports tourer....crazy popular in Europe. Sold okay in Canada and Australia.
Rigged for touring
rigged to play hooligan
and it really truly will.
It's a Fireblade motor in a CB600 chassis....it feels soooooo small....until you crack the throttle.
You know you might be a candidate for a FJ09 but I don't know seat height.....ah 33" - bit taller than the Wee.
That Beemer 700 is certainly a fit with seat height available at 30". But I think a combination of boots and lowering and seat can get the Strom near to that.
http://www.bmw-motorrad.com/com/en/i..._overview.html
Pretty good set of intermediate specs but bet it costs a pretty penny compared to the Wee.
---
Ontario Canada rider staying in Cairns Australian Feb to May & Aug-Oct each year
Australia> 04 KLR650 • 93 ST1100 sold • Canada >• 10 Wee ABS • 2009 CBF1000 • 09 Burgman Exec sold • 10 NT700v sold
Travel photos>
https://500px.com/macdoc/galleries
---
Last edited by Macdoc; 02-15-2017 at

02:35 AM

.
I ride Wee downtown DC sometimes and it is very comparable to R1150R I rode. Not as wide still top heavy, I'd rather have Ninja 250 for riding there.

Wee is fantastic for 2up touring, great value (at least it was for 2015 bagger), and good tire choice for unpaved roads. Extra urban commuter, but not inner city.

Out of other bikes listed scratch out cb500x too small for 2up. NC700X would be the best choice. BTW CTX 700 is very much the same bike and I seen 4 of those at dealership for $4,499 brand new. Not fond of cruiser styling but would be closer to your scoot good luck.
---
Last edited by cyclopathic; 02-15-2017 at

06:53 AM

.