My wife is 5'9" tall and loves this Honda Nighthawk. It will run all day at 45-55 mph and gets 70 mpg. Small bikes teach lots about conservation of momentum, throttle control, shifting, braking, etc.
After she puts a few thousand miles on this one, we'll upgrade to a more capable touring machine. Likely something in the 500-650 range of more modern machines.
YMMV

Rock and roll!
---
______________________
2009 Orange DL650
Crashbars, Skidplate & Luggage

1978 Honda CB550K-Sold

[SIGPIC][/SIGPIC]
Hi Pilotpond, I would like to add the Kawazaki ER-6 to PTRider's suggestion of a Kawazaki Versys. Good deals should be available for the ER6.
For a short inseam perhaps raise the forks to lower the seat to ground ratio.
One of the members of riding group has an ER6. She has no trouble keeping up with us at highway speeds, as the ER-6 can reach the same top speed as the Wee.
There also a few Kawazaki Versys / ER6 forums that can make for valuable reading, should the need arise.
Good luck with your choice.
Years ago, my then girlfriend wanted a bike, so she flew to Italy and bought a new one of these:
At that point I wasn't sure if I was more in lust with her or the Guzzi!
She was a petite 5' nothing and rode that bike around Europe for a year before shipping it back to Australia. 82 hp, 206kg dry, 132 mph.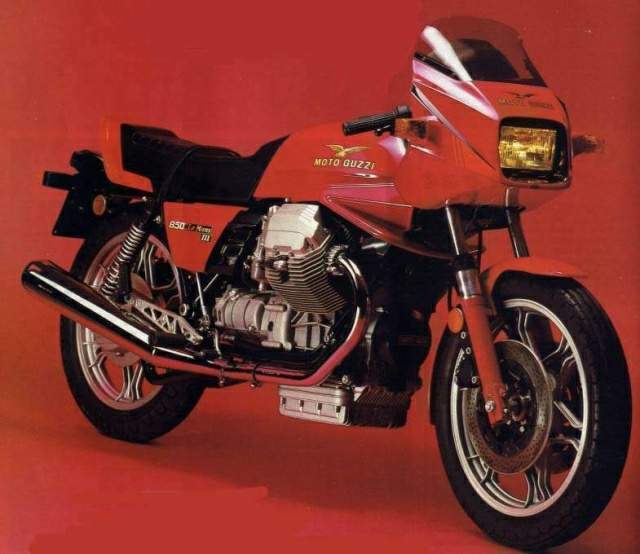 And that's why I fell in love with V-twins.
---
There are holes in the sky where the rain gets in,
and the holes are very small, that's why rain is thin.
Spike Milligan.
---
Last edited by strominateacup; 02-23-2016 at

05:37 AM

.
Stromthusiast!
Join Date: Mar 2013
Location: NOVA
Posts: 21
My first bike was a Honda Hawk GT650. It's a classic and looks great.
Stromthusiast!
Join Date: Jun 2012
Location: Monmouth, OR
Posts: 295
Another vote for the Kawi Vulcan 500...great bike to learn on, low seat, will do highway speeds comfortably, very reliable. Can add bags for travel. You guys that are suggesting the Versys and ER-6 are crazy...those bikes are way too tall for the OP's wife IMO.
---
2015 DL1000 ADV
Stromthusiast!
Join Date: Apr 2016
Location: Milwaukee
Posts: 69
My wife is same build, she is learning on a 1982 Honda 250. She really wants a Royal Enfield next but I want to steer here to something adv
Stromthusiast!
Join Date: Mar 2011
Location: Maryborough, Victoria, Australia
Posts: 536
Quote:
Burgman 200 would be my choice as a starter.
You're kidding right!
I'm 5'4" and my first bike was a DR250 and I used to pinch Hubbys DR350 too, then I got a 2007 DL650, rode it at stock height for about 6 months and then got a lowering dogbone and had a spare sead sculptured out a little bit.
We live in Central Victoria,Australia and I've ridden to Queensland , New South Wales and South Australia (google it
)
Maybe try looking at the Honda CB500X if you are looking to going off road at some point or if you want to stick to tarmac, my sons first bike is a Ninja 300, great little bike.
Cheers
Sharon
---
DL650 -Candy Apple Red K7 - mine
DL1000 - Candy Daring Red - Drew
DL650 -Candy Max Orange L0 - Drew - sold
DR250 - sold - mine
DR350 - sold and repurchased - Drew
Stromthusiast!
Join Date: Jul 2016
Location: Ohio
Posts: 27
I've had these for my girls when they started
Vulcan 500
Suzuki Savage 650
Vulcan 750
In my opinion the Suzuki S40 is too small and too underpowered to be useful after the first week
When my wife first started riding she got a Honda Rebel 250. They have been in production for years so there are always several to pick from. Very reliable, easy to work on, parts readily available. She rode it for about 18 months making sure she wanted to ride her own before up grading. She put close to two thousand miles on it, sold if for about what we paid for it.

But anything in the smaller CC range is a good starter bike.