3 days in Northern NSW
---
Haven't been on a decent ride since the Urunga gathering and it was well past time I fed the riding beast. With the show holiday on the Gold Coast it was the perfect time to do something about it. A couple of nights with Googlemaps and I'd come up with a rough plan.
If anyone could tell me how to link to a map I'll put it here.
I really enjoy riding alone.
It's always good riding with friends and I like that too but when you are on your own you will always get more photos because it's easier to turn around and go back for that shot, there's always the option to see where that side track will take you and total strangers will stop what they are doing and take the time to talk to you.
But, there's no doubt the risk factor is higher on your own, small get-offs can turn into big problems when there's no-one there to pick you up. So I ride like the old grandpa that I am, I don't push my limits, I like to just dodder along and take it easy. 300 klm is a big day for me. Yeah, I dig riding alone.
You'll notice a lot of my photos have a bit of the screen or some of a mirror in them, Traveling Strom showed us a great idea, the camera lives on a strong lanyard around my neck, not in a pocket or tankbag. So to take a pic, pull in the clutch, swing up the camera, click and away you go. 15 seconds, tops. You may sometimes lose on quality but you can make it back with quantity, however I'm quite happy with the quality of these.
So, on with the show. Text referring to pictures will be above the photo.
Meet Fat Suzy. All packed up and ready to go. Clean too. Suzy thinks her arse looks big in this.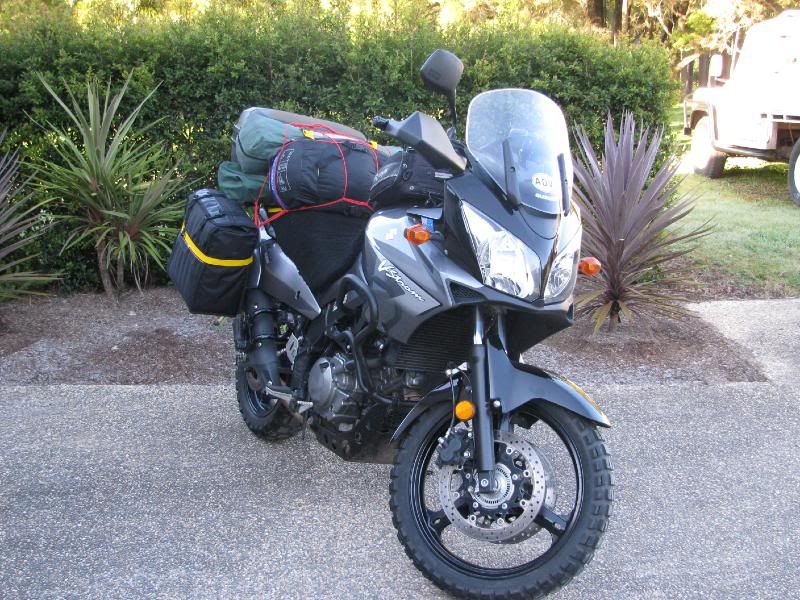 7:30 and on the road out to Canungra. A nice bit of highway to warm things up. This hill was on fire a few weeks back.
Palen Creek Prison Farm. If ever I'm naughty enough to have to go to jail, I hope it's got a nice view.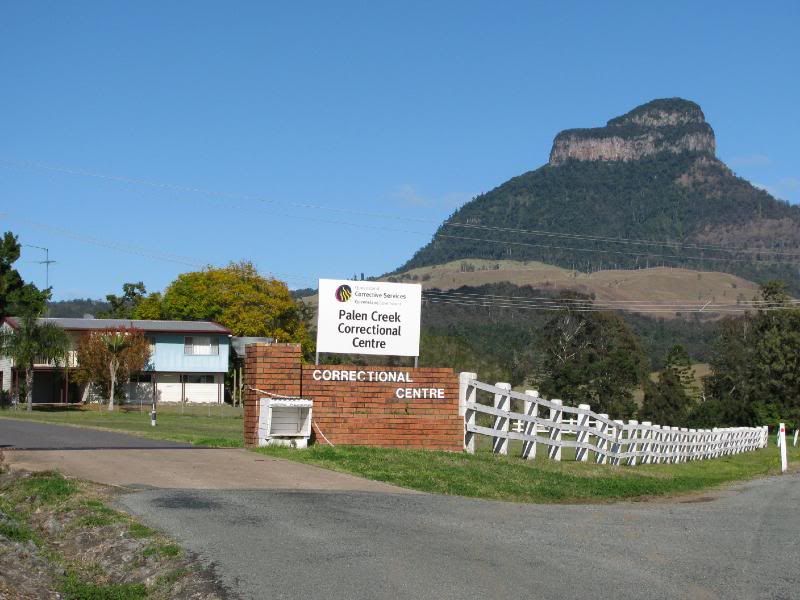 The Mt Lindsey Highway is a great bike road, great twisties and great views. A good day ride from Brisbane. Some of my favorite scenery through here.
They were re-surfacing the road at the border crossing. Had a chat to the nice lollipop lady. I'm sure we would have had a lovely conversation except I couldn't hear a word she said on account of my earplugs.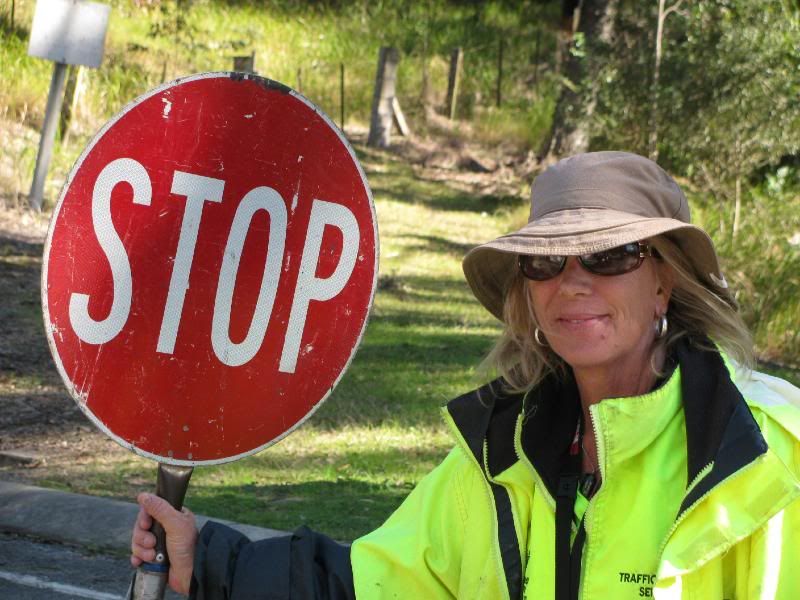 Then on into NSW and Woodenbong and on to Beaury Creek road. First dirt for the day.
Tooloom Creek, 11.00 am. Time for smoko. The bridge is too old and rickety for heavy vehicles to use so they ford the creek next to it. The water was about half a metre deep so I opted for the bridge, it rattled and shook even when I went over it.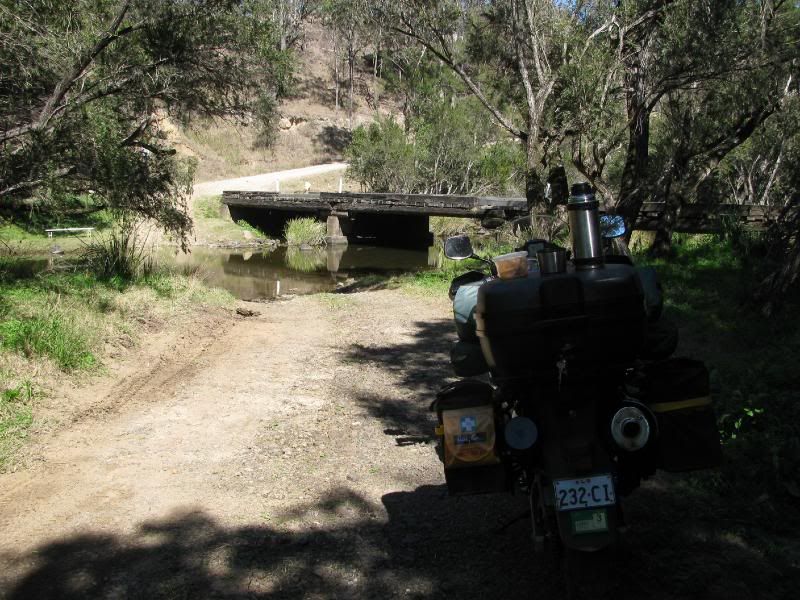 how's the serenity... no electricity grid, no traffic, no phone service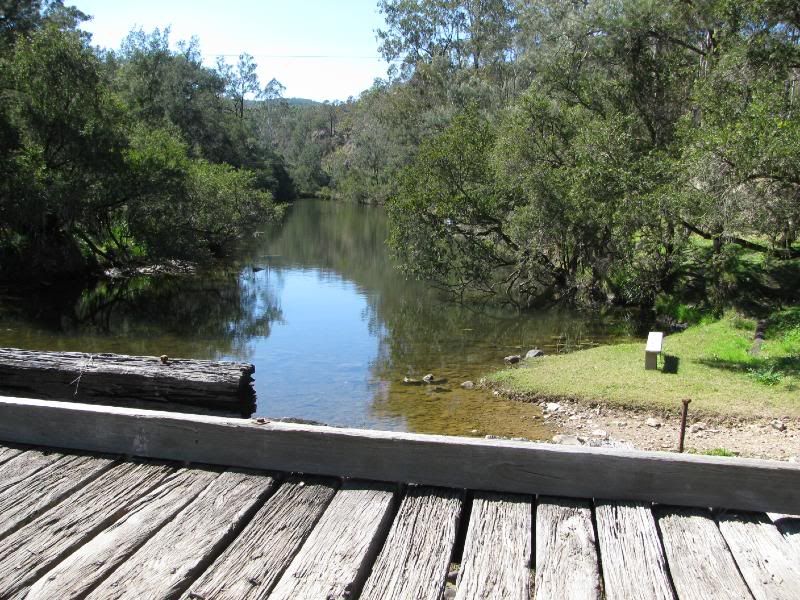 Crossing the Clarence River. Downstream....
and upstream. It was the first time of many I would cross this beautiful river in the next couple of days.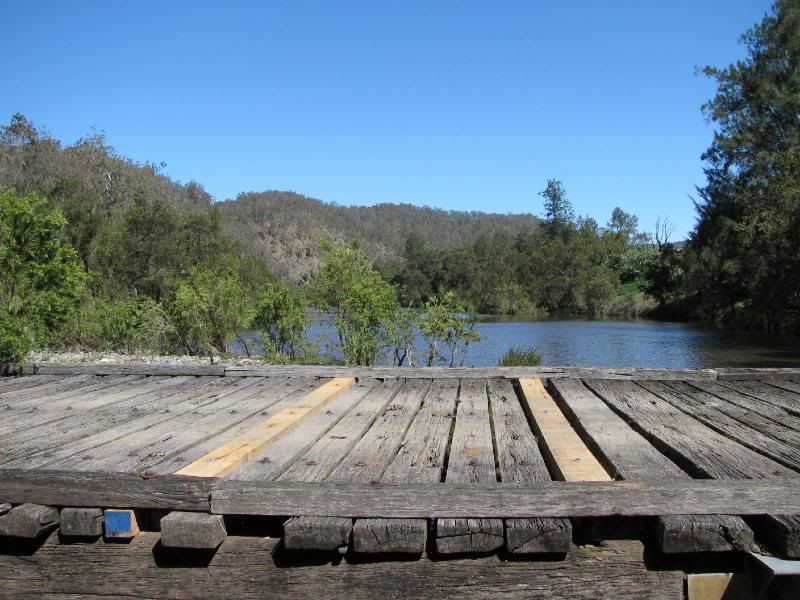 I ran over old mate here, just couldn't avoid him, he just walked out of the gutter and under my front wheel. not a thing I could do.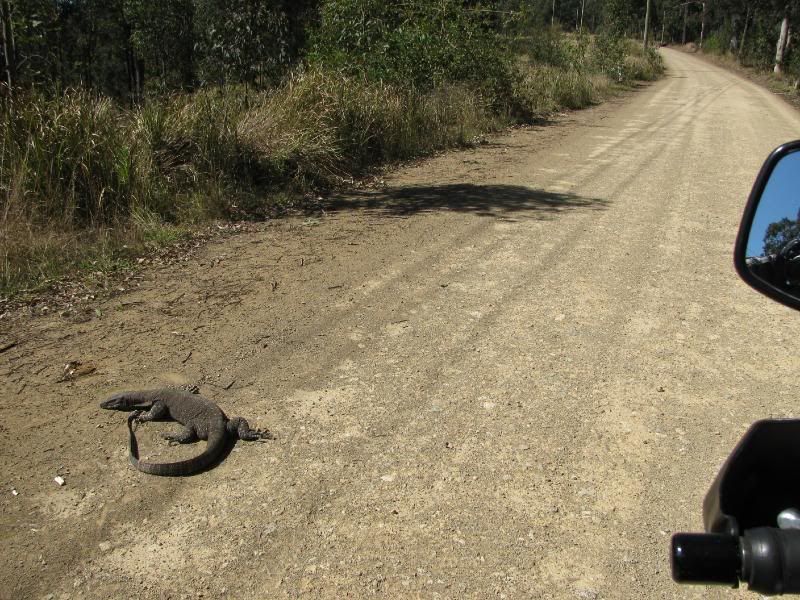 it was only a tiny bump,I think I may have run over his nose. there was no blood and nothing looked broken so I'm hoping he was ok.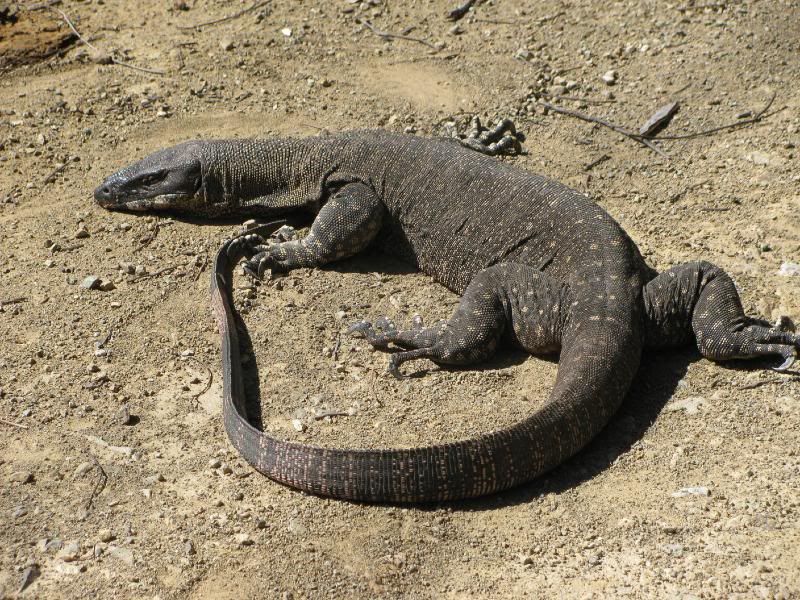 Paddy's Flat Rd - mile after mile of this stuff. this is exactly the sort of road I love on the Strom.
Butch and I sharing a pie, Stopped for a bite to eat at a little take-away in Tabulum. A home made meat pie and tomato sauce (good) and a cup of hot water with a Lipton teabag in it (not good).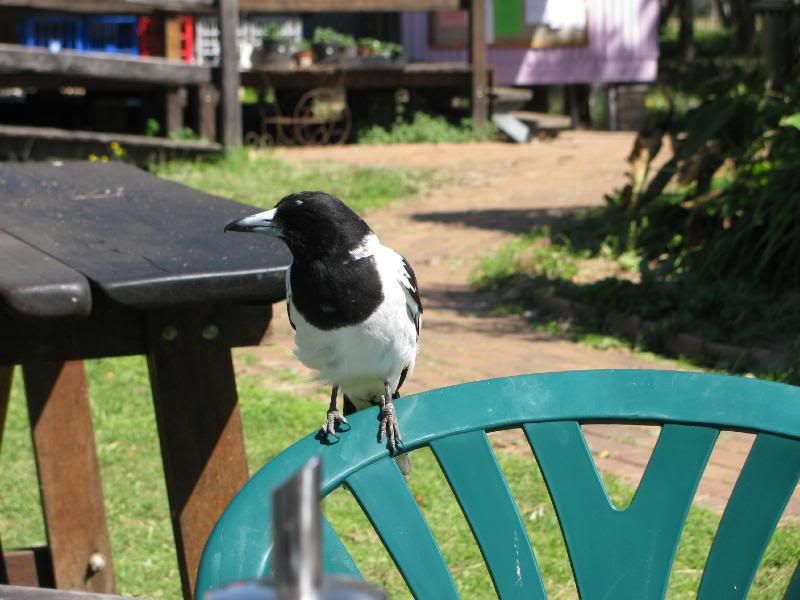 Overlooking the Clarence River from Plains Station Rd – Tabulum
Plains Station Rd. Going down these roads is like opening an old book you've read years before, these are the roads I used to use when I had beehives in Ewingar Forest in a previous life. Twenty years on and they're exactly the same.
Ewingar State Forest - Deeper into the wilds we go.....
Old Forestry Camp. You get a strong feeling of being a 100 miles from anywhere in Ewingar. It's quite eerie. I've been at this camp at night, not a place I'd care to stay.
your room sir.. Shall you be requiring a wake up call?
North Ewingar Rd. This used to be State forest but I think it's all National Park now. That's why you don't see beekeepers up here anymore. I've been told that Ewingar and Washpool Forests have some of the best examples of old growth forest left in Australia.
takes a lot of concentration to get the big girl through this stuff, I'm glad it's dry, Fat Suzy would never have got through if it had been even a bit wet. This clay is real puggy, it builds up on your wheels and then they stop going around.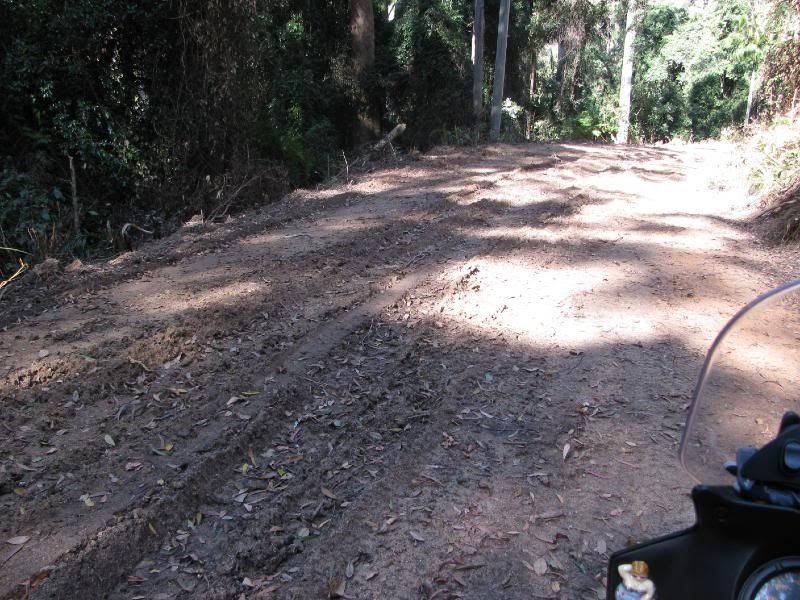 Ok, now I understand why the road was not maintained, it's a lot cheaper to just close it.The road got a lot better after here, which was just as well, I wasn't about to turn around and go back after the effort spent getting this far.
Lionsville Rd - Yulgilbar Station. Down off the mountain and onto the flats again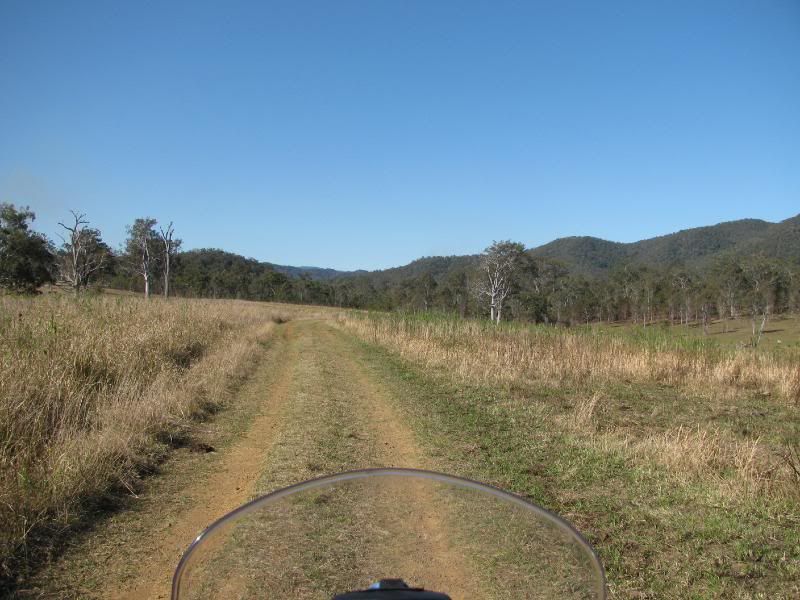 Lions on Lionsville Rd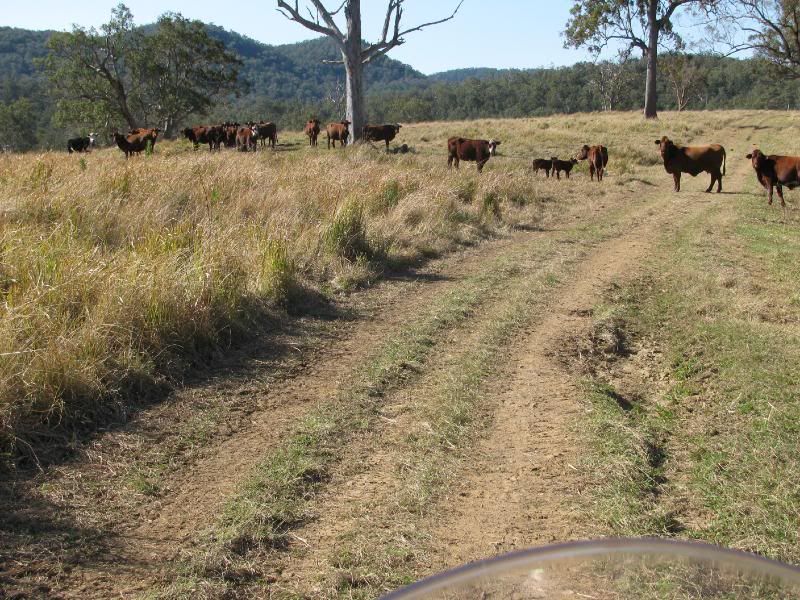 Small easy water crossing on Lionsville Road but the first one I came to so I thought it worthy of a photo.
No, I didn't drop it - yes, Dainese boots leak
Bigger water crossing, but a bit slippery in the middle so the feet went down and the boots filled up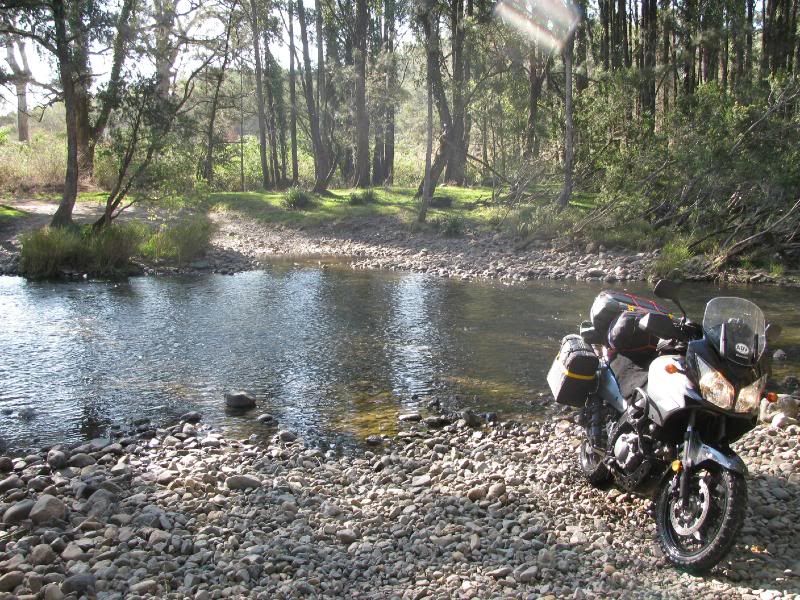 lots of these sort of bridges around this area. Half road, half bridge, half a mile long.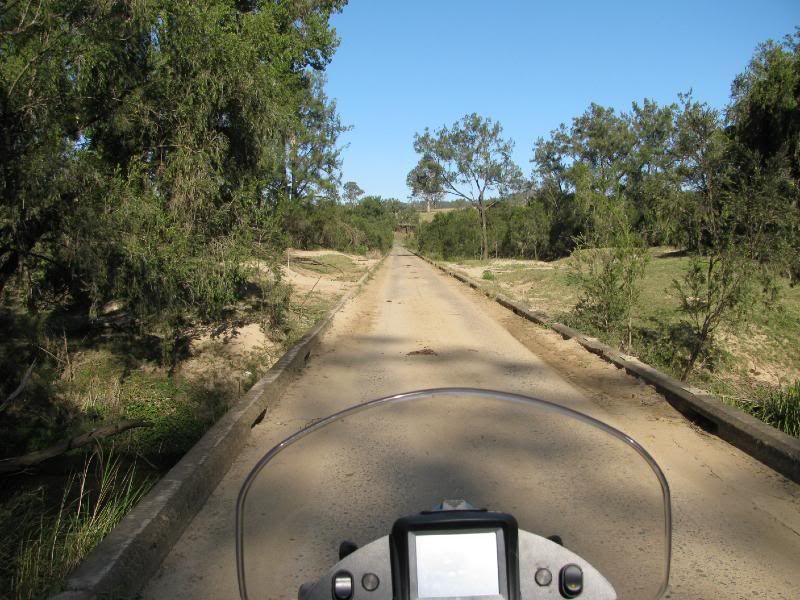 Carnham Rd - Now this is a pleasant ride. Lovely gentle sweeping twisties on single lane tar for the first few k's and then another 20-30k's of the same but on good gravel. A nice last road of the day.
Mann River Broadwater. My stop for the night. You would pay big bucks for a room with a view like this. This is a free camp.
Morning all. Very happy with my new tent. I can even put my chair in there and read a book if I need to spend a rainy day. $115 well spent.
So a great first day. I'll gather my thoughts and photos and post day two soon.
Thanks for taking the time to look,
Cheers,
Pete.
---
Last edited by OneOff; 08-30-2010 at

08:11 AM

. Reason: made a hash of the first attempt.
Thanks for posting Pete.
Great pics, the idea of the camera on the lanyard is tops.
Pity Richard didn't mention it at the Urunga get together [I could have had lots more good pics myself if I'd known
].
---
Ock. in Oz

Windsor (near enough)
NSW
Australia
Stromthusiast!
Join Date: Dec 2007
Location: Brisbane, Queensland, Australia
Posts: 933
Some beautiful shots there Pete. You could spend a lifetime exploring the Northern Rivers area, and as you say, how's the serenity -- beats Bonnie Doon!
Looking forward to the next instalment....
---
Don.

Maroon K6 Vee.
Rest in Peace
Super Trooper!
Join Date: May 2010
Location: blue mountains
Posts: 1,331
Riding on your own has lots going for it, hey man, i 'dig it' too. First pic 'J Bird' bridge. In the 60s (I was there too man) wasn't a J Bird a naked housewife? I can't get enough of that country but it must be an isolated life for the locals, especially in the early days. Not a good place,as you say, to have a spill. I'm enjoying this post, more please.
Stromthusiast!
Join Date: Jun 2010
Location: Townsville North Queensland
Posts: 997
Great ride
---
About to leave in an hour for this area. Hope to folow Clarence Way to Grafton and then go on to Dorrigo for the night. Return will be via the old Grafton Glen Innes Rd. anad then to Tabulum vis Jackdagery. Have my camera packed.
Awsome looking ride!!!!! What GSP mounting system are you running??
Stromthusiast!
Join Date: Dec 2007
Location: Brisbane, Queensland, Australia
Posts: 933
Quote:
About to leave in an hour for this area. Hope to folow Clarence Way to Grafton and then go on to Dorrigo for the night. Return will be via the old Grafton Glen Innes Rd. anad then to Tabulum vis Jackdagery. Have my camera packed.
That country around Jackadgery takes some beating.
Did you get over the Gibraltar Range without it pi$$ing down?
---
Don.

Maroon K6 Vee.
well done, hangin for day 2 etc, gave us enougbh info to ride the same roads and excelent photo's to boot
---
only a biker knows why a dog hang's it head out the window of a car
www.wacko-ocker.smugmug.com
Light travels faster than sound. That is why some people appear bright until you hear them speak
Quote:
Thanks for posting Pete.
Great pics, the idea of the camera on the lanyard is tops.
Pity Richard didn't mention it at the Urunga get together [I could have had lots more good pics myself if I'd known
].
says the man who goes everywhere with a tripod in his pocket
I think it was Friday night in the camp kitchen we had the camera discussion.
About to leave in an hour for this area. Hope to folow Clarence Way to Grafton and then go on to Dorrigo for the night. Return will be via the old Grafton Glen Innes Rd. anad then to Tabulum vis Jackdagery. Have my camera packed.
Have a good trip Drew, I'd recommend you turn north onto Dandarah or Cangai Bridge Rd west of Jackadgery. I'ts a great run through there.
Chef Gareth Awsome looking ride!!!!! What GSP mounting system are you running??
It's a ram bracket (edit: no it's not - it's a SW Motech) which came with the bike when I bought it, the previous owner ran a TomTom rider. I can't afford that but the Aldi GPS has ran faultlessly so far(except for insisting I should go anticlockwise around roundabouts
). I've added a aluminium plate between the mount and the GPS so I could mount some switches.
Thanks for the replies folks, I enjoy the feedback. I'm still working on getting day 2 together - work, food and sleep seem to stop you from doing the important things in life.
Sorry for the cut and paste and the italics, I cant seem to work out how to multi-quote. And if someone could help me link to a Googlemap I could post my route.
Pete.
---
Last edited by OneOff; 09-11-2010 at

04:56 AM

.
I'm a little out of sync so I'll go back to when I arrived at the Mann River camping area.
I camped here before one Easter and it was filled with the usual Easter crowd - kids, dogs, blow-up boats, caravans, mini-bikes, etc. For some reason that was what had in mind as I rolled across the bridge this time. But the place was deserted. I went from one end to the other and there was only one other group in the whole place. Now, when I arrive at a campsite that has plenty of people around I just go and find a spot and set up camp, and don't think any more of it. But with only one other camp in the whole place it would be downright rude if I didn't at least go and say g'day.
So I did.
As I approached the caravan I heard a voice say "That's it, that's exactly the same as mine", and so I met H and his friends.
H (this is what he prefers to be called) has bought a 650 Strom and is from the Gold Coast as well. Needless to say we will be setting up some rides together pretty soon. This was a group of five blokes from the Goldie doing just what I was, taking advantage of the show day holiday and getting out of town. They treated me like a long lost brother, insisting I bunk down right there next to them.
It was a brilliant night, just close your eyes and picture this. A cool but not cold night,you're tired from a long day in the saddle, there's a crackling fire warming your feet, a million stars overhead, you're being handed a glass of very good red and Paul Kelly is singing quietly in the background. Absolute bliss in a totally estrogen-free zone, life does not get any better. But dammit, I forgot to take photos.
Ah well, on with the show.
Sunrise lighting up the hills to the west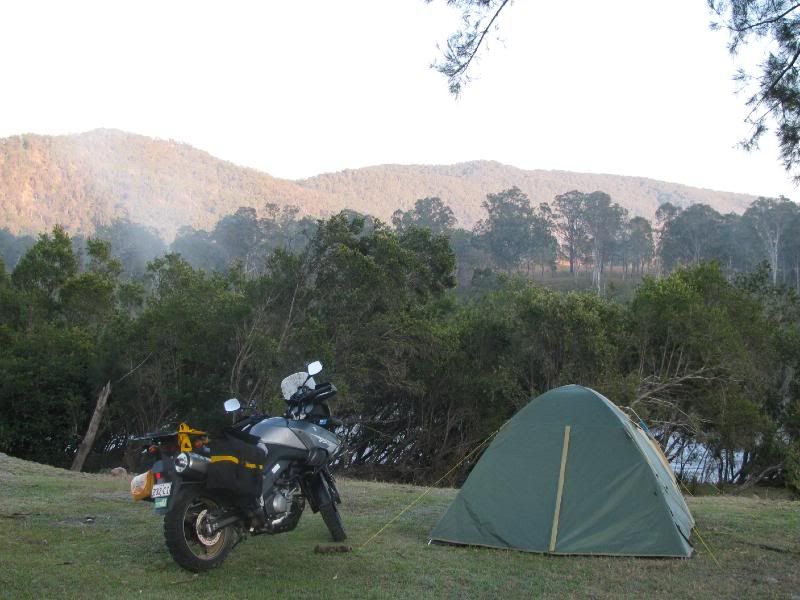 And we're off again. Heading away from camp on Coombadjha Rd.
"Good morning Fat Suzy" say the local lads.
"Hello boys" answers Suzy, "that's some impressive humps you have there"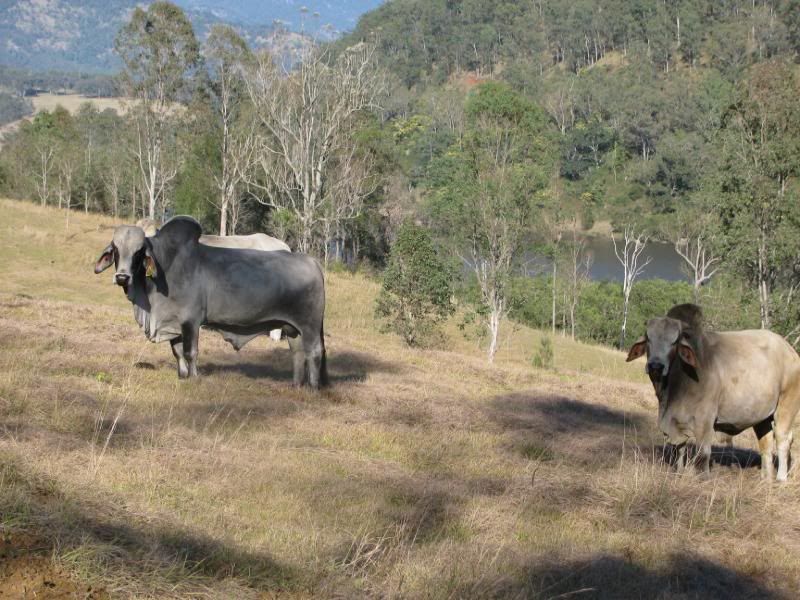 "Why, thank you Suzy, "but I'll bet you say that to all the boys" replies them. "Bye now,take care".
Coombadjha Road turns into Cangai Road.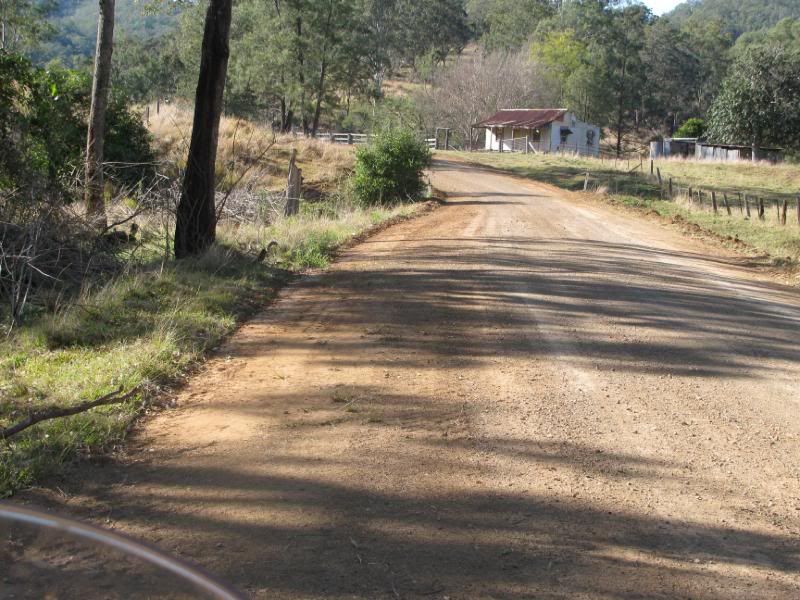 The bridge over the Mann river at Jackadgery
It's great having 23 litres, fill her up in the morning and you're good to go all day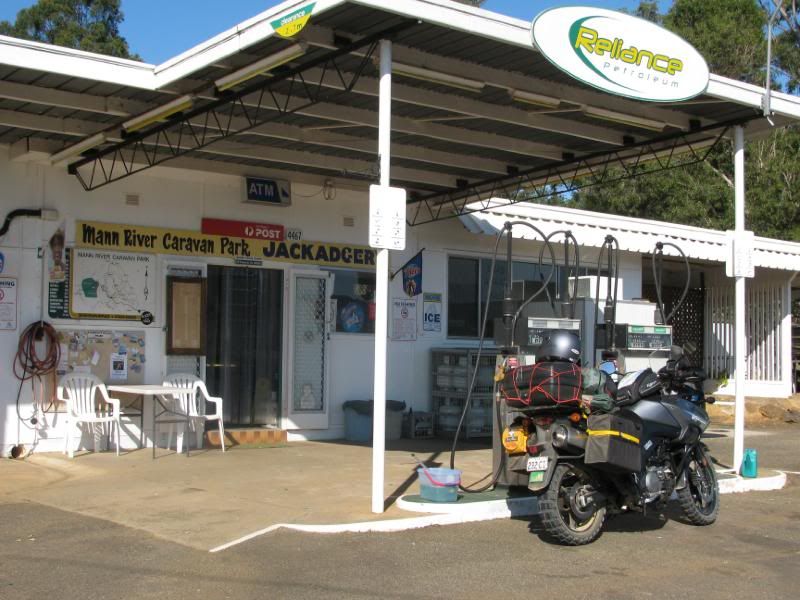 Back on the tar again. Gwydir Hwy heading west.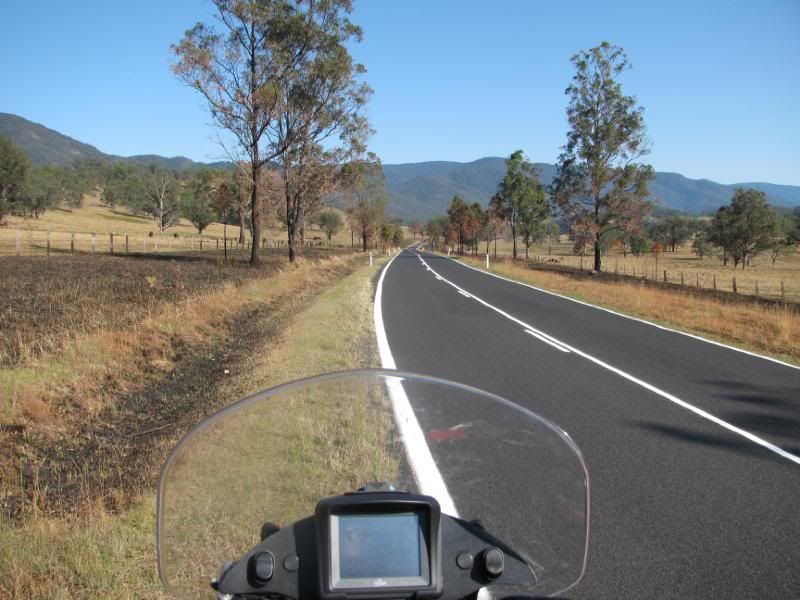 Gaining altitude on the Gilbratar switch-backs. Fat Suzy stops to admire the view
Up on top of the range. OMFG... it's freezing up here, my fingers have locked up. Turning left after the prison, Montrerey Road cuts across to Old Grafton Road.
Here begins the most scenic part of the whole trip, I could have taken a hundred photos through this area. Unfortunately, as luck would have it, my camera started flashing 'low battery' right about here and I didn't have spare batteries with me so I had to be frugal and save it in case something special showed up. I'm glad I did.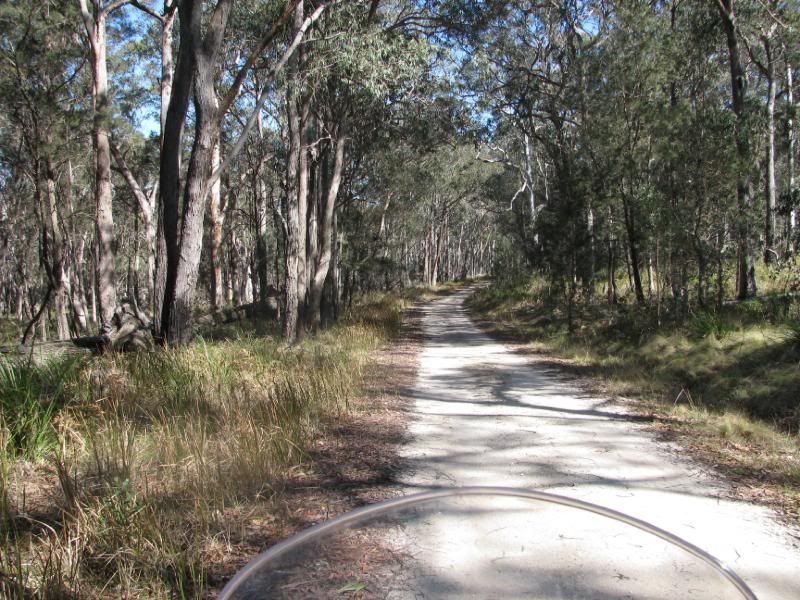 When you travel through places you haven't been or even heard of before, it's easy to think of it as 'new', to forget that people have lived and toiled and died in these areas for generations. It may look remote now, but this is the 'Old' Grafton Road, once the main throughfare to the coast and accordingly settled much earlier than other districts around. There is a lot of history here.
A lonely monument. "Dedicated to the sons of this area who laid down their lives in the Great War – 1915. Lest we Forget"
Convicts cut miles of these cuttings with picks and wheelbarrows into the mountain beside the river for no other reason than to allow me to doddle through here on my motorbike 150 years later. All of their striving has been leading up to this moment.
Things move slowly out here. It took so long to put the walls up on this house a tree grew instead.
"Ooh, hello horsey" tweets Fat Suzy. She really is the most terrible flirt.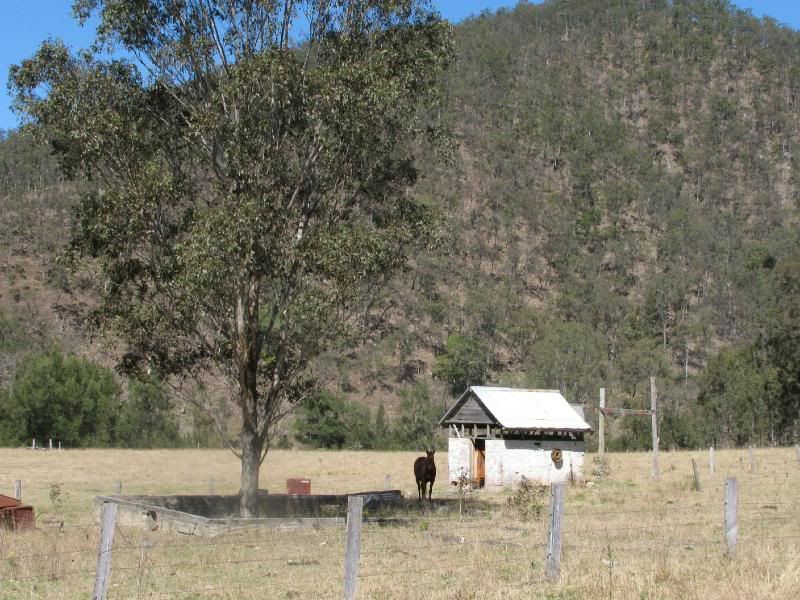 Located along the famous convict carved road, the Old Grafton to Glen Innes Road, you will find this old historic Tunnel which was built by a contractor in c1866-68; it is situated approximately 120 kilometres east of Glen Innes and was hewn out of rock by convicts in the last century.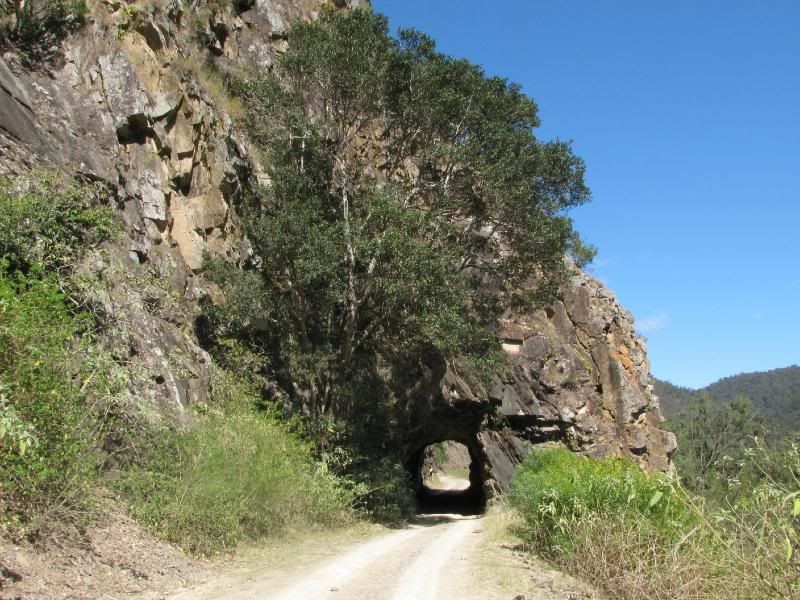 No concrete holding this up, just hewn out of the natural Rock.
You probably don't need to hear my opinion of people like Tony and his pals who like to demonstrate their lack of respect with cans of flourescent spray paint. Suffice to say we would all be better off if some people were drowned at birth. Kenny puts it well
YouTube - Vandals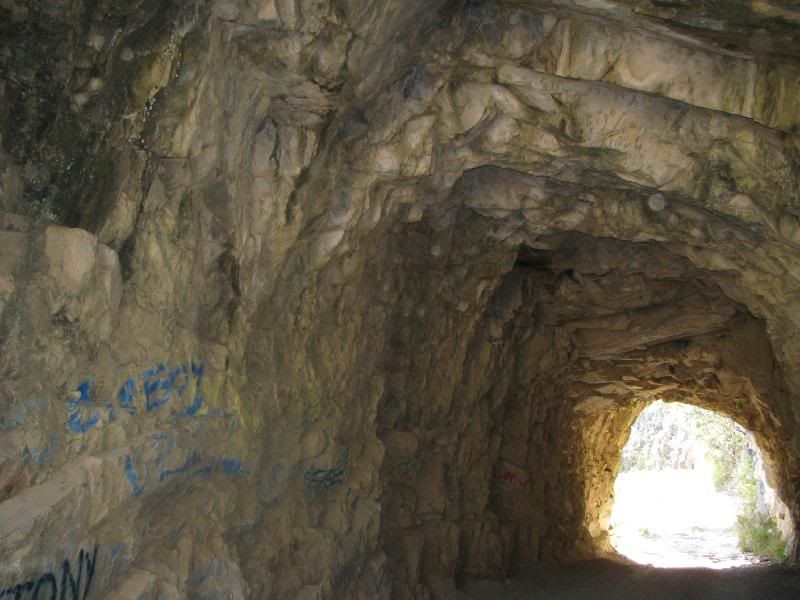 And out the other side...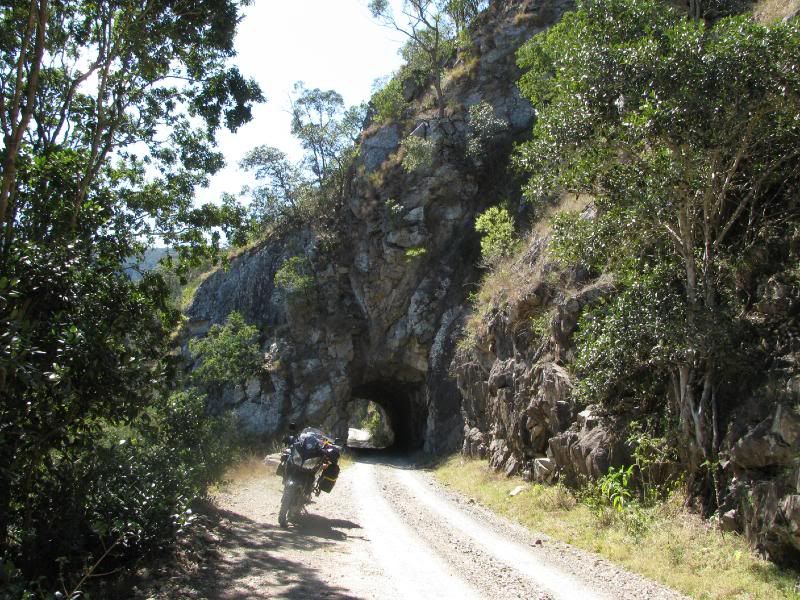 Nymboyda River crossing at Buccarumbi. Time for a spot of lunch. The road became more civilized from here and it wasn't long before we were back on the tar.
Aftre a sensational mornings ride from the top of the Great Dividing Range down to the farmlands of Grafton, it all kind of fell apart in the afternoon. When going through the maps a few nights ago I looked at an area of nicely square-set roads set against the ocean and I was thinking 'farmland', easy country lanes with cows and crops.
Wrong. Nice square-set roads turned out to be forestry roads. But you can see the ocean from here.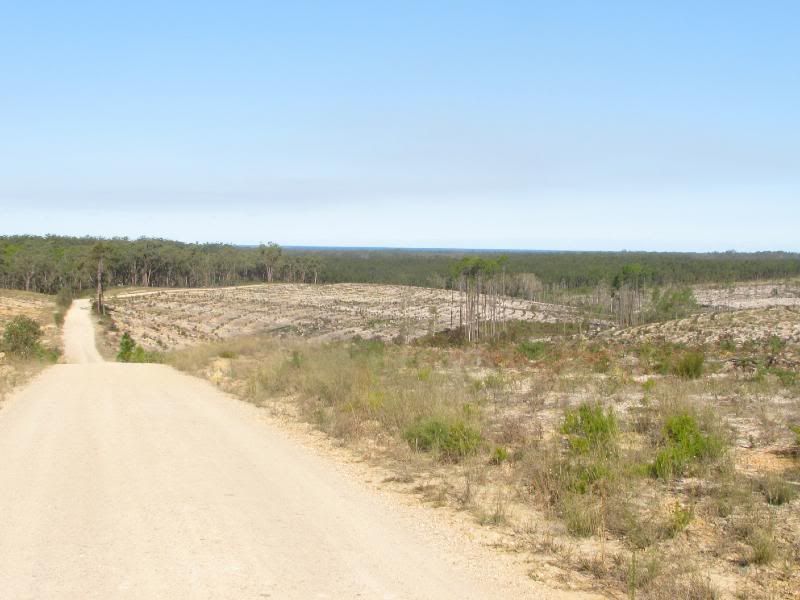 Soon turned into this...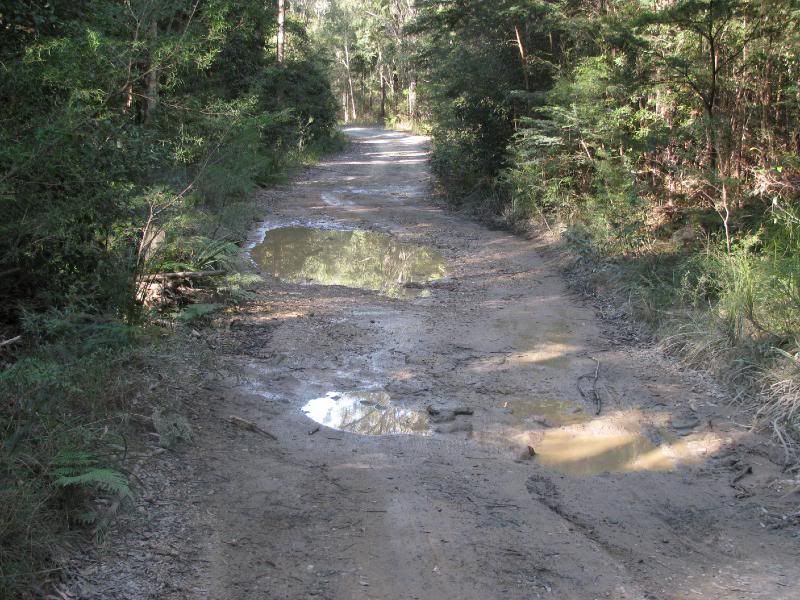 … and this. Aptly named Dirty Creek Road - I think, by this time I wasn't sure where I was and was relying heavily on the GPS to get me out.
And so my trusty Aldi GPS brought me here... should have got a Zumo.
no way around this time, just wall to wall slops. After checking it out a bit I decided the best spot to cross would be to drop over this log and hope momentum would carry her through. It wasn't overly technical, on the old XR I would have lofted the front over and gone back and done it three more times just for the fun of it. But when 250kgs of bike starts to tip sideways and you can't get a foot down you're probably going to end up under it. With the shadows lengthening in the late afternoon, on a road that probably doesn't get used more than a few times a week, sitting in a puddle overnight with my leg under a Fat Suzuki wasn't a prospect I really relished. In fact,I'll admit to being a bit nervous about it. This is the downside of riding alone.
Who da man? Fat Suzy on the other side.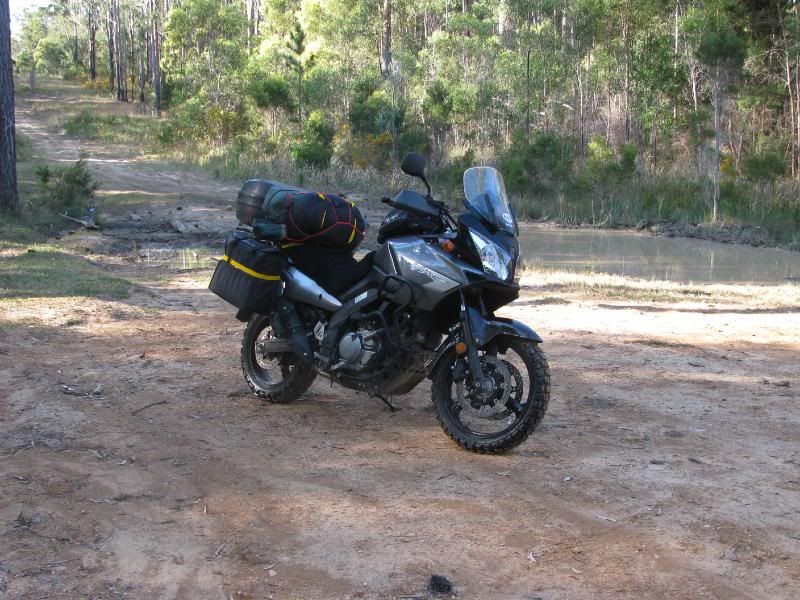 After all that it was good to get back to the ol' M1 for a nice relaxing slab run to Woody Point where I was going to camp for the night.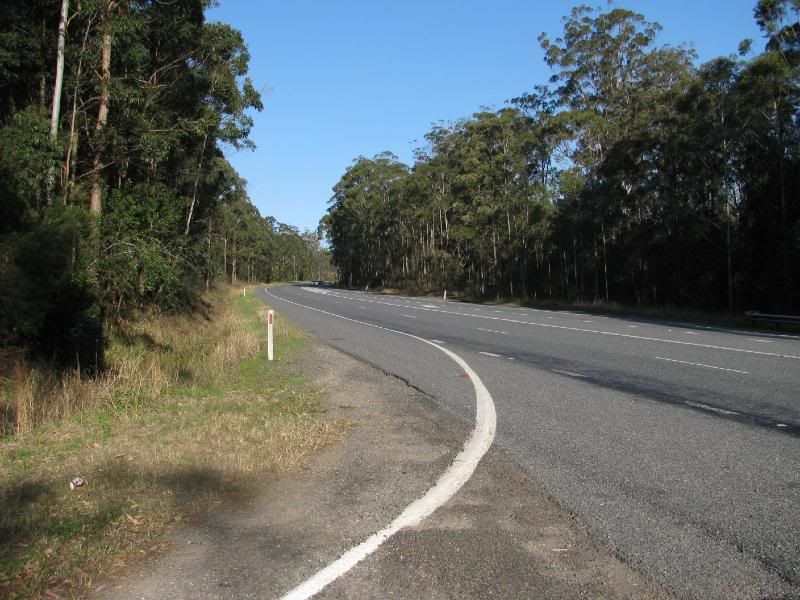 Woody Point campground was at exactly the opposite end of the scale than Mann River was, it was packed! I got there just before dark and I hurried to get the tent up before the dark closed in. Once that was done it was back on the bike and into town for some beer. I took this and my chair over to the beach and polished them off under the stars and watched the surf roll in.
I could get used to this. Unfortunately again, no pics.
Just for the hell of it, here's one of the inside of "La Casa Grande".
Thank you again for taking the time, day three coming up soon,
Cheers,
Pete.
---
Last edited by OneOff; 09-03-2010 at

09:06 PM

.