Luggage pictures thread
---
Does anyone else think it would be a good idea to have a sticky thread devoted solely to pictures of different luggage systems? There always seems to be new threads popping up like "Need pictures of _______ topcase". List what you got and post pictures of a few angles. If you have something custom, give an idea of where items can be purchased and what kind of hardware is needed for mounting.
---
Last edited by spongebob218; 04-07-2008 at

11:01 PM

.
Sure, and here's my contribution.
The full story-
http://www.stromtrooper.com/forums/s...ad.php?t=21429
And just a single shot, Givi E45 top case, Pelican 1440's on SW Motech racks.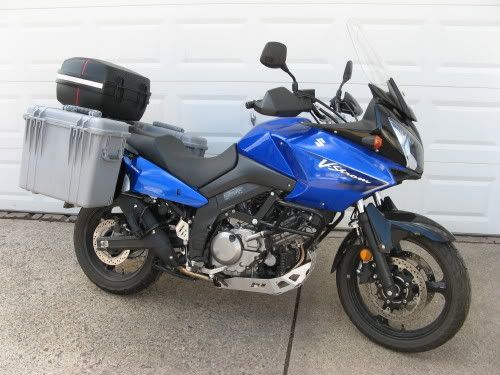 ---
[COLOR="Navy"]Steve.
Twin Cities, MN, USA
Blue '07 650[/COLOR]
[I][COLOR="Red"]"With the rights of life, liberty, and the pursuit happiness comes responsibility, to yourself and others. With responsibility comes accountability. Without responsibility, without accountability, we cannot and will not be a free and civilized society."[/COLOR][/I]
[COLOR="Navy"]-Me, Steve T.[/COLOR]
Moderator++
Join Date: Jan 2006
Location: Evanston IL USA
Posts: 36,672
Givi E45 top and E36 sides on an SW-Motech Quick release rack. The last photo shows how cleanly the rack comes off in a matter of seconds.
I like it. Here's mine:
---
Givi PLX Side cases with JC Whitney Large tob box:
Notice that ugly orange trim trim thingy on the JCW cas has been painted a nice satin black. Looks better that way.
---
Peace carries a big gun!
www.k-diggityrides.blogspot.com
'04 1k Blue
Good ol' Givi bags. Almost never run with the side bags unless a) daughter is riding with me, or b) we're going some place.
The top is a E52NF Monokey Topcase w/Integrated Stoplight. The sides are either E45 or E36. They came installed on the Wee I purchased in 2007. The sides are large enough to hold a full face helmet with plenty of room to spare. The top will hold two full face helmets and no additional room after that. The back rest is a Givi product that I would not purchase again. Takes up too much room and is unnecessary for a passenger using an armored jacket.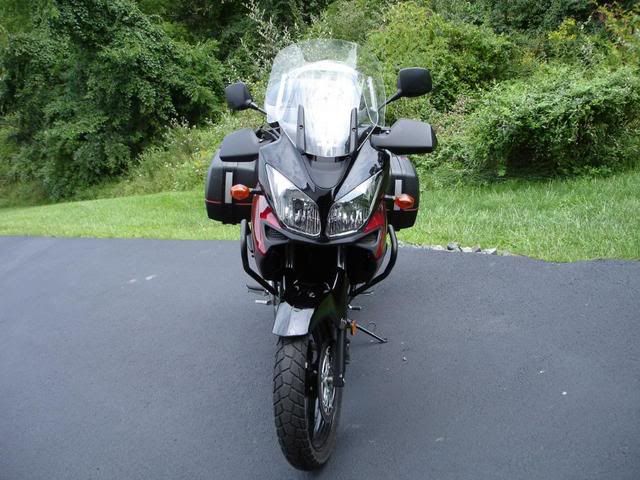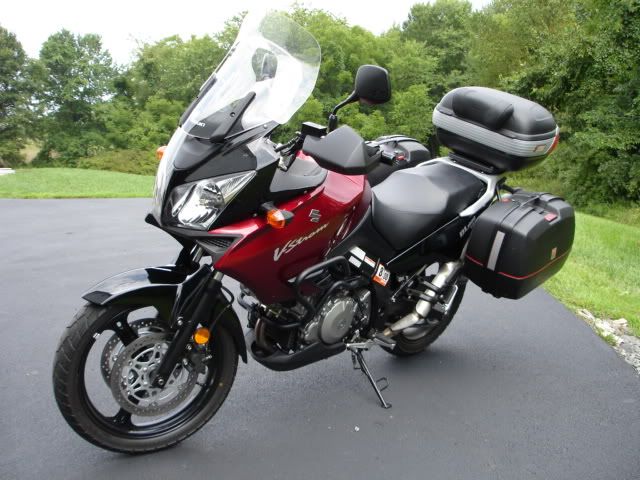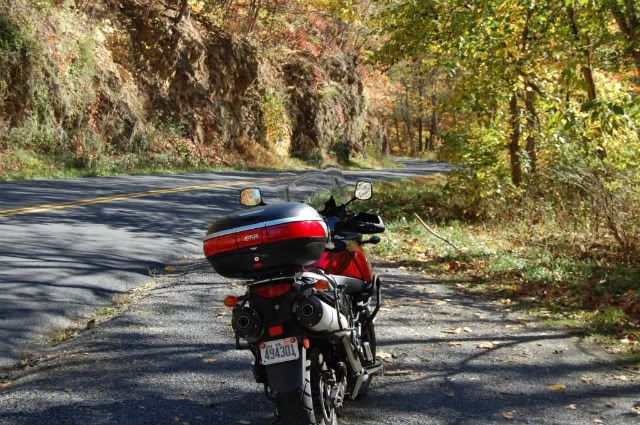 ---
Last edited by Dirt_Dad; 03-26-2008 at

06:43 PM

.
Stromthusiast!
Join Date: May 2007
Posts: 21
---
Great Thread!! Keep 'em coming! I am in the market for topcase, side cases and mounting hardware for my Wee, and being able to see the various types and how they look is really helpful. I appreciate the time you all spend uploading the pictures. Thanks
Touratech 41 liter Panniers, and a Marsee 10 liter Teardrop Tankbag.
VERY NICE!!!!
I think that this is a great thread. I haven't decided what cases I'm eventually going to buy and being able to look at different products and mounts is very helpful.
I've spent a few hours on a couple of websites looking at pix and a lot of times the poster doesn't list the particular case model#
and
what type of mount they're using, which would be really useful info. As an example...look at Greywolf's post he has listed
all
of the case and mount info on his selection of cases.....Thanks GW!
---
Wtf??
---
I thought for sure there'd be a Wee in here with an Igloo cooler on the back. C'mon guy's post up!
A setup nearly identical to Greywolf's, but I have E45's on the sides.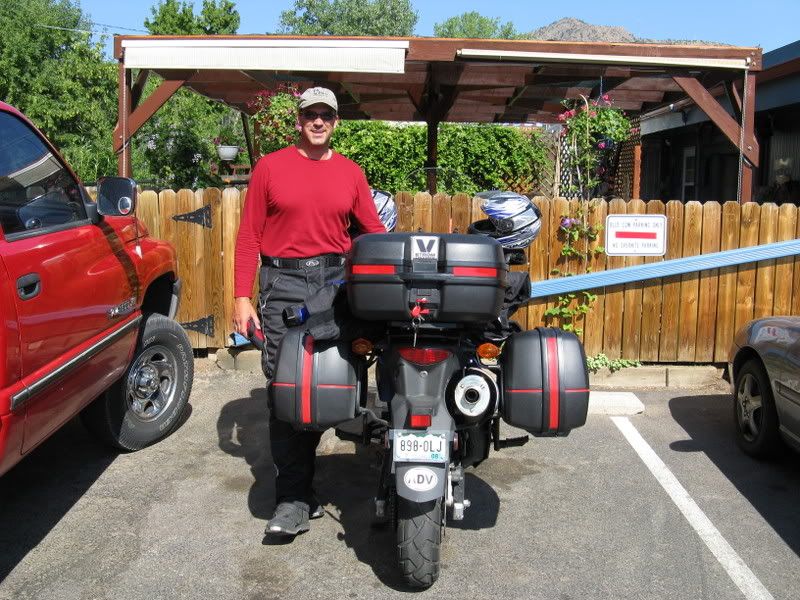 ---
Big John

2007 DL650 - Gone but not forgotten
---
Last edited by MTNAdventureRider; 07-28-2008 at

07:57 PM

.