Stromthusiast!
Join Date: Sep 2006
Location: BC Canada
Posts: 188
Givi E-36's. Great luggage for the money! Oh, pic to big, I'll post one later.
---
Big & fugly, mmmmmmmm....
Here's my cobbled-together setup of a GIVI E52 case and Pelican 1550s attached to the SW-Motech quick-release sideracks:
---
'07 DL650 ABS
'04 Yamaha V-Star 650 Classic Silverado (gone)
'04 Yamaha TTR225
'03 BMW F650GS (wife's)
'92 Honda XR250L
'86 Honda VT500c (gone)
Moderator++
Join Date: Jan 2006
Location: Evanston IL USA
Posts: 36,639
Quote:
A setup nearly identical to Greywolf's, but I have E45's on the sides.
...and Givi racks.
Happy Trails 7.5 X 15 X 18 Teton panniers.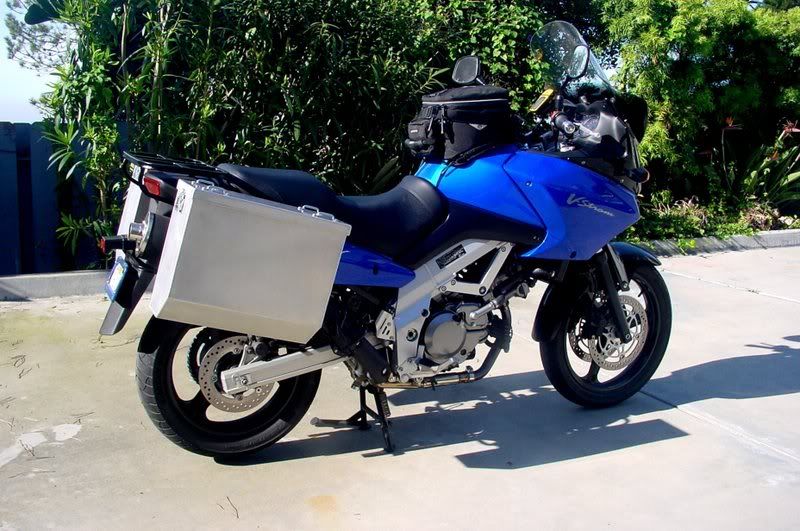 ---
[I]Experience is a hard teacher because the test is first, the lesson afterward. [/I]
Jesse bags w/ Med. Jesse Top Box
---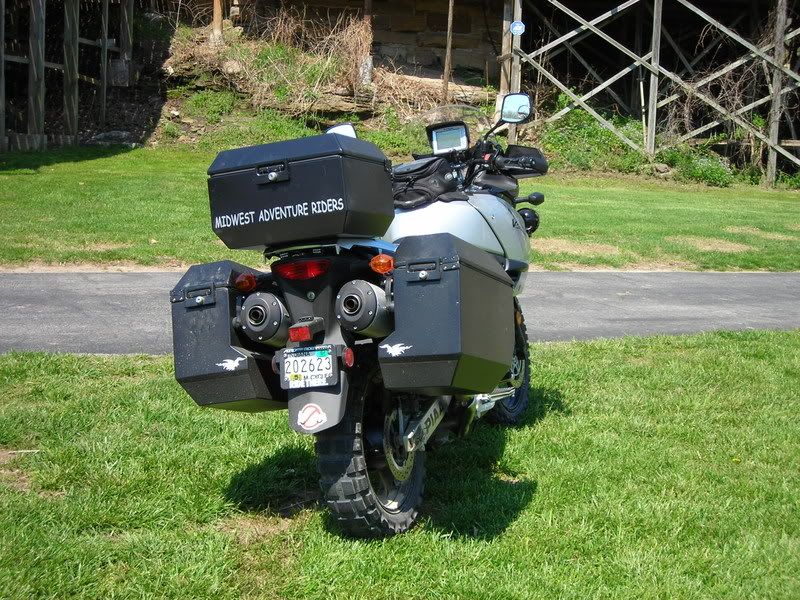 Stromthusiast!
Join Date: Aug 2007
Location: Lafayette, LA
Posts: 17
Since no one has posted any HB luggage yet - here's mine:
Hepco becker Junior 40L saddlebags with HB mounts
HB Junior 45L topcase with SW motec mount
Al
---
Last edited by AlLandry; 03-26-2008 at

09:59 PM

.
Stromthusiast!
Join Date: Nov 2005
Location: Elizabethtown, KY
Posts: 293
Givi E36 Sides & JC Whitney Top
---
Wish You Were Here...
When typing a message, set the cursor where you want the photo to be. Do you see the small icon just above the text box, it's yellow, square, with a graphic of a mountain and the sun? Click on that icon and a box pops up where you paste the website address of your photo (the flickr link in your case) and that gets the photo to pop up live in your final message posting. Like this:
I followed your link to your flickr site, put my cursor on the photo, right clicked the mouse on top the photo, hit "copy image location" and then pasted that into that icon pop-up box. You won't see the photo when typing the message, just the web address with [IMG] at each end of the address.
---
[COLOR="Navy"]Steve.
Twin Cities, MN, USA
Blue '07 650[/COLOR]
[I][COLOR="Red"]"With the rights of life, liberty, and the pursuit happiness comes responsibility, to yourself and others. With responsibility comes accountability. Without responsibility, without accountability, we cannot and will not be a free and civilized society."[/COLOR][/I]
[COLOR="Navy"]-Me, Steve T.[/COLOR]
..........double post.........
oops.
---
Peace carries a big gun!
www.k-diggityrides.blogspot.com
'04 1k Blue
---
Last edited by Vstromper; 03-27-2008 at

08:30 PM

.