Stromthusiast!
Join Date: Nov 2007
Location: Edmonton AB, Canada
Posts: 16
How about Honda CB500X?
---
My apologies if there is a thread about this around but after a search I didn't see one.
Cycle World article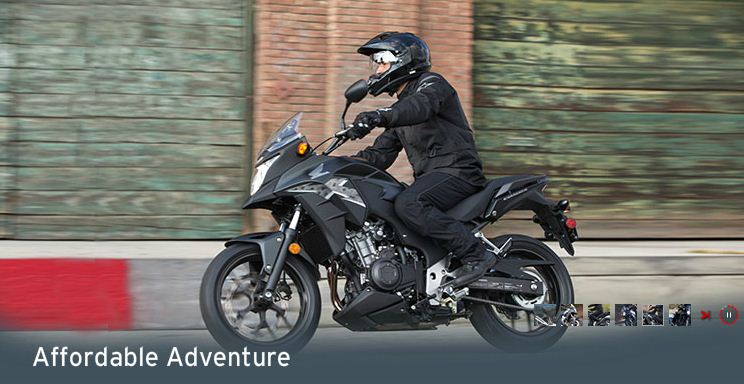 I find this bike interesting and wonder how capable it will be. Honda's new adventure or "adventure style" bike. I haven't seen any power figures yet and it seems pretty small at 470cc. However we might just be spoiled with power and performance in this day and age.
I read the book "Zen and the art of motorcycle maintenance." In that book Robert Pirsig tours around a large portion of the USA (in the 1960's) carrying his 10 year old son on the back seat and their camping gear. This was done on a Honda CB77 which was a 305cc twin. He claimed to do 90mph at one point in the book, which is hard to imagine.
Then there was Ted Simon who rode his detuned Triumph Tiger 500 around the world in the '70s.
My point being this bike might end up being a real value. Maybe even a useful long distance tourer with the right mind set.
Any Thoughts?
---
[IMG]http://img.photobucket.com/albums/v453/Cybrid/VisitedStatesMap.jpg[/IMG]
[IMG]http://img.photobucket.com/albums/v453/Cybrid/VisitedProvincesMap-1.jpg[/IMG]
I have been looking at articles on the new Honda myself. I am old enough to remember when people thought my '69 Triumph 650 was a big bike. Rode that sucker all over California and Arizona. Sold it when I moved to Hawaii and bought another there. I do think that a 500 is big enough to ride just about anywhere you want it to go. The idea that you need a liter bike to tour on is just that, an idea. You can tour on anything that you want.
---
------------------
2007 Wee-Strom (*SOLD*)
2009 Suzuki Burgman 650 Executive
1980 Honda Express (my toy!)
[SIGPIC][/SIGPIC]
Stromthusiast!
Join Date: Dec 2007
Location: oregon
Posts: 2,184
Theres no question of a 500cc bike being adequate for a road trip. The question is whether or not you want to ride one on a road trip.
My wife had a 1981 Kaw 440 ltd for her second bike and rode it on a week long tour with me while I rode my Ducati 900SS. Nobody told her it wasn't a touring bike so she thought it was just fine.
These days I can't imagine I would be too happy on a 500. I don't really like riding the 650 Strom on high speed highways or freeways although I enjoy it on backroads, particularly curvy ones.
We used to ride small bikes on trips, like my Yamaha 350 R5 but not because it was the best tool, its just what I had.
In my mind its more fun having more bike than you actually need. Preferably a lot more bike than you actually need. And fun is what I ride them for.
---
Joe S.
'14 HD FLHR
'12 Concours
'11 DL650
'01 HD FXD
'09 HD XR1200
'79 BMW R100
The extreme bend in the knees would kill me after 100 miles. Pegs too far back to stand so no offroad.
Stromthusiast!
Join Date: Mar 2011
Location: Pasadna area
Posts: 9,089
Good points by MAdchap but I like the smaller displacement bikes.
As long as the ergos are decent I'd rather have a light bike than a cludge like an RT bmw. When the fall down that picking back up stuff is awful!
The smaller bikes, like the 650 Wee and others go plenty fast for me and haul all the stuff I need.
Kinda funny though, give the bike a beak and it becomes an adventurer! Ta-Dah!
In spite of the endless articles on this line of bikes (there's three versions of the same bike; a naked, a sport, and the X), nobody in the US has seen or ridden one yet. I'm not knocking it; but it remains to be seen how good it really is.

The line is being produced in the Thai plant along with the CB250, which is a great bike for the money However, I have to wonder if the extra $1k to move up to the NC700X wouldn't be money well spent. A high-reving inline twin can be pretty buzzy; the NC makes it's power at low revs and has gotten great ride reviews. Also, I wonder where they scrimped to get that low price. If you wind up upgrading the shock, forks, and brakes to get a decent ride...
---
Go hakafugu yourself.
Interesting.....rider in pic has his tip toes on the pegs , appears that the peg is located directly under your butt. Standing shouldn't be too difficult. The 700X looks to be a well constructed machine (I see one every time I visit my Dealer for goodies) , the 500 is coming in under 6K. In this economy , those #'s are pleasing. I've owned 8 Honda motorcycles , My wife 2 , I've never seen them use inferior parts on any of the machines I've owned. But I just bought a 2012 DL1000 (new) , and spent an extra Grand buying stuff to make it what I feel is a better Adventure bike. Did Suzuki skimp? In my opinion , yes , but others would say they love theirs straight from the crate. So if you end up with a Honda , you will probably "upgrade" the things you feel need to be upgraded. I love my Strom , but I also like the direction Honda is heading in too.
Stromthusiast!
Join Date: Oct 2009
Location: Fincastle VA
Posts: 574
I've liked where Honda was heading for over 30 years. As a Honda employee told me, they are engineering driven, not consumer driven. They make the best product they can. You can usually find more exciting products in the show room floor, but after owning their product for 10 years, you'll be glad its a Honda.
---
2009 DL650
Stromthusiast!
Join Date: Dec 2010
Location: Colorado Springs
Posts: 2,692
I kind of like the faired version of this little 500. At 5'6", it would not be an issue for me and would be a fun back road bike...maybe. The only problem with buying a $6,000 budget bike is that if you're patient and/or lucky, you can sometimes find a great deal on much more bike for about the same price. I think the Wee is an exception to this rule, since it gives more bang for the buck already.
---
06 V-Strom DL650

[SIGPIC][/SIGPIC]
I spent some time looking at the X at the IMS in december and loved it.I'm 6'1" and around 275lbs and it seems to fit me well.I would probably trade in the V for one right now BUT they won't be available till June around here and I'm heading out on June 20th for almost a month to Deadhorse.Also they want a deposit to get one and I'm NEVER buying another bike WITHOUT a test ride first !!.
ImageUploadedByMotorcycle1358099395.054134.jpg
Sent from my iPhone using
Motorcycle.com App
---
1990 Yamaha XT350
2012 Honda NC700X BDR express......
1994 GS500..DORA THE PURPLE EXPLORA