I have a couple of second bikes..I have a hayabusa that always brings a smile to my face when I twist the throttle and I have two yamaha GTS-1000s. I have a 71 honda cb550 that is currently in pieces waiting for me to get back to the states and finish it up. I also have a 1958 DNEPR that has some electrical problems and in search of a sidecar.
---
Current Stable:
1971 Honda CB500 Cafe Racer
1981 Honda Goldwing
1993 Yamaha GTS-1000 x3
2000 Hayabusa
2003 V-strom
In addition to the Wee, I have a 04 Honda ST1300 for long tours and 2 up and a 00 Honda Blackbird for satisfying those need to go fast urges that crop up once in a while!
Rod
Any KLR - 650 or 250
---
Like many others on this thread said, I think the KLRs are GREAT second bikes.
I've had both. I liked the KLR650, but it was heavier than the KLR250 and the KLR250 is kick start only, but it can go just about anywhere, as long as you're not in a hurry.
Either bike has an ENORMOUS aftermarket for parts and with the models being built and sold much the same since 1987, they are inexpensive to purchase.
Oh, by the way, my current second bike is a 1977 Honda CB750A (yes its the automatic model).
---
SGTBob
Currently own:
2012 DL650 Adventure and a 77 Honda CB750A (Automatic)

Many of life's failures are people who had not realized how close they were to success when they gave up.
Thomas Edison
---
'08 Vee: Suzy luggage, Crash bars, Rad Guard & front mudguard extension, Zumo 550, Oxford Hot grips, Stebel, PC-8, 12v acc, Scott oiler & lube-tube, Remus Revolution Cans, Bark Busters, Phillips Extreme vision +100 bulbs.

'08 Concours 14: Rad guard, Stebel, Oxford Hot grips, Projekt D Screen, Hugger, GPS mount, helmet locks & front guard extension, Zumo 550, Stebel, Phil's rack & Givi V46, Sheepskin seat cover, Phillips Extreme vision +100 bulbs.

http://banditrider.weebly.com/index.html
http://banditrider.blogspot.com/
Stromthusiast!
Junior Trooper
Join Date: Aug 2012
Location: chambly, quebec, Canada
Posts: 2
A Honda Ruckus. I use it a lot around town and to go to work some times.
Stromthusiast!
Join Date: Mar 2012
Location: Denver, CO
Posts: 245
Quote:
For the track I have these. All three will be for sale come summer.
Wow, one of my dream bikes: the red Ducati 996 Biposto. Would love to have that beauty!
Stromthusiast!
Junior Trooper
Join Date: Aug 2012
Location: Atlanta, Ga. area
Posts: 1
Best of both worlds-RM250A & 2012 Wee
---
Quote:
I want a second bike to ride about the bush with my son and even ride to work 10 minutes through traffic to save having to fire up the Vee. I would like a drz400, DR650 or a KLR650 or something smaller. It got me wondering, what do other Strom riders have that they ride. I don't mean that bike that you ride once a year, I mean really ride. I have no doubt this is a thread already done somewhere so feel free to point me in the right direction.
Both bikes bought new out of the crate. A 1976 250 RM-A Scream machine and the new 2012 Wee. Life is good.
Stromthusiast!
Join Date: Aug 2012
Location: at the Gateway to the Sierras, in California
Posts: 1,392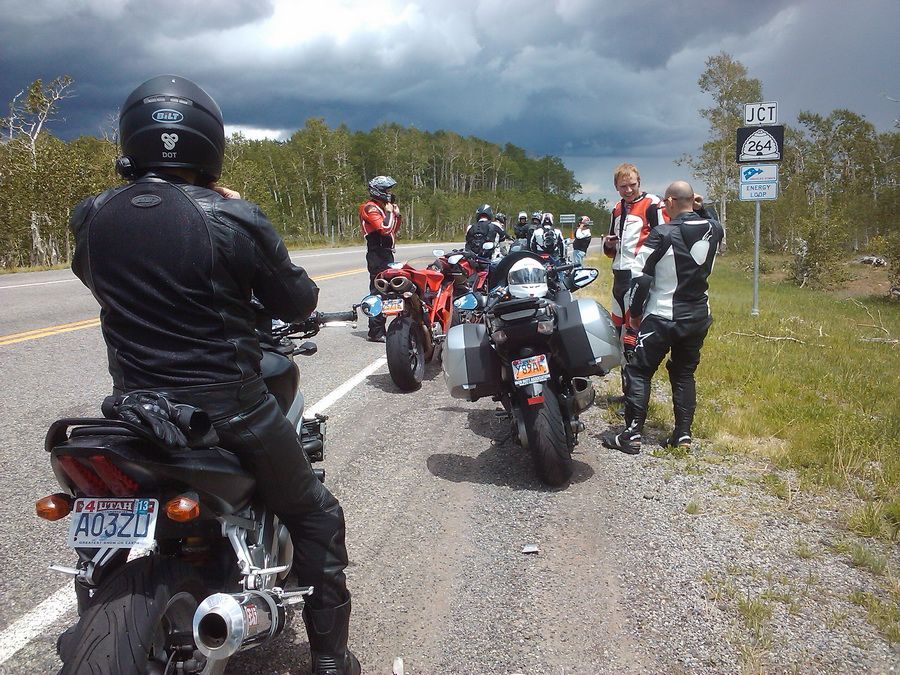 yah, the Vee is going black soon.
Just picked up a CBR929 Fireblade in trade for my sled...That thing is a rocket!
---
2014 V2 2014 CB500X (wifes)
[URL=http://www.fuelly.com/motorcycle/suzuki/dl1000_v-strom_abs/2014/pvwheeler/355645][IMG]http://badges.fuelly.com/images/sig-uk/355645.png[/IMG][/URL]