Go DR!
---
I love my DR350. Such a reliable, fun bike with excellent MPG. I'd take it over a DRZ400 any day. I like the aircooled, carb idea. Less things to break down in the middle of nowhere. If it was good enough for the Mondo Enduro guys, it's got to be good.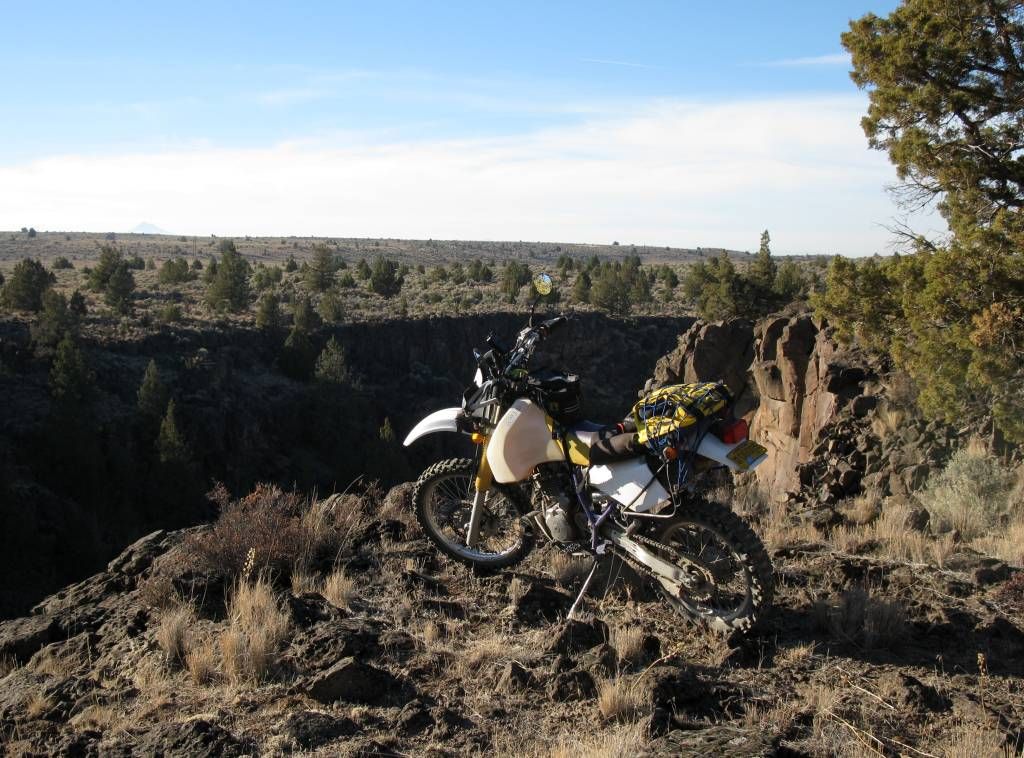 DR350 also. Here it is at the beginning of 4 day trip trip in the Cascades.
---
DL-650 K5 red
09 DRZ400
The thrill of living should never be traded
for the safety of existence.
Member of the 100,000 mile club.
Stromthusiast!
Join Date: Mar 2012
Location: Denver, CO
Posts: 245
I have a Thruxton. Yes, I do ride it "more than once a year". I have taken this bike to New Mexico, Wyoming, Utah, Nevada, and all over Colorado. For me, it is an absolute joy to ride.
Stromthusiast!
Join Date: Feb 2012
Location: Newark, Ohio
Posts: 132
Two Strommer
---
I wanted a KLR or a DR650 as a second bike to my 2012 DL650. Something I could just use for zipping around town, getting groceries, local exploration, etc.

Ended up with a low mileage, well set up 2005 DL. It turns out to be an awesome bike and I ride it more than I do the new one. I don't think it is more expensive than any other "second" bike would be and in some regards, it is cheaper. I am upgrading the suspension on the new bike with after market parts and will re-use the 2012 components on the older bike.

Wish the seats were interchangable, but many of the parts work. I save my nearly used up tires and finish them off on the older bike, on local rides, or at least that worked out this year. I plan to start the year with new tires on both.

I tend to "over do" my maintenence and there is always one bike undergoing some adjustment or upgrade so it is nice to have the other one ready to ride.
Stromthusiast!
Join Date: Sep 2012
Location: Las Vegas
Posts: 18
My time gets split pretty much equally between the wee-strom and my Buell Uly XT.
Stromthusiast!
Join Date: Jan 2012
Location: San Antone
Posts: 68
1981 CT110. A blast to ride on trails, though a tad small for me around town.
---
2012 DL650 "Bevo"
Stromthusiast!
Join Date: Apr 2009
Location: Australia
Posts: 82
This is great stuff people. Very informative. Klr 650 sounds like a winner so far. I'm jealous of the cb Honda owner though...well actually I'm jealous of anyone with a second bike.

Sent from my GT-I9300 using Motorcycle.com Free App
---
'07 DL1000 (current)
'97 RMX250 (current part owner with son)
'81 Honda CX500 (sold)
'06 Honda VT750 (sold)
22 year gap!
Honda CB500/4 (dead)
Suzuki GSX250 (sold)
$tromtrooper
Join Date: Mar 2010
Location: plymouth, michigan
Posts: 3,000
2008 Turner 5-spot! It's my go to bike for on-road, and off-road adventuring, as well as a bombproof commuter!
---
"Side effects may include:
Mild kidney explosions...Testicular cranberrying... And Rectal hallucinations.
"
---
1990 Yamaha XT350
2012 Honda NC700X BDR express......
1994 GS500..DORA THE PURPLE EXPLORA
I initially wanted a DR650 (Suzuki), but it's really hard to find a decent used one. There are bazillions of KLR650s out there.
I've had an absolute ball on this thing. Mine's the pinkish 2005 in front:
---
2002 Suzuki DL1000 V-Strom, Dark Metallic Space Blue
1983 Suzuki GS850G, Cosmic Blue
2005 KLR685, Aztec Red - Turd II.2, the ReReTurdening