Join Date: Aug 2012
Location: Mead Ok
Posts: 28
Other rides
---
DRZ 400 E with Ok plates for use in the serious dirt riding.
Stromthusiast!
Join Date: Dec 2012
Location: Temecula, CA
Posts: 19
Stromthusiast!
Join Date: Jan 2012
Location: Iowa
Posts: 97
72 Norton Commando Interstate
86 Concours
74 CB450
80 CB900C
---
IBA62582
'09 DL650A
Stromthusiast!
Join Date: Nov 2012
Location: NC
Posts: 165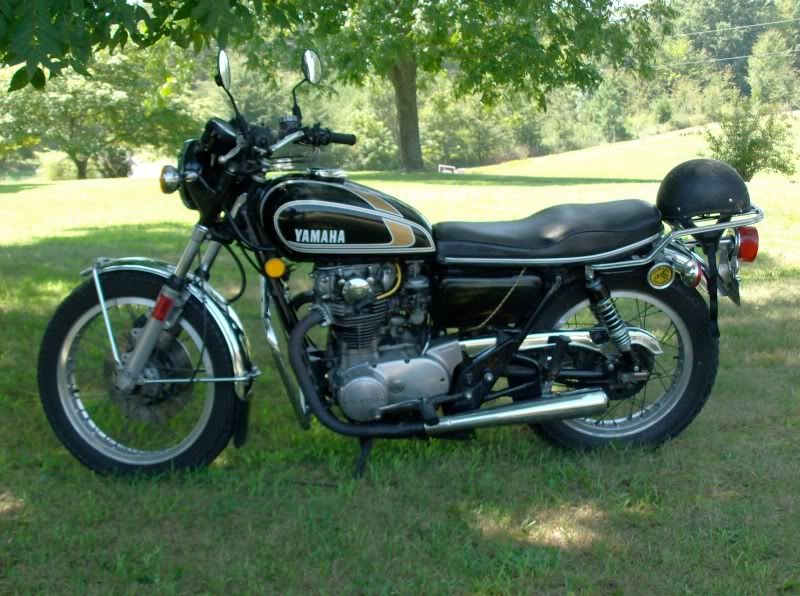 Plus two more 73's.
I missed having a cruiser.
---
I sold my VS 1400 in '09 shortly after purchasing my K3 DL 1000. I've always liked the Sportster, but had never owned one. The prices on used Sportsters were through the floor this spring and I bought this '05. I'm really enjoying it!
---
Looking for the shortest point between two distances.
---
Last edited by Gary Paul; 12-30-2012 at

01:01 PM

. Reason: I always forget how to post pictures.
Stromthusiast!
Join Date: Apr 2009
Location: SW Oklahoma
Posts: 83
Gold wing a and a road glide
Stromthusiast!
Join Date: Oct 2009
Location: Coastal Texas
Posts: 33
The trio
I didn't think anyone with a V-Storm needed a second bike..

You mean a bicycle?
---
[CENTER][B]Dead-thread Necromancer[/B]!
Dirty Vee: K5 [URL="http://dl1k.blogspot.com/"]DL1k[/URL]
[/CENTER]
I've had about a dozen or more bikes, and 30k on a Ninjas 250 is my personal best (getting close on my DL1k), and I've had no "need" for a second bike. Suzi has done quite well in everything I require; adequate at everything. I'm a Jack-all,-master-of-none just like my daily dose of DL. I would never turn my nose up at a basketcase, but I'm thrilled for the fist time in my life to have a button that makes the engine growl to life. Oddly enough, I miss my Honda Supercub (70cc) the most. On a Honda, as they say...
---
[CENTER][B]Dead-thread Necromancer[/B]!
Dirty Vee: K5 [URL="http://dl1k.blogspot.com/"]DL1k[/URL]
[/CENTER]