pulled the trigger on a ducati multistrada
---
The Wee has been a great bike and really opened my eyes to adventure touring. But I've developed a wandering eye, and have been lusting after a Ducati multistrada for a while now. After 2 years I think they've worked out the bugs so I bought a 2012 Touring S today. Fresh out of the crate. First 50 miles..unbelievable. 150 HP, full Ohlins suspension...and acceleration like God is grabbing you by the lapels and yanking you forward
Anyways I'll list my '09 wee on the sale forum here and I hope to pass it on to a fellow stromtrooper. I bought it here 2 1/2 years ago from a forum member and I'd like to pass it on. It's an awesome bike in perfect shape and farkled great.
peeking out of the crate...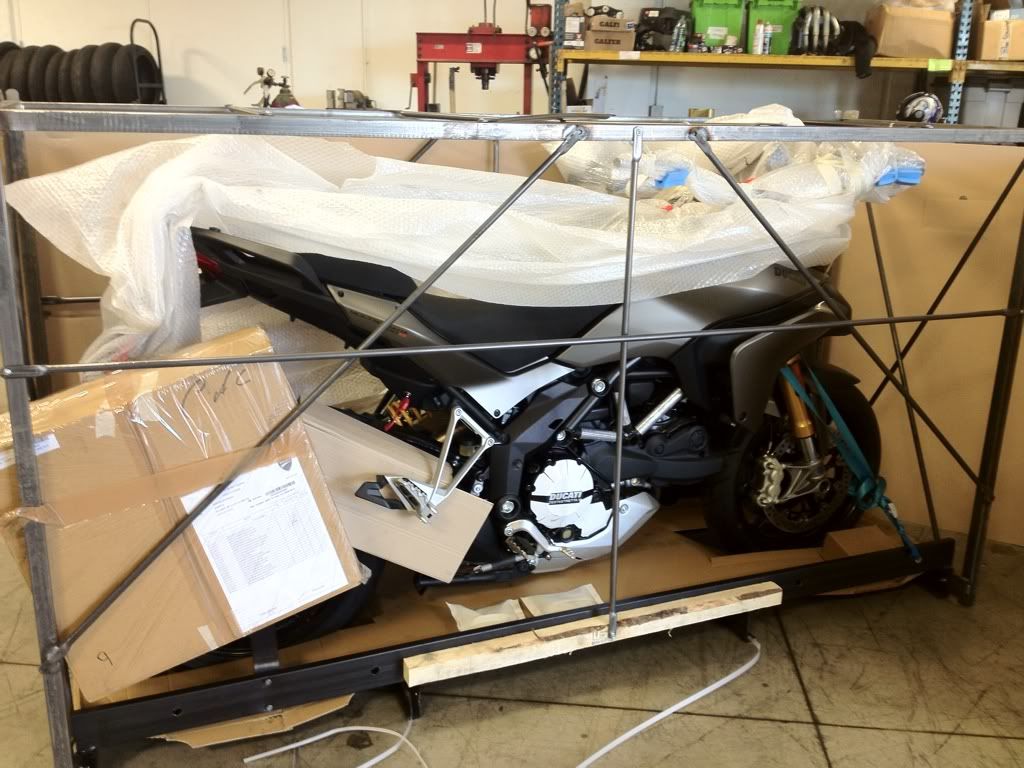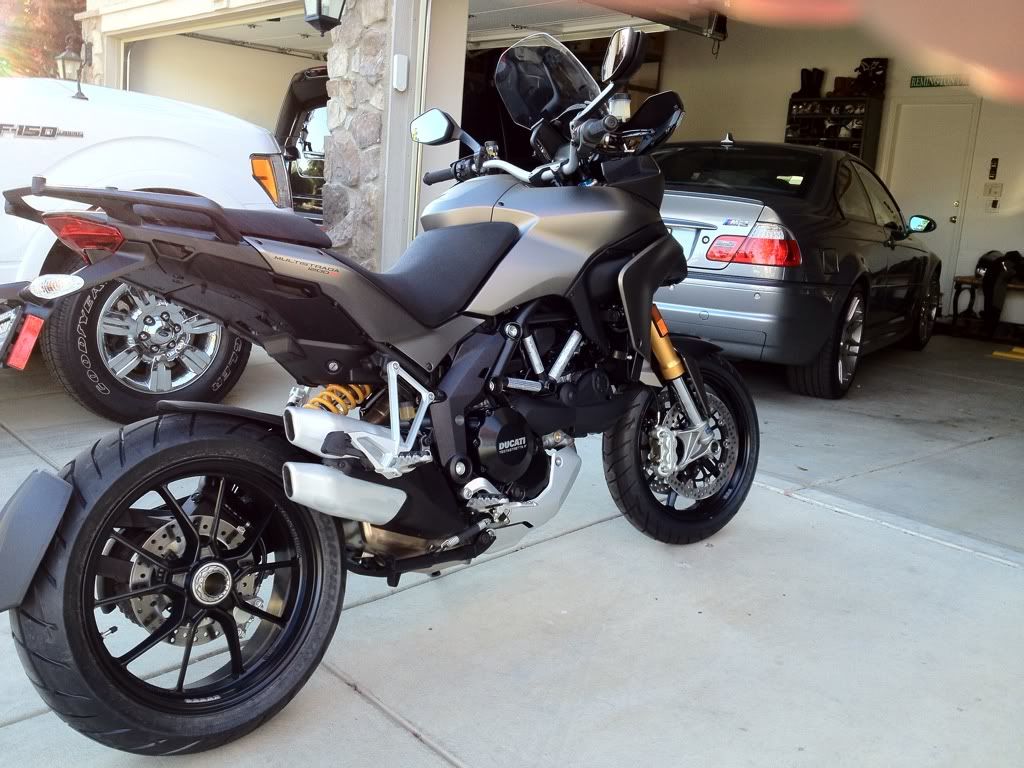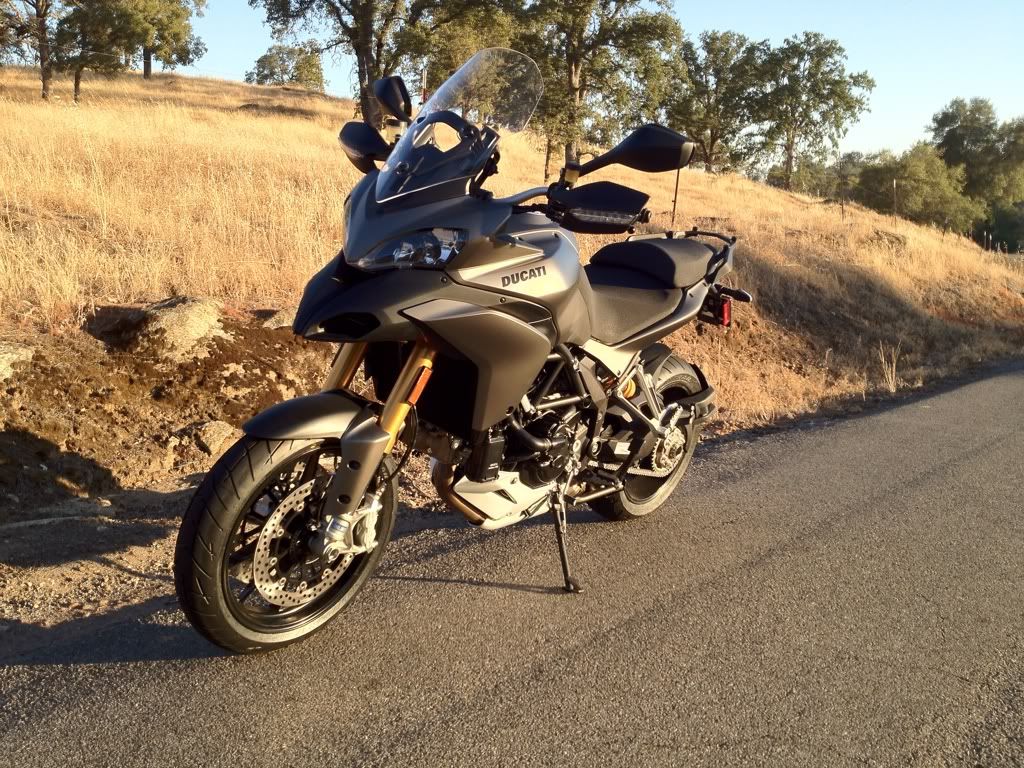 ---
'09 Wee (sold)
2012 Ducati Multistrada 1200 S Touring
2006 BMW K1200LT
Stromthusiast!
Join Date: Sep 2010
Location: Vancouver
Posts: 418
Swweeeeeeet.
---
2012 DL650 Shiro Nakama #27
Ride Report: http://www.stromtrooper.com/ride-reports-route-sheets/79121-footsteps-lewis-clark.html
Stromthusiast!
Join Date: Mar 2010
Location: Hanford, CA
Posts: 329
Beautiful, Doc! I, too, have been lusting after the Multistrada. I've been lurking around Wilson's so long they may adopt me. Maybe I'll give Mrs.deuce the new Wee and look into the Duc. I wonder how much service will cost?
Hmm Looks like California could do with a bit of rain. that would be just the ticket to get that newbie bike broken in.
I will bet you your M3 that the front tire lasts 3 times longer than the back
That is if it ever touches down - 150hp - holy shit that's going to put the wind up every "sports" bike in the county. Hope your friends with the local law enforcement lads
---
Last edited by Thunderdownunder; 06-28-2012 at

02:34 AM

.
Awsome !!!! I would love to have one..............
---
05 FJR
Good for you!!
That is a beautiful bike and I love that color on it. I live about three miles from Indy Ducati and love going in there every once in a while to look around and talk with the folks there. A great bunch of guys who are absolutely nuts for motorcycles. I test rode the Multi when it came out and was impressed by those brakes (
) the seductive roll on acceleration and that Ducati sound...........awesome. The fueling was a little off but I know they have made a few improvements overall and it should be about perfect save for being a bit too small for my lanky body.
Congrats and I hope you stick around and continue to share with us.
---
09 Wee with stuff
09 DR 650
How are the ergonomics in comparison to the Wee?
I can't think of too many times I would need that much power but I'd imagine it would be hard to go back to a Wee once you've got used to that Ducati's power.
Now why did you have to go and do that??
I finally thought I'd gotten rid of the want a new bike itch and your post buggerred it.
I want one!!!!
Banned
Join Date: Jan 2010
Location: Baltic, Ct
Posts: 6,624
Congradulations
Envious and glad you are enjoying your success
Hope SCOTUS lets you pay fro it
Ever since I ran into this guy last Sept. on Independent Pass, it's been eating at me to get one.