Quote:
Originally Posted by
Stromin'Nroman
View Post
Seriously?

Have you seen your avatar picture?
Why yes I have seen my Avatar picture Snazzy looking Piaggio if I may say so myself. Don't let the little scooter embarrass you
. Seriously though I have over 30 years riding under my belt average 20k a year and I demo any bike I can get my butt on regardless of how ugly or purdy it may be I have even demo'd a 4 wheel goldwing once and a 400 horse Boss Hoss. The honda I commented on I would not waste your money on. I even went back and road a diffent one with all stock setup liked it even less. I feel my review was dead on. Since then I have gotten rid of my Goldwing and bought a tenere. I pick it up this afternoon
Quote:
the november 2012 issue of cycle world explains a lot about the theory behind the nc design.
Nc stands for new concept, and has nothing to do with the tarheel state.

The basic idea is that bore>stroke leads to high rpm and lots of power, but stroke>bore leads to economy and level
torque over a wide range of rpm, but the redline is very low by modern standards. And that is where the nc is.

Of course, that is an oversimplification, but it appears that the nc700x is aimed at folks like me. I ride long distances to tour or to visit people; i don't yank on the throttle, and my chicken strips are wider than yours, perhaps wider than your grandmother's. But i ride a lot and i haul a lot, and i really like riding a dependable bike. So i have a wee-strom, and i like it a lot, and i plan to get another in 2016 when mine is ten years old.

Maybe mr. Honda has other ideas for me. He has a lot of my money,
and a glimpse in my garage will show that he got some of it recently.

Keith
+100000000000000
---
If all you ever do is all you've ever done, then all you'll ever get is all you ever got.
If I wasn't built like a gorilla with a beer gut , I'd consider one. I've owned , insured and ridden 28 motorcycles.....and don't even remotely think of it as a scooter. But asking about a bike that competes with the one you joined the forum for is probably not the safest place to get unbiased opinions.
I think it's funny that the core design element of Honda's "New Concept" engine is a long stroke and narrow bore. Guess which other engine that's been in mass production for decades has the very same characteristics? Potato. Potato. Potato. Potato.

They really should call it "New Marketing Concept to Sell the Dual Clutch Transmission We Sunk Millions Into," but maybe NMCSDCTWSMI is too long to be catchy.
---
Go hakafugu yourself.
I rode the nc700 last week at a Honda demo. I was extremely underwhelmed by it. If I wanted a low revving long stroke bike I would just buy a xr650 and add anything I wanted to it. It was slow and heavy, and it redlines too quick. It was alright but it is a long way from my DL650. The salesman excitedly asked me what I thought of the bike and before I could answer asked me what I currently rode. When I said vstrom 650 his face immediately dropped and he chuckled and said "well I guess you arent going to be interested in the NC then"......I wasn't and he started talking about how Honda had the chance to make a really great bike and they blew it with the NC, and how versatile the DL650 was.
Sent from my iPhone using
Motorcycle.com App
Stromthusiast!
Join Date: Nov 2012
Location: NC
Posts: 165
nc 700x not a transalp
---
This is long winded and off topic at first, but will loop back around to the NC 700x.
I have been riding with my wife for the past three years. I had last ridden back in the 80's when I had a GS 1000L that I rode back and forth to Lejeune every weekend I had off. A GT500 before that one. Fast forward twenty years, retirement on the horizon and I longed for those days of riding again. Then I found out about the Transamerica trail, started reading ride reports and decided I was doing it. Bought a XR650L, started farkling it. Wife chimed in she was going to go with me and got her a DR 650. We started taking trips, Blue Ridge Parkway, The Outer Banks, and local camping trips. Testing out gear, learning how to use Garmans 60csx GPS units etc. Fun, but then it dawned on me that we will probably, at worst, ride some gravel or dirt roads. That was ok, the rides were great, but I never did gel with the XR. To tall, to uncomfortable at highway speeds. A pretty good street legal trailbike, but just not that great for long road rides. Started looking around but kept coming back to the Honda Transalp.
You can still find low mileage bikes here and there, even test rode one. Decided that these would be the bikes we needed. 600cc, not great, but enough and known for their longevity. But then I got to thinking did I really want to get two twenty year old bikes? Parts are available, but not all that easy to find. So, I started sending in emails, phone calls to Corporate Honda. They were still making the Transalp 700, but only sold overseas. How about boxing two of them up and sending here. What was the freaking problem? In 2010 I probably still could have gotten them titled in NC. Had several of my phone calls returned by a guy from Honda marketing. He told me he couldn't go into specifics, but to look for something in the near future. I hoped that they would do a run of Transalp 700's here, but we got the NC700X instead.
Then I found out about the Vee Strom. When I went bike shopping I wanted to ride the NC700X, V Strom Adventure and Triumph Tiger 800. Rode the Triumph, great bike, fantastic motor, confidence inspiring handling. Really liked it. But a leftover 2011 model, naked, was still a couple thousand more than the Adventure. Found a NC 700x and a V Strom Adventure. Test rode the Adventure and really liked it. The same salesman actually steered me away from the NC 700x, said he found it gutless and parked it after a block.
So we ended up with a pair of Wee's.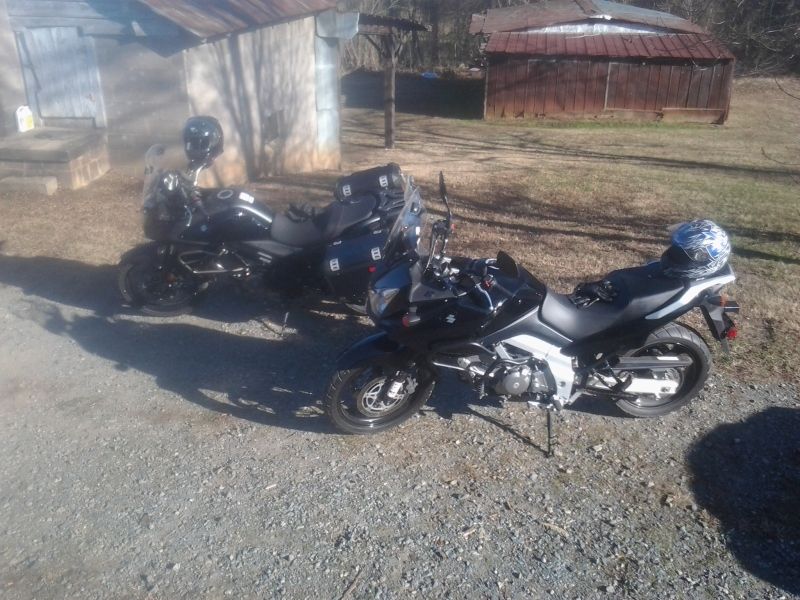 The Wee Strom, for me is the updated Transalp. V Motor, all out reliable, capable of getting off the road, but also comfortable touring it. I think if Honda would have updated the 700 Transalp and kitted it out for Adventure
they would have had a contender with the Wee, the Triumph 800 and BMW Adventure bikes. The NC 700x may find a market, the gas mileage is great, probably a good learner bike, but the Adventure market is the growing bike market right now. I think Honda swung and missed.
---
Last edited by deputygene; 12-25-2012 at

07:51 PM

.
And still I wish all my fellow riders Happy Holidays........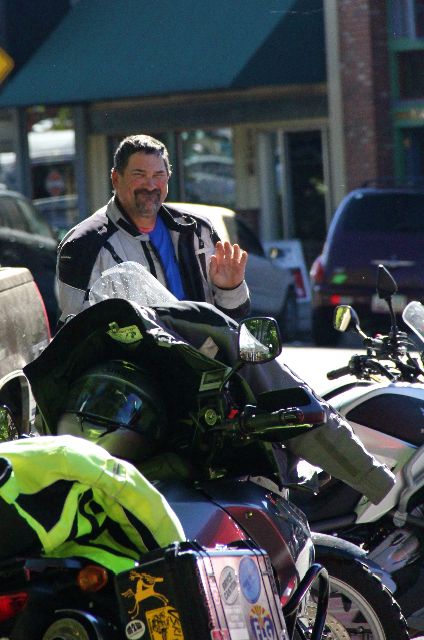 ---
06-DL1000 62000 miles....Sold...
Now Honda NC700X..36000 and counting...............
Now Suzuki Hayabusa..21000 and counting.......
Stromthusiast!
Join Date: Aug 2007
Location: Omaha, NE
Posts: 3,619
NC and NO
---
I kinda suspect almost anyone with riding experience will find the NC underwhelming. On the other hand, anyone new to riding will find it adequately powered, very economical, and reasonably non-threatening with the DCT. Basically twist to go, squeeze to stop. Most likely, the market for the New Concept is New Owners with little prior experience. Doesn't make it a bad bike, just one with a different focus. Certainly the engine is well-designed for the intended mission. Too bad that mission holds little excitement.
Honda's NC700X/NT700V idea shares too many similarities with the 2008 Aprilia 850 Mana...Honda was late to the party in my opinion!
---
2014 Tiger Explorer XC
2014 Speed Triple
2003 SV1000S (track)
Stromthusiast!
Join Date: Aug 2007
Location: Omaha, NE
Posts: 3,619
Or
---
Quote:
Honda's NC700X/NT700V idea shares too many similarities with the 2008 Aprilia 850 Mana...Honda was late to the party in my opinion!
Or maybe right on time. Lotta folks would buy a Honda because of the dealer network that would not buy an Aprilia. Have an aging population showing a renewed interest in better energy usage and two-wheeled transport. And let's face it, Honda didn't bet the farm on this model. If it works, fine. If not, so what?