Review of Bags-Connection "Engage" Quick-Lock Tankbag
---
I have a few requirements for a tank bag.
1. It must prominently display my trusty maps (I'm a technophile but I still prefer maps to GPS even though my last two bikes had GPS)
2. Not too big. That's what my hard bags are for.
3. Can't touch the tank. It's a thing with me.
On my BMW's it was easy. The Marsee corona tank bag system. Unfortunately they don't serve Japanese bikes. So that led me to the Bags-Connection "Engage" Quick-Lock Tankbag for the SW-MOTECH Gascap Mounting System. I know, it's a mouthful. And expensive. I ordered it from twistedthrottle and mounted it today.
Here it is...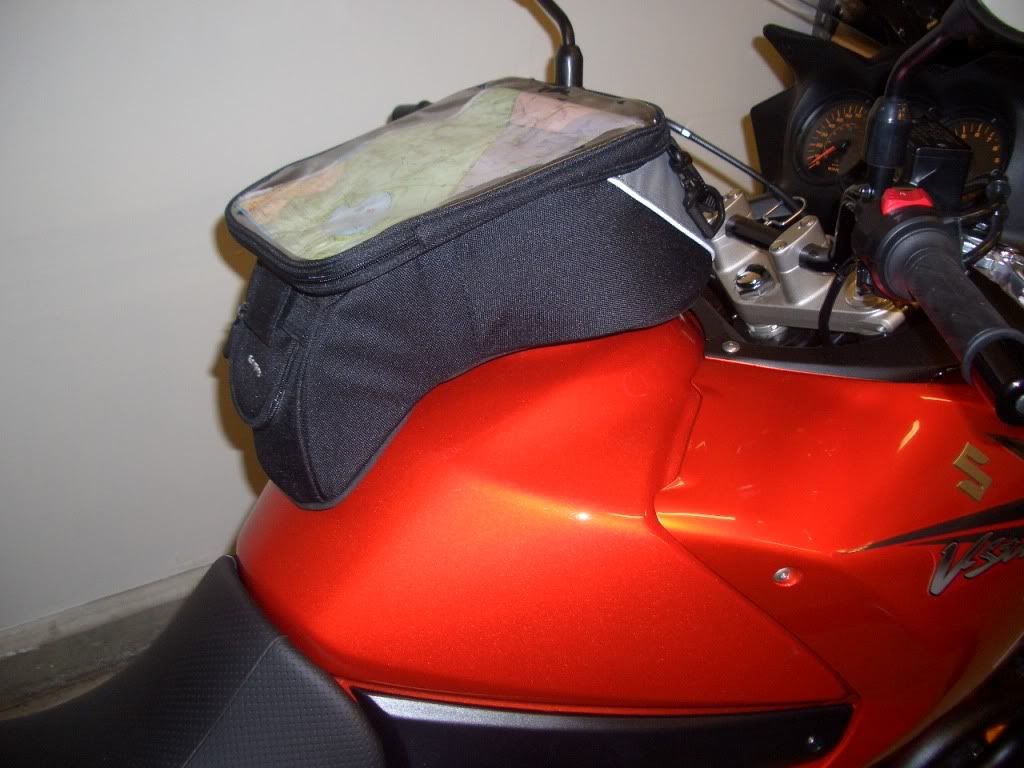 As you can see it doesn't touch the tank.
I ordered the optional map holder which clips securely over the top of the bag and holds a large map. Very nice.
Has a display window pocket for your phone. Not that useful for my iphone. You can see that the map holder flips up to allow access to the bag underneath.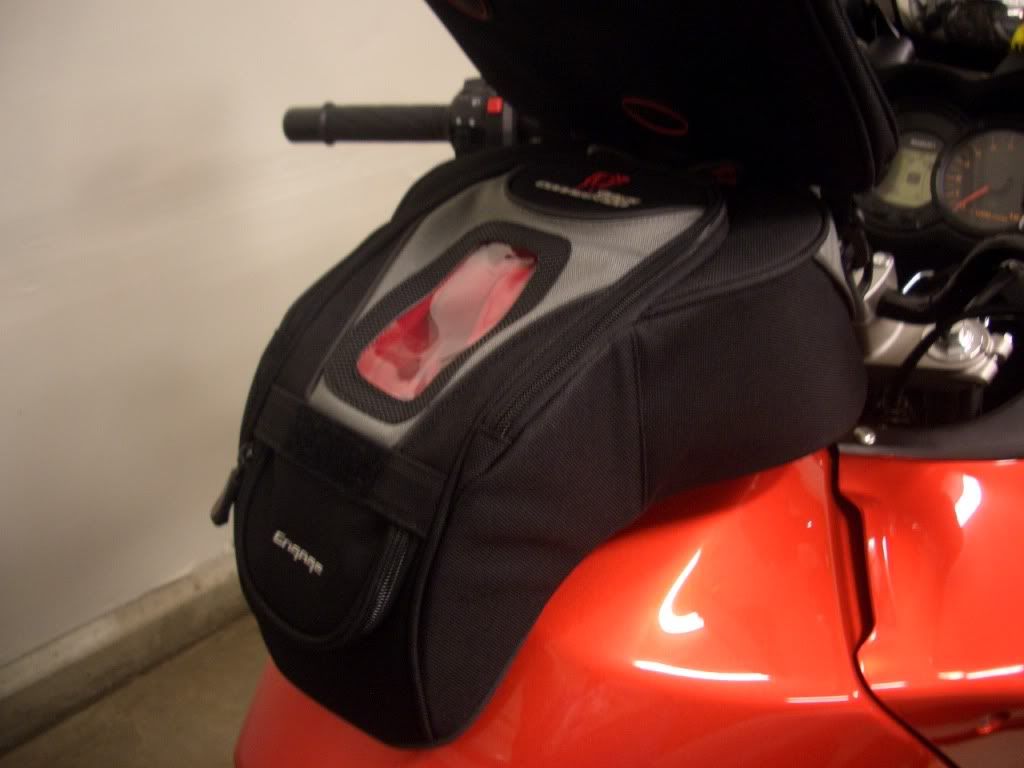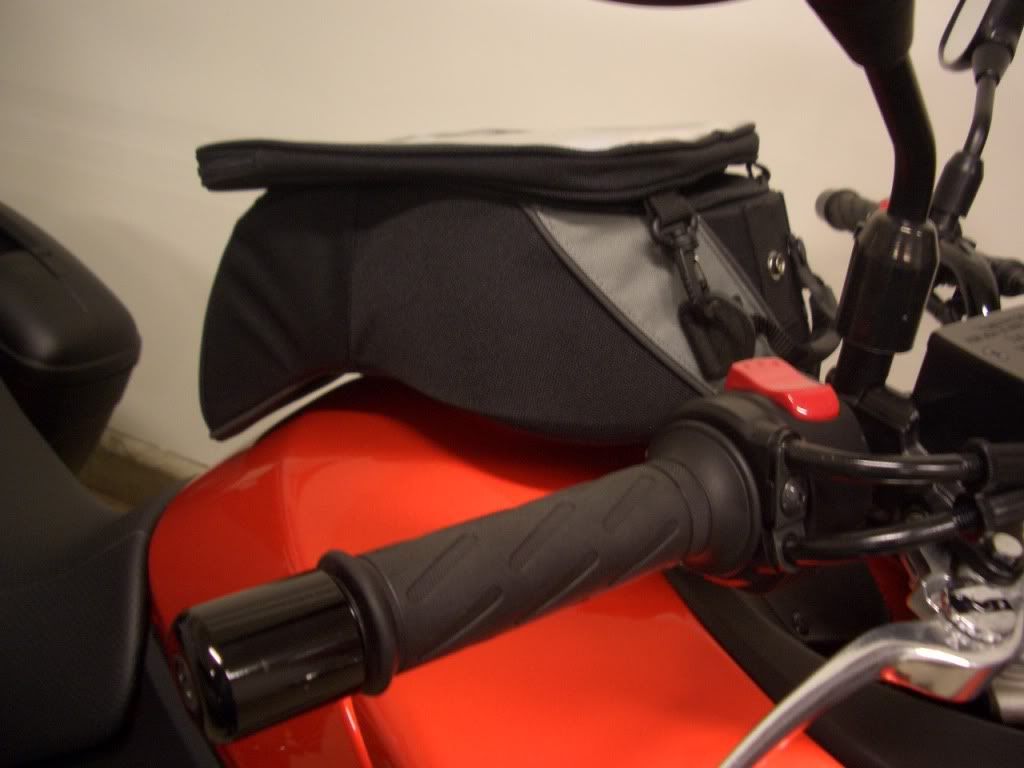 Here's the SW-MOTECH gascap mounting system.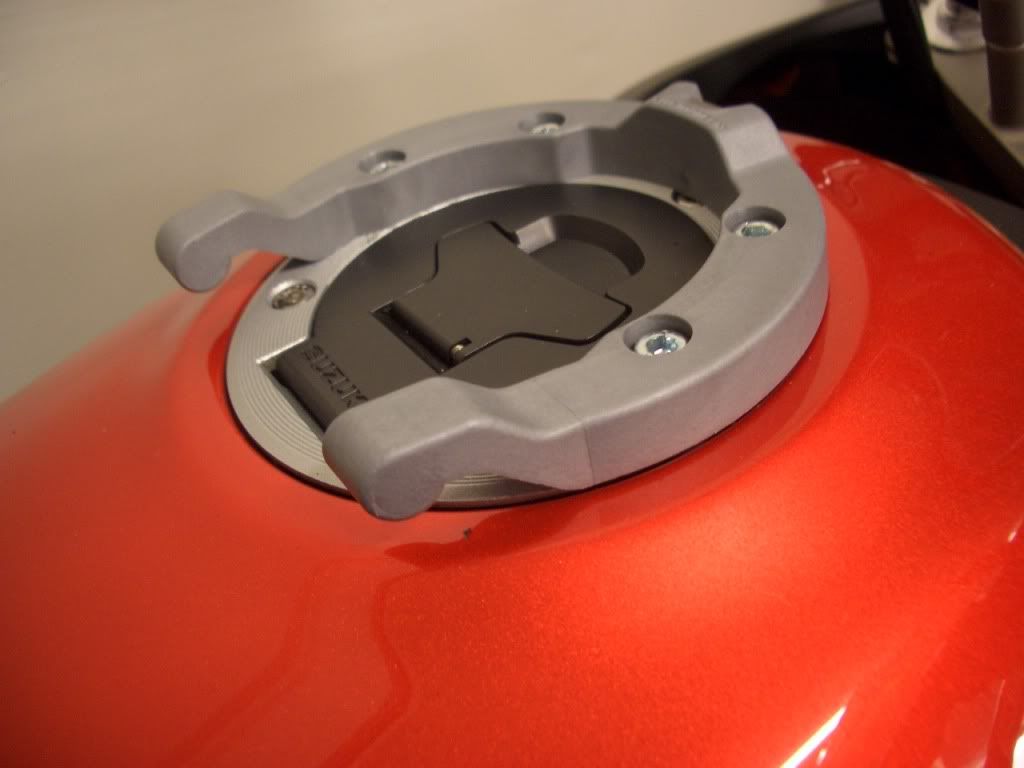 And the matching connection on the bottom of the bag. You have to drill and mount this yourself which is a PITA but it does allow you to custom fit it to your tank.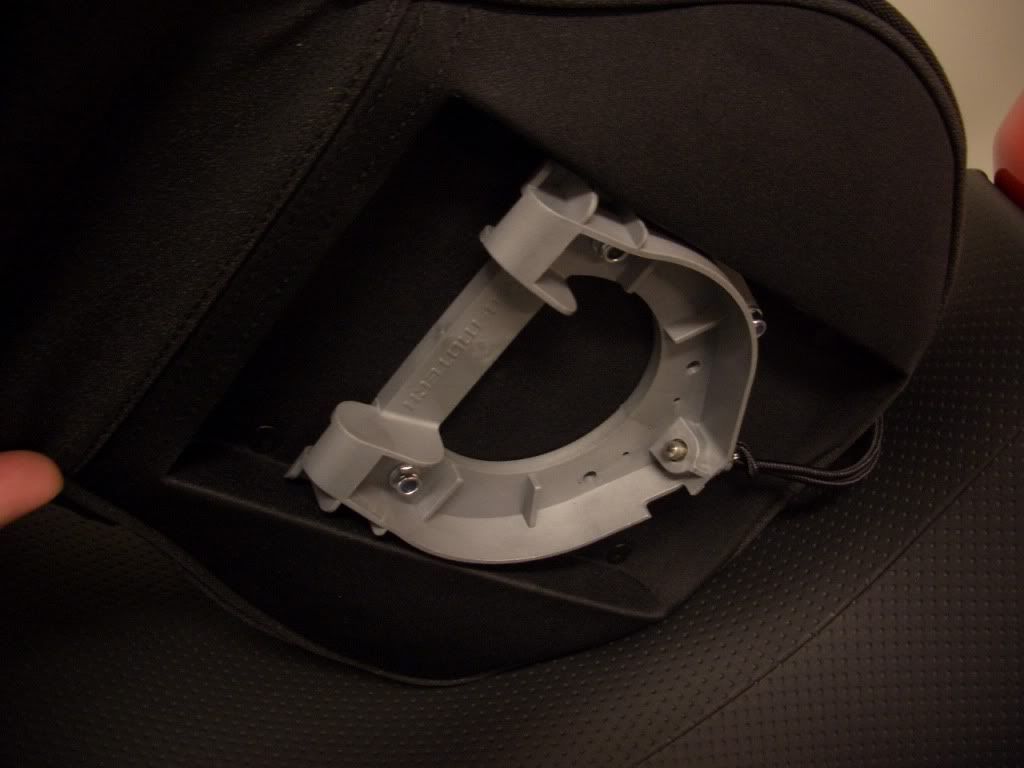 View from the saddle. Very nice.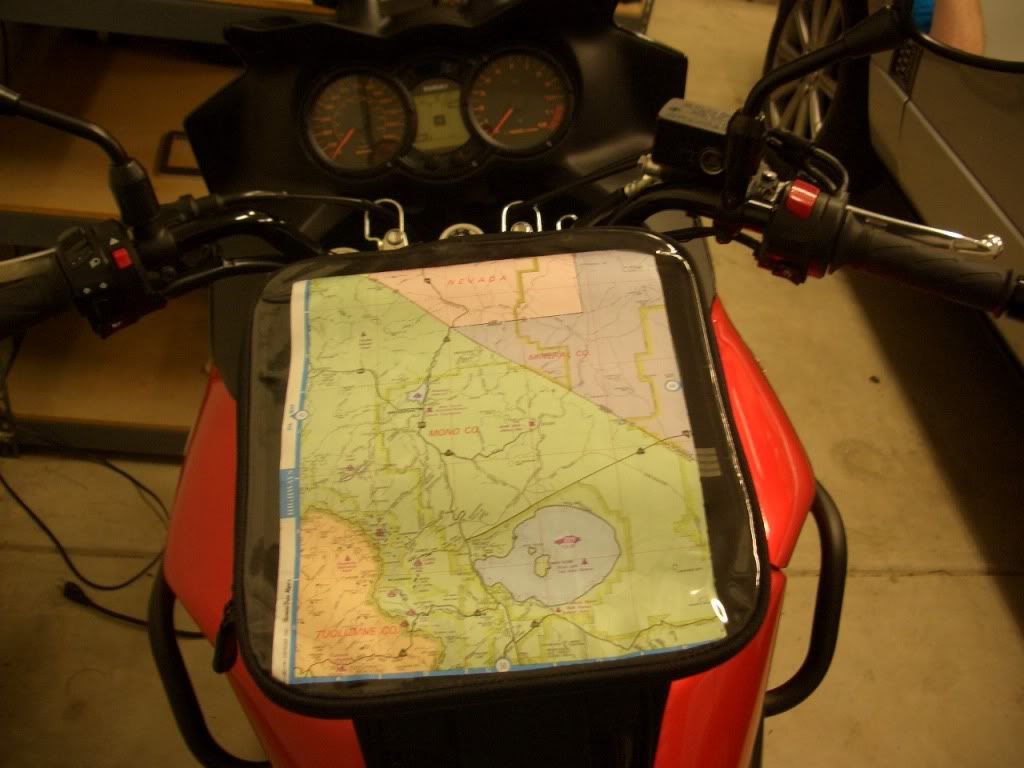 View inside the bag. Room for DSLR camera, cell phone, keys, water, snacks, extra gloves, a few other odds and ends. not the kitchen sink.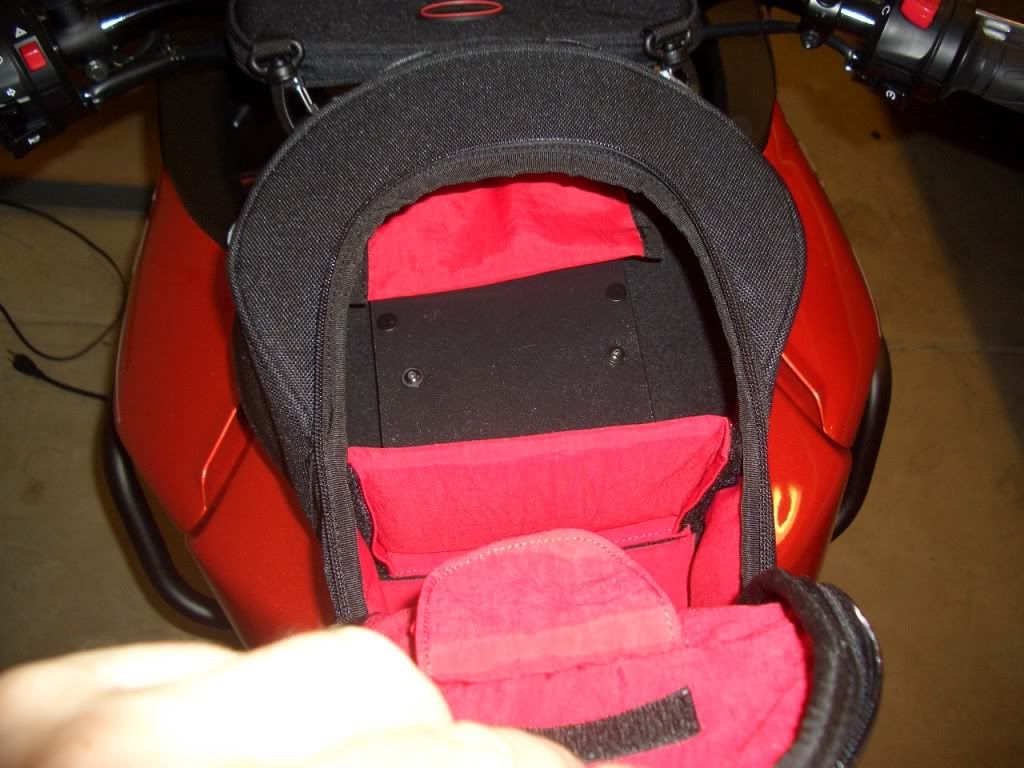 Total cost delivered with the map holder was over $200. Overpriced Eurofarkle absolutely, complete with bizarre euro-instructions. But the only one that fit my requirements, and I sold my old Marsee bag from my ex-BMW for almost that much so it was a wash for me. I do not like the attachment/detachment mechanism nearly as much as the Marsee system which is much superior in every way. It is decent quality however and for those that like the gas cap mounted tank bags, which really is superior to magnets or straps, it's your only option for the Suzuki that I know of. If you want to really go nuts you can get them powered for your GPS and phone etc. There is also an integrated GPS mount for the engage bag which looks nice. I passed on those options as this is a back-to-basics bike for me after having two GT's with cockpits resembling the flight deck of a 777.
---
'09 Wee (sold)
2012 Ducati Multistrada 1200 S Touring
2006 BMW K1200LT
---
Last edited by eye.surgeon; 05-04-2010 at

12:00 AM

.
Nice review! I've been eyeballing one of these (forgot which model at the moment) but dayum they are spendy!
---
2003 DL1000, 2006 GSXR600, Plated XR650R

[SIGPIC][/SIGPIC]
They have a new model out (both mount and bags), that have electrical connections built in. Once you snap the tankbag onto the mount, it powers the devices inside of the tankbag.
Quote:
QUICK-LOCK electric tankbags fits amlost all plastic or metal tanks with our QUICK-LOCK electric tankring. The bag does not interfere with gascap operation and does not contact the tank. Attach and remove the bag within seconds. Tankbag's position on the tank can be adjusted forward or backward of the tankbag's center during installation. The tankring does not interfere while refuel. The replacement topring upgrades a non-electric QUICK-LOCK tankbag so that it can be used with an electrified bottom ring.Made of fiberglas reinforced nylon. With assembled cable to connect to the motorcycle battery. Safety switch avoids short circuits. Gold plated, vibration proof contacts. Maximum amperage: 5 ampere. Strong and safely arrested. Invisible power supply into the tankbag to use electric devices.
-
SW Motech
.
---
'09 VStrom DL650A - Sold.
'04 Suzuki Burgman 400 - The wifes
'08 FJR1300AE - Miss Chievous.
WWGWD
?
Nice review. It is one of the bags I am seriously considering. I like the lack of magnets and straps as well as a secure connection. I too have gone back to basics from the cockpit bikes. The only farkle ( Other than crash bars and luggage) is a GPS with a dual use connection for it and a mini compressor.
GREAT Bag
---
Over the years I have tried several different tankbags on a series of different bikes and by far the best combination I have found is the Engage Bag on the VSTROM. I bought the bag that has the electrical connection so there is "power" inside my tankbag for charging phones, Ipod, etc .

It is expensive but it does exactly what is expected. I have used mine for over 50,000 Km and it has never failed. This includes riding to Alaska, Prudhoe Bay, Mexico, and Florida.

I bought the map holder as well and it is sized properly to hold maps with not too much folding required.

ALL in ALL . .I am a very happy customer
---
[URL=http://s4.photobucket.com/albums/y112/jstephensca/?action=view&current=NorthAmericaRidden.jpg][IMG]http://i4.photobucket.com/albums/y112/jstephensca/th_NorthAmericaRidden.jpg[/IMG][/URL]
2007 DL650A Silver/Grey
Stromthusiast!
Join Date: Aug 2009
Location: Saratoga County, NY
Posts: 18
I have the electrified version--it came with the bike when I bought it used--but it ain't working. I think it now may be the relay in the little circuit board that comes with it. But damn if it ain't a pain in the arse to troubleshoot.

But I'll second the review--the size and quality are great. I use the thing all the time.
Stromthusiast!
Join Date: Aug 2006
Location: Chambersburg, Pennsylvania, U.S.A.
Posts: 83
I have the Engage XL installed on my '07 wee, after three years of use, I would say it's the best farkle I've bought for the bike so far. The XL has alot more room, yet it has never bothered me or the bike while riding.

Jeff (SoPaRider)
'07 wee w/abs and 34,526 miles (41 states, D.C. and 5 provinces so far!)
bags connection
---
love the gas tank mount, and will never go back to straps or magnets. if you load the bag it can make some tank contact, but a tank pad will protect against that and looks good. i use the tank bag gps mount and it works well and isolates the unit from any vibration.
Stromthusiast!
Join Date: Jul 2007
Location: Cheese Land
Posts: 53
I have the same bag and love it!! Does anyone have a clue what the zipper pocket on the front (Windshield side) is for? I put an extra key to my sidebags in it it, but it seems to have some specific purpose.
Quote:
I have the same bag and love it!! Does anyone have a clue what the zipper pocket on the front (Windshield side) is for? I put an extra key to my sidebags in it it, but it seems to have some specific purpose.
I think it's for the waterproof cover bag. It's a tight fit but it fits in there if you want it to.
---
'09 Wee (sold)
2012 Ducati Multistrada 1200 S Touring
2006 BMW K1200LT