Stromthusiast!
Join Date: Mar 2010
Location: Hanford, CA
Posts: 329
How cold is too cold?
---
I love riding my new Wee/Gl.., and I have a nice, long 70 mile commute to work. I've been itching to ride to work these past few mornings, but the temps have been around 26º F. I have good winter gear and heated grips.

Any winter commuters ride to work? How cold is too cold for everyone?
Banned
Join Date: Jan 2010
Location: Baltic, Ct
Posts: 6,624
Just get a real electric jacket / liner and a skiers balaclava
I've ridden on the mid - 20's. The only heated stuff I have are the HotGrips, both the Wee and the Connie. Combined with thick winter gloves, it works OK for me. The big barn door windshield and fairing on the Connie make it the choice for winter riding, but the Wee does OK too.
---
Pirate650
2007 ABS Wee-Strom "The Silver Surfer"
2003 Kawasaki Concours "Mabel, the Flying Kaw"
Below 40f and I'm done. At that point, heat and a cup of coffee are much more appealing.
Sent from my DROID RAZR using Motorcycle.com Free App
---
2012 DL650 Goodies: OEM Lower Cowl, OEM Centerstand, BarkBusters VPS Handguards, Shad SH-45 Topcase, Givi AF301, RR Forkbrace,
Stromthusiast!
Join Date: Sep 2012
Location: Stillwater, NY
Posts: 226
The last time I road was at the end of December and it was 25 degrees that morning. No heated gear but I was OK as far as my feet, fingers, etc. I did take a secondary road so the speeds were down under 60. BUT, my unheated face shield kept fogging up so I'd pop it up a bit on the move an open all the way at stop lights. Well the cold air across my face did me in. By noon that day I could feel a cold comming on. Got home ok but was layed up the next week sick. So lesson learned - I need a heated shield!
---
'14 Vee2
---
Last edited by Arrowhead; 01-15-2013 at

09:31 AM

.
there is no coldest, just what you can dress for

I've been out at 12° below F on my nekid SV650 (100mile + ride) , haven't been out colder cause I just haven't seen colder temps where I live, but I'm ready to ride

be aware, at those temps greatest risk of injury is from hypothermia and frostbite. you may have to give up some crash protection
---
RandyO
IBA# 9560
07 Strom 1k (8x,xxx miles)
99 SV650 (135,006 miles)
82 XV920R
A man with a gun is a citizen
A man without a gun is a subject
www.gbhsurvey.com
I rode to town to get parts for my truck one time and the Bank clock said 4 degrees! That was an emergency as the bike was the only transportation running. I have also ridden in 110+ degrees so that is quite a spread.

I don't like to ride in the 20's much. I worry about ice. One little spot of frozen water from a ditch or pothole in the right place and you are DOWN. Might be ok for an early morning start knowing it will warm up quickly. Beyond that I don't do it.
---
'12 DL 650 '14 BMW R 1200 RT
WERKS
modified clutch baskets
for DL and SV 1000's.
The BEST in chudder control, noise control, and lasting durability! AVAILABLE HERE:
www.werksparts.com
WERKS
Quiet Ride
windshields for 2012+ DL 650-transform your V strom. Nothing compares.
Have questions about the Quiet Ride or clutch in your DL or SV 1000?
E-mail Terry
info@werksparts.com
Those "underarmor" type synthetic Polar-whatchamacallits help riding in cold weather........Santa brought me some. I haven't ridden in really cold temps yet (20'sF), but I can tell already the "polar-long-johns" are gonna help. Stay away from cotton skivies.......is what I hear......and 100% wool socks are suppose to help keeping your footsies warm.
---
www.easternvstromrally.com
(make plans NOW if you have never attended....GREAT Event!!!)
Your in Southern Cal. This cold snap will be over in a couple of days and you can return to normal. The rest of us still have 4 months!
I've commuted down to -16c. or around 3F. That was before I got my electric gear and for a one hour commute it was colder than I was comfy with. I don't mind riding in the 20's (F) as long as I don't have the threat of lake-effect snow and have dry roads.
Now with electric gear I have no issues with riding in cold but I will take more breaks than I might in warmer weather.
One nice thing about cold weather riding is NO BUGS!!!!
..Tom
---
2006 DL650: 202,000 km 125,500 miles,
2012 DL650
139,500+
km,
86,700+
miles. Sold.
2015 DL1000 New July 2015 80,000+ km, 50,000+ miles.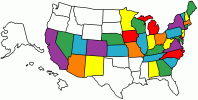 This can help preventing from cars pulling out in front of you (SMIDSY)
SMIDSY detailed report
.