View Poll Results

: I'm trying to find the reliability of the Vee 1000 and who preferred a Wee 650

I had major damage/repair on my Vee 1000
3
4.35%
I had some damage (under $500 including mechanics fees)
9
13.04%
Nothing but oil changes for me
29
42.03%
I wish I had bought a Wee 650 instead
2
2.90%
Hell, I had lots of problems with my Wee
0
0%
I had SOME damage ($500) on the Wee
0
0%
Nope, nothing but oil changes
12
17.39%
No damage on the 1000 but it runs like crap. Clutch sucks or whatever..
5
7.25%
No damage on the 1000 but it RAN like crap till I got a Commander and that solved it 100%
12
17.39%
Multiple Choice Poll. Voters: 69. You may not vote on this poll
Stromthusiast!
Join Date: Aug 2012
Location: Graham WA
Posts: 504
I didn't participate in the poll as I feel my level of experience isn't high enough to provide valid input "in poll form".

I did feel compelled to throw this out there though... how many issues are in reference to experience with previous bikes ridden? I've read of the issues here with performance but since I am just learning, I'm sort of letting the bike be the teacher... learning to do what "it" does best. Makes me feel like if I change over to another bike at some point in the future that I will judge that bike by how it is NOT like this one.
---
2012 DL1000 Red/Black Just getting started.
My 2006 DL650 has over 202,000 km (125,200+ miles) with essentially no issues

RCACS has around 255,500km (158,348 miles) on his DL650 as of the end of january.

There is a report of a rider having over 300,000 km (186,000+ miles) on his DL1000.

Durability isn't an issue with any flavour of these bikes.

The DL1000 has a few little things to correct to make it run better while the DL650 is pretty much ready to go out of the box. The DL1000 issues are pretty minor in the grand scheme of things although cost a little bit of money and not a reason to buy one over the other. I don't think there is any real difference in reliability, just be aware the DL1000 may cost you a bit more than the original purchase price to make it run the best.

Ride them both and see which one you like more and buy it.

..Tom
---
2006 DL650: 202,000 km 125,500 miles,
2012 DL650
139,500+
km,
86,700+
miles. Sold
2015 DL1000 New July 2015 85,000+ km, 53,000+ miles.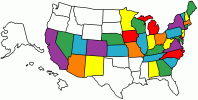 This can help preventing from cars pulling out in front of you (SMIDSY)
SMIDSY detailed report
.
I haven't bought a bike that I didn't have to do several farkles, Vee included. I have a Suzuki M109R as a stablemate and it has also been thru the process including two different fuel processors. Nothing new to me.
My thoughts were, If I buy the 650 then I will be performing all that is available to squeeze out more power. Why not just buy the 1000 and be done with it? I knew I would be riding two up most of the time and wanted the extra grunt.
After installing the PC it has become the bike Suzuki only wishes it could sell you. I'm happy with it but I will continue to enhance it to my comfort level.
---
2012 DL1000 Adventure (Tinkerbell)
PC-V, TRE, CR8EIX , ECM, K&N, RDL, PR4, PC-8, EB H4, WERKS, Madstad 22", 17/43 gearing, AdventureTech: Fork brace, shelf, mirror extenders, SpeedoDRD, wheel spacer, Head's-Up voltage monitor, Goldwing pegs, Sonic 1.1. Wolo Bad Boy.
Moderator++
Join Date: Jan 2006
Location: Evanston IL USA
Posts: 36,672
Stromthusiast!
Join Date: Jun 2012
Location: PA
Posts: 964
As one of the "Vee haters" I feel obliged to point out:

The ECM/ lean running issues are (AFAIK) confined to a specific production run.

Suzuki supplied replacement ECMs as a factory recall for some of those bikes.

I am one of the stupid ones who had an affected bike (used) and never got either the Suz replacement (too late) or a PCIII (to expensive). Many may say that because of that I shouldn't blame Suzuki, but I call BS on that.
I shouldn't have to spend hundreds of $ on aftermarket crap to make my bike run right - IMHO.
Quote:
The ECM/ lean running issues are (AFAIK) confined to a specific production run...
Mine's a '10 and ran lean. I think $300 is a pretty cheap mod considering you only do it once. It works out at a couple of bucks a month. Hell, as many will point out, you can live with it quite easily too.
---
'10 Vee Adv
Multiple Farkles
:
Stebel Horn with Screaming Banshee,Gorilla Alarm, Madstadt Bracket, RichlandRick's fork brace, accessory shelf and mirror extenders, PCV, Twin 12v outlets, Twisted Throttle and EB Fuse Blocks, Admore Light Bar, GPS and Contour Camera Ram Mount, Bark Busters, 8k HIDS, Omni-Cruise Throttle Lock, Altrider Bars, sliders and side-stand foot. Wolfman Rainier Tank Bag, ADVMonster "30" Aux Lights
My K3 Vee is working like a champ. No serious problems. Power Commander works well. LOVE the Galfer Rotors and pads, impressed by their stopping power. Yellow is the fastest colour, by the way...
Quote:
Guys this poll SUCKS, I love my 06 Vee with 55000mi. . All Stock, Nothing
but tyres chains & sprokets& K & N air filter, I figured if I was going to
to change it, it ought to be the best. I'm so glad I bought my Vee
before I joined this Forum. Or I might not have bought it. Does anybody
like their Vee besides me?
You got it all wrong. I like the Vee and want to get one but I've read about too m many problems and on several forums, they advise me to get the Wee instead.
I have found TWO that I really like but once I buy them, I really wont' have money left to have anything fixed if needed. One of them has the power commander.
My 05 had a pc3 when i bought it with 24K miles, I did have to replace the seal in the waterpump at 29K, but other than that its nothing but tires and oil
---
14' DL1000
Quote:
When you say "damage" do you mean "defect" or "failure?" I'm really not trying to nit-pick, but to me damage is something that happens when you hit a tree.

BTW: the possibility of a defect or failure is the last reason I'd use to pick a Vee over a Gee/Wee or vice-versa. They're very different bikes that give very different rides.
With damage I meant stuff like engine failure in any way or some other component that's poorly designed and can create problems.
Bad clutch, on the Suzuki Burgman 650 CVT problems and so on.