Stromthusiast!
Join Date: Aug 2011
Location: Sydney
Posts: 224
New toy. Where to mount a GoPro camera?
---
I was given a gopro camera by my wife and was going to mount it somewhere on either me or the storm and was seeing if someone has tried this before and if so, what the best locations have been. I will put a helmet mount on one side and was looking at something on the front somehow. I might need a curved mount and try the front of the front fender. I saw earlier posts that said someone tried this, but too far back and the suspension did its work and squashed the camera.

Its all trial and error I guess, but I have our work Christmas ride this weekend and want proof of how slow pirates can ride and how fast a strom can get past them. I've set up the wifi so I can start and stop it on the go and mounted this on the handle bar for access. Thanks in advance.
---
2008 DL1000 - Two Bros cans, ProTaper Bar, Oxford Grips, PC111, Givi crash bars, MCA screen, bark busters, rad & bash guards.
1977 BMW R100S - SOLD
1984 BMW R80RT - Sold
1984 DR185 - Retired
How about on the fairing below the turn signal or something in that area.
I use a handlebar mount to mount to the crashbar.


Sent from my iPhone using Motorcycle
---
'09 Wee, Orange. Uh, Er...White, No, Wait, ORANGE!


" I like my Motorcycle's Loud and my Firearms Quiet." -Me
Do yourself a favour and buy the ram-mount stuff. you can put mounts all over the bike so you have the option of changing video locations on the same ride. I buy mine from
GPSCity
in Calgary Alberta.
---
[SIGPIC][/SIGPIC][quote=Bwringer]It's a feature, not a bug.
[/quote]
---
'08 Vee: Suzy luggage, Crash bars, Rad Guard & front mudguard extension, Zumo 550, Oxford Hot grips, Stebel, PC-8, 12v acc, Scott oiler & lube-tube, Remus Revolution Cans, Bark Busters, Phillips Extreme vision +100 bulbs.

'08 Concours 14: Rad guard, Stebel, Oxford Hot grips, Projekt D Screen, Hugger, GPS mount, helmet locks & front guard extension, Zumo 550, Stebel, Phil's rack & Givi V46, Sheepskin seat cover, Phillips Extreme vision +100 bulbs.

http://banditrider.weebly.com/index.html
http://banditrider.blogspot.com/
Stromthusiast!
Join Date: Jan 2007
Location: Redmond, WA
Posts: 768
Mounting a GoPro is one of the problem with their profile v. cameras like the Contour which are much easier to find a location. Helmet mounted on a street bike....... if you don't mind the turbulence.
---
2003 V - ASV C5 Levers, Univ. Solex bars, grip heaters, ktm mirrors, c.stand, SW Mo Engine grds,Two Bros, PC3, Garmin, Givi 460, tank bag, F. Extenda, BackOff, Super Brace, Elka Shock, Race Tech Gold. AWD/Mr.Ed's Moto seat mod. Dumonde Tech Racing Oil, Spider grips, Contour.

2001 KTM LC4 farkled (sold)
If you have the remote the options for mounting are many, but without a remote you'll find them more limited, unless you plan to let it record continuously, which then presents a laborious editing task.
I have the ram mount system and have used it successfully for both my GPS as well as my GoPro, from the handlebar mounts. Actually I have two ram mount points so I can mount both units simultaniously. One mount point is a u-bolt clamp that can be moved around the bike and one is bolted directly the handlebar riser that is permanent.

I have moved the upbolt clamp to the passenger footpeg bracket but the result was really boring so I won't be doing that again. I have considered the crash bars but haven't tried that one yet.

Gotta love the ram system for it's flexibility. I have all the sticky mounts that came with the camera, but I just can't make myself stick that thing on my helmet. My reluctance may be a fear-of-commitment thing, but I have made so many changes to my bike that it's probably just me. I love changes and the ram system allows me to change my mind.
---
"Not all those who wander are lost." J.R.R. Tolkien
DL650AL
LIMNCS #51
Shiro Nakama Shichi #007
Banned
Join Date: Feb 2009
Location: Seattle
Posts: 1,935
as others have said, RAM mounts are the way to go.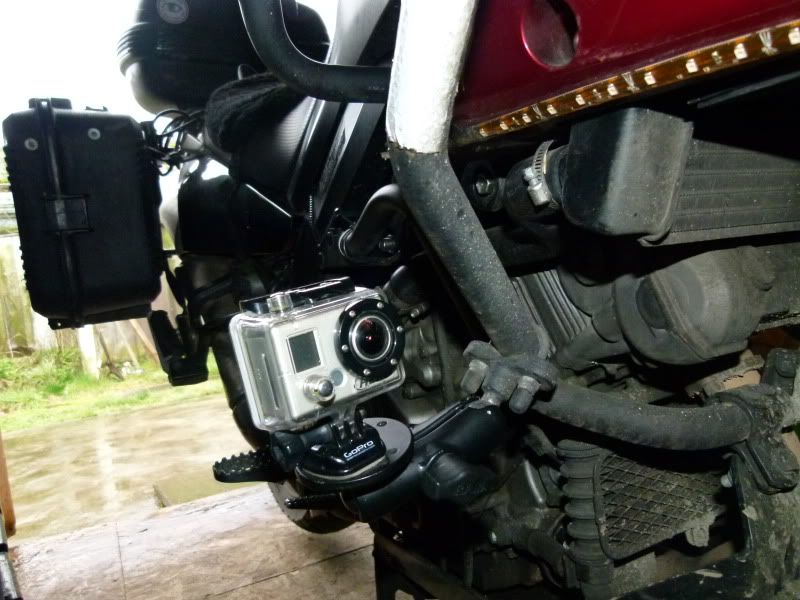 How about some clips of video recorded from the various mounting options?