Stromthusiast!
Join Date: Jul 2012
Location: PA
Posts: 116
cell phone on dash
---
Wonder if anyone has tried using the double sided tapes with the foam center, I would like to mount my cell phone case on the inside of the windshield, would the tape hold up, any specific types work best.

Chet
Use the super velcro instead. That way you can pull it off if needed.

That two sided foam tape will likely break down in the sun pretty fast.
Stromthusiast!
Join Date: Jul 2012
Location: PA
Posts: 116
Thanks for the tip, where can Super Velcro be purchased.

Chet
Won't it be at the wrong angle?
I have a fuse box and horn controller up under each side of the fairing, and I can't find anything that will keep them stuck for more than a few days.
YMMV but be aware, if you get it wrong your phone is going to be screwed. I lost my phone from a waterproof case clamped to the handlebars. I didn't lock it in properly and had to eat $700. I have another case now that holds the phone just fine (but I have it on a leash just in case)
If you really want it there look at the Madstadt windshield bracket and a suitable RAM mount. That's where I have my GPS and it's rock solid.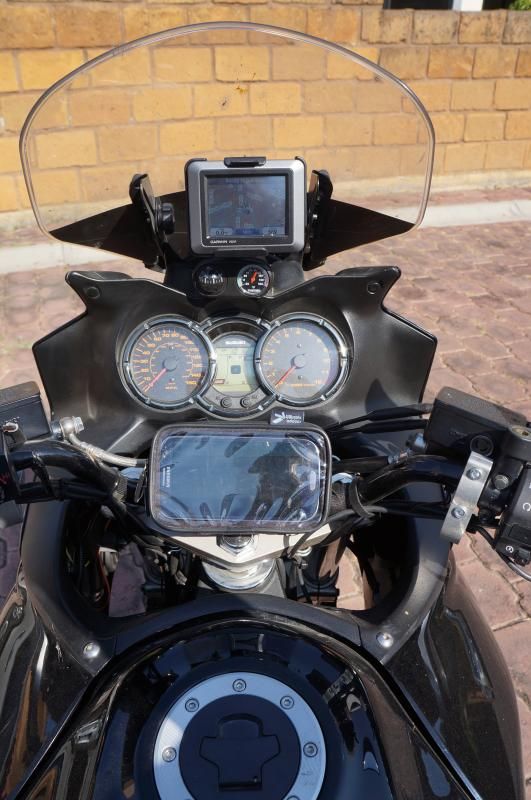 ---
'10 Vee Adv
Multiple Farkles
:
Stebel Horn with Screaming Banshee,Gorilla Alarm, Madstadt Bracket, RichlandRick's fork brace, accessory shelf and mirror extenders, PCV, Twin 12v outlets, Twisted Throttle and EB Fuse Blocks, Admore Light Bar, GPS and Contour Camera Ram Mount, Bark Busters, 8k HIDS, Omni-Cruise Throttle Lock, Altrider Bars, sliders and side-stand foot. Wolfman Rainier Tank Bag, ADVMonster "30" Aux Lights
---
'04 650, and goshdarnit it's fun - matte silver (#9 in the Silver 'Strom Club)
farewell to an '81 KZ550, '83 GPz750, '83 V45 Sabre, R-Reg GT380, '84 GPz550, early '70s DT175, and a '72 Peugeot 102
Amazon is good for that sort of thing too. Might be a few more bucks, but the shipping and return policy is rock solid.
---
'10 Vee Adv
Multiple Farkles
:
Stebel Horn with Screaming Banshee,Gorilla Alarm, Madstadt Bracket, RichlandRick's fork brace, accessory shelf and mirror extenders, PCV, Twin 12v outlets, Twisted Throttle and EB Fuse Blocks, Admore Light Bar, GPS and Contour Camera Ram Mount, Bark Busters, 8k HIDS, Omni-Cruise Throttle Lock, Altrider Bars, sliders and side-stand foot. Wolfman Rainier Tank Bag, ADVMonster "30" Aux Lights