Stromthusiast!
Join Date: Jun 2012
Location: PA
Posts: 964
Mileage linked to temperature?
---
I've noticed a drop in my fuel economy lately (according to the readout on the bike's display).

I had been getting a pretty steady 51mpg since I bought the bike in April.

I've noticed in the last few weeks that my mileage readout has steadily dropped - it's currently at 47mpg. The trip meter has over 3000 miles on it, so if the 47mpg is the average over all those miles, my mileage lately has been REALLY bad.

I commute and the temps have been dropping. On longer rides - or commutes colder than about 40deg F - I'm running Gerbings gloves. I don't have a heat troller, so when they're on, they're running flat out.

Is this expected behavior?

Does fuel economy track with air temp? Or could the electrical draw of the gloves account for 2mpg or more?
Winter blend gas. Longer warm up times. Lower mileage. Happens every Fall/Winter season for me.
Moderator++
Join Date: Jan 2006
Location: Evanston IL USA
Posts: 36,620
Quote:
Winter blend gas. Longer warm up times. Lower mileage.
Also, colder wheel bearing grease, denser air to punch through, and a bigger windscreen in my case.
Stromthusiast!
Join Date: Jun 2012
Location: Macon, MO
Posts: 86
I have went from 52 to 58 that I was getting in the summer to 46 to 51 that I am getting now. I get the higher end of each of those ranges when riding blacktops around 50-65 mph. My mpg always is at the lower end at highway speeds.
Stromthusiast!
Join Date: Aug 2006
Location: Granbury, TX
Posts: 1,041
Next to high speed runs on the interstate, temperature has the biggest effect on fuel economy in my experience. My K7 would average about 52 mpg in July all the way down to 45 mpg in January. My L2's MPG is dropping too as winter approaches but it doesn't seem as big of a drop yet as the K7 had at the same temps. I have gone from a 56/57 MPG average down to about 54/55 MPG. So I am not complaining.
---
Kevin

L2 DL650A The Orange Machine
K7 DL650 Hi Yo Silver R.I.P!
Tne air is thicker in the winter.
FI system compensation.
You should notice a bit more oomph too.
My truck drops about 15% in winter time.
---
2005 Suzuki SV1000R 75K miles, 2012 Suzuki DL650AL2, over 35k miles already!
Stromthusiast!
Join Date: Jun 2012
Location: PA
Posts: 964
Huh... never knew any of that. Thanks, all.
Speeds and temperature are the biggest things to affect mileage.
Here is a graph of the fuel mileage my 2012 DL650 got this year verses the mean temperature in the area I live. The bottom trace is the temperature in Celsius, the top one is the fuel mileage in Imperial MPG.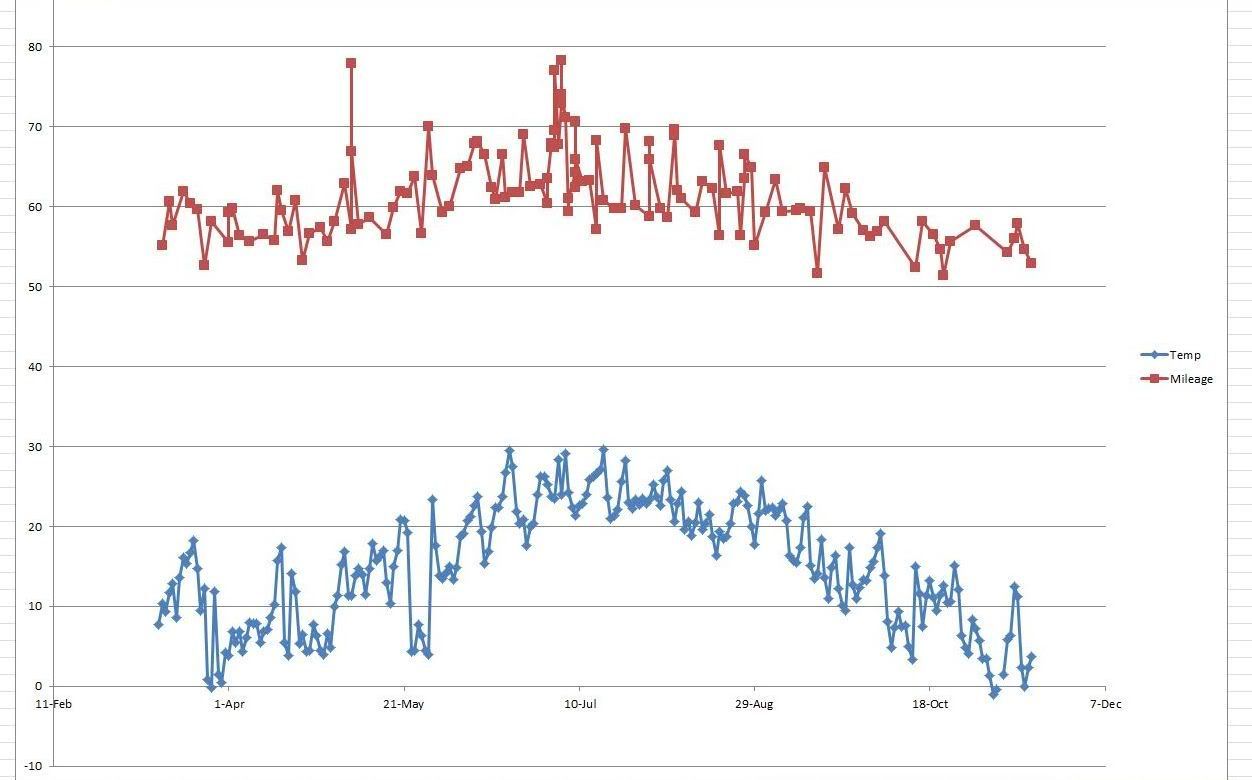 There are a few area where the graphs don't correspond and these are when I went on rides out of the area. In addition the little spikes in mileage correspond to easy riding on back roads higher speed riding in the highways.
..Tom
---
2006 DL650: 202,000 km 125,500 miles,
2012 DL650
139,500+
km,
86,700+
miles. Sold
2015 DL1000 New July 2015 85,000+ km, 53,000+ miles.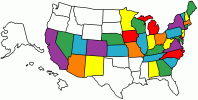 This can help preventing from cars pulling out in front of you (SMIDSY)
SMIDSY detailed report
.
Stromthusiast!
Join Date: Mar 2012
Location: Springfield, MO
Posts: 20
Cooler Riding Temperatures and Gas Mileage
---
For the past month (and around 1000 miles riding) and with typical air temperatures dropping from around around 75-80 to 55-60 deg F, I have consistently experienced a drop from 2-4 mpg. It is instructive to know that others have noticed similar decreases.