Base layers
---
The gf decided yesterday would be a nice day to break in her new FZ6R so away we went with no particular destination in mind on a cloudy overcast 55ish degree day.
We both had on our trusty grandpa/grandma thermal long johns and jeans which was ok down in the valley.When we decided to run up the Cherohala Skyway a little bit it became apparent that the base layer of our grandparents wasn't working out to well and maybe it was time to spend a lil coin on something more appropriate
I spent some time looking into it last night and thought my head was gonna explode from all of the brands and marketing bs that is out there.
So lets hear some suggestions from actual users so I dont have to try and cipher through all of the gimmicky marketing bs
Thanks.
Get BMW gear. Expensive but the best there is and it will last a long time

Sent from my DROID RAZR using Motorcycle.com App
---
[FONT="Comic Sans MS"][SIZE="2"]Scoot - #27, Flat Black Club[/SIZE][/FONT]
For base layer shirts I use an assortment of Under Armor, REI, Patagonia, and Nike Pro depending on what the temp is. They all seem to perform well. For base layer bottoms I have gone to LD Comfort (
LDComfort - Getting to the Bottom of Rider Comfort - Motorcycle Underwear
) shorts for summer and tights for winter. It performs very well and is MC specific so you don't have seams in the wrong place.
I've heard some good things about Cycle Gear base layers in terms of performance for the price.
One last thought, a neck gaiter from Smartwool seems to transform a cool ride in to a comfortable ride.
---
Last edited by fire fox; 11-05-2012 at

06:10 PM

.
Banned
Join Date: Jan 2010
Location: Baltic, Ct
Posts: 6,624
Gerbing Electric Jacket liner

Cheezy bib snowmobile pants like from sportsmans guide
Besides all the good advice you will get re base layers you might also think about another strategy.


If you wear over-pants over your street pants then you can add a layer between them. There are lots of fleece pants but Aerostich makes fleece pants that are designed to go over street pants. They have full length zippers on the outside so they can go over your boots and don't pull up your street pants. The nice thing is that they can easily come off or go on if the temperature changes so when you stop for lunch you can easily get comfy and not worry about overheating.

I've ridden down to single digit F temperatures with them and been toasty warm.

..Tom
---
2006 DL650: 202,000 km 125,500 miles,
2012 DL650
139,500+
km,
86,700+
miles. Sold.
2015 DL1000 New July 2015 80,000+ km, 50,000+ miles.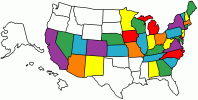 This can help preventing from cars pulling out in front of you (SMIDSY)
SMIDSY detailed report
.
Quote:
Besides all the good advice you will get re base layers you might also think about another strategy.


If you wear over-pants over your street pants
..Tom
Well, I don't wear pants at all when riding. That is, I don't wear pants or jeans under my motorcycling pants, which are a not-great Joe Rocket Ballistic something or other 10.0
Where I get fancy is with the base layers. I have polyester fleece, polyester micro-fibre, silk and my latest purchase, 200 gram merino wool. They all work. If it's really cold I'll put rain/wind pants over the Joe Rockets and two base layers under.
Top is the same sort of base layer, electric Gerbing heated jacket liner directly over the base layer, all under the Joe Rocket jacket. Add a fleece jacket over the liner and a wind/rain layer over all when even colder or wet.
I don't use the waterproof liner for the Joe Rocket suit anymore. Rain gear on the outside makes much more sense. I suffered a mild but definite and potentially dangerous case of hypothermia a year ago when I got quite soaked on my bike in cold weather, and was lucky and smart enough to find and stop at the first motel. I don't intend to get that numbingly cold ever again.
My current favourite base layer is the Icebreaker New Zealand merino wool, an excellent old-school technical layer. An ex girl-friend looked kinda sexy in her merino wool under outfit. My own outfit might garner comments as well, but sexy would not be one of the words used, I think.
I like jeans btw, but they have no place under motorcycling pants. For me anyway.
My latest purchase is a favourite as well, a merino wool neck warmer (tube), similar to
this
. I don't have this particular model, but the same idea. Better and more versatile than than any scarf I have ever worn.
Yeah, staying warm is cool.
Marc
---
Marc, rider of a black 2009 V-Strom 650A ABS

"To the Companion who knows how to go light and fare hard, who is friendly with the rain, and finds no road too long." William Blake in "Brown Waters and other Sketches", Malbaie, May, 1915.
Way too many marketing names and descriptions for base layer stuff. Look at Sierratradingpost.com and pick out the thickness you want. Good heavy weight stuff is $20. Fleece pants are also good, along with a fleece pull,over. Add a thin fleece or SmartWool helmet liner and good warm socks.
---
[I]"Older people who are reasonable, good-tempered, and gracious will bear aging well. Those who are mean-spirited and irritable will be unhappy at every period of their lives.

"Let each of use properly whatever strengths he has and strive to use them well. If he does this, he will never find himself lacking."[/I]

Marcus Tullius Cicero
44 B.C.
Some of the sporting goods stores like Bass Pro Shops and Cabela's carry a huge selection of base layer stuff to choose from, and the prices are decent.

For lowers, I have a pair of Hot Chili's which don't look like they'd be much, but they're amazing. I'll normally wear jeans over them and riding pants over the jeans, but that makes it bulky. I currently wear a pair of First Gear mesh tek overpants with zip in water/windproof liner. Works well and extremely versatile in the lower 48 states where it gets pretty hot in the summer, but I'm looking for something else for up here where warm is 70 degrees or more. Mesh stuff doesn't sell very well in Alaska.

For on top, I like to wear moisture-wicking tee shirts, a long sleeved tee shirt or other shirt and a Warm & Safe heated jacket liner over that, with my FG Kilimanjaro jacket over it all. Even when it's cold out I stay comfortable. I also wear moisture wicking socks. Cotton is nice, but your feet sweat, even when it's cold, and cotton absorbs moisture and makes for cold feet quick.
---
'09 DL650
Stromthusiast!
Join Date: Mar 2010
Location: Sonoran Desert
Posts: 223
I will not advocate one brand over another nor one place over another. To me, those things are largely irrelevant provided you have the right material. That material is merino wool. A well-made merino wool garment is very expensive, but it is worth it IMO. Wool insulates even when damp, will wick away moisture very quickly, is very thin and NOT scratchy like grandma's old wool items, and tends to NOT smell bad even after wearing it for a few days straight. I hike a fair amount and merino wool is the best you can get, even over synthetics. I slept outside in it for some SERE training I did when the overnight temps were down to 9 degrees F. Yes I was cold, but at least I was still alive. Good luck in your endeavor.
I know that you're asking about base layers, but I'm going to divert down another path...

While on (not in) a moving vehicle the wind created by movement is the largest thief of your body heat.

If you have 16 layers of clothes on that allow the wind to blow through, then your clothing system has failed.

I'd recommend overpants that keep out the wind FIRST, then go from there.


.
---
L2V -- she's a stocker!...and gone...
2011 MG Stelvio