Banned
Join Date: Jan 2010
Location: Baltic, Ct
Posts: 6,624
FYI

I always have it upside down with my knee and all my weight on it to compress the foam.

After stapling the expanded foam and cover is smooth
Stromthusiast!
Join Date: Nov 2010
Location: So Cal
Posts: 15
Seat Concepts
---
I purchased the soft foam and the leather like material for my k7 Wee about a month ago. I steered away from the carbon fiber looking material because I wanted soft and pliable. (My butt is bony) It does set me somewhat higher and further back which to so getting used to, but I must say that on the stock seat I was beginning to squirm after an hour. I took a four hour ride yesterday and my butt was fine. I happen to be lucky enough to live in the same town as these guys so I was able to ride in and have them install it. It took about an hour and these guys are awesome! They are riders and racers and just all around good people. And the price, compared to the other options out there, is a bargain. I already had the bar risers that also pull them back about an inch and have made peg lowering brackets so the bike feels quite roomy. This thing is a dream to ride now. I would give them an A+++ for service and quality.
Someone posted a link to this thread in a newer thread so I read through it and decided to see if anyone who posted here when this thread was active would be so kind as to post a long term review and may be some pics. Thanks.
---
[SIGPIC][/SIGPIC] L2 DL650A Adventure
I don't know why I couldn't find this thread because I read it once before, this year. For some reason, I never have much luck searching for threads.

Anyway, sounds like this is really a good, reasonably economical way to go and I will definitely, based on what I've read, order up one of these.
---
'09 DL650
New seat.
---
I got my new seat concepts seat installed yesterday and thought I might share a review so far.
I got the all carbon with black stitching.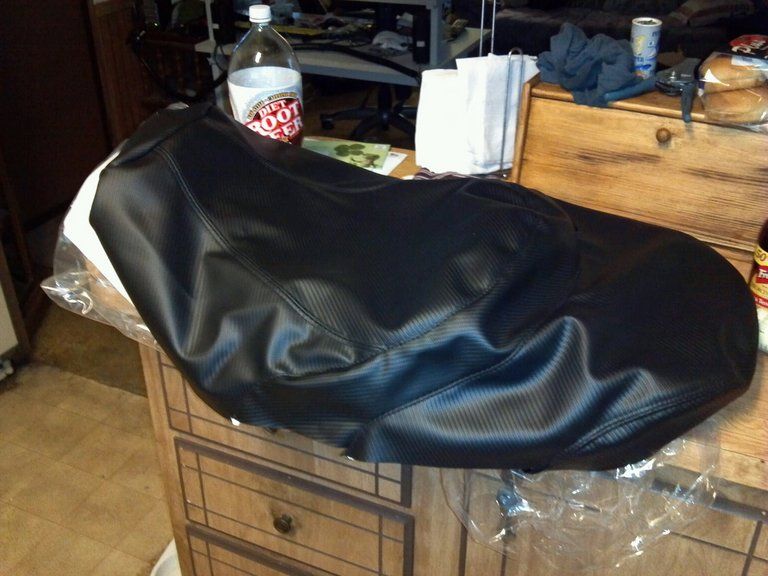 All installed. quick and easy. For me anyway. My brother in law actually did the work.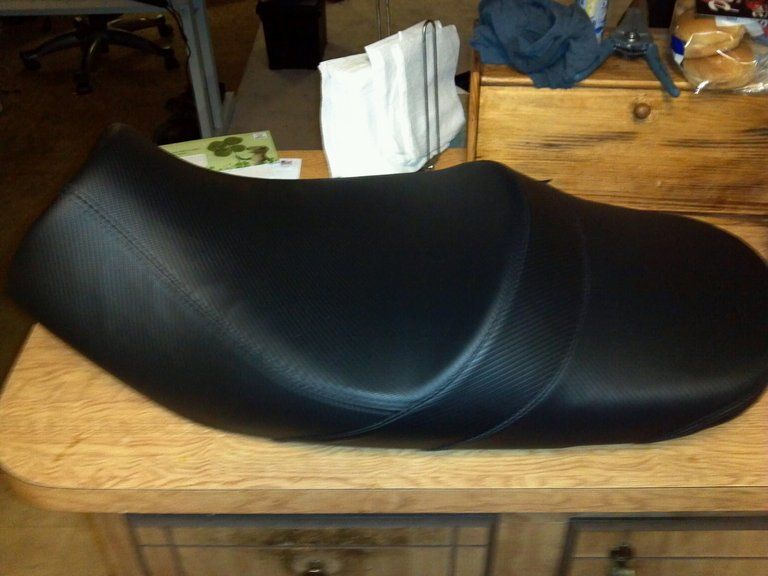 I think the carbon looks good with the fake plastic carbon fiber on the side.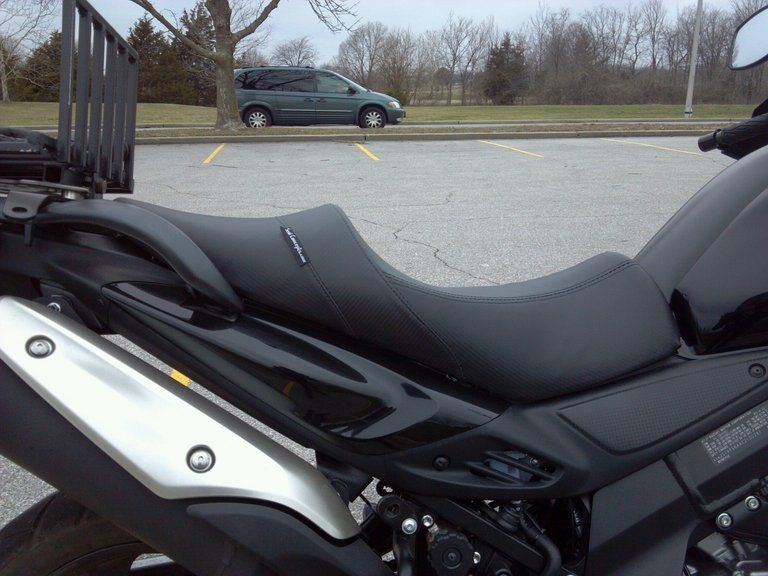 The cover was heated before installation and he did a good job of making it wrinkle free. I think he may have made it a little tight at the front. It has a little bit larger gap between the tank and the seat.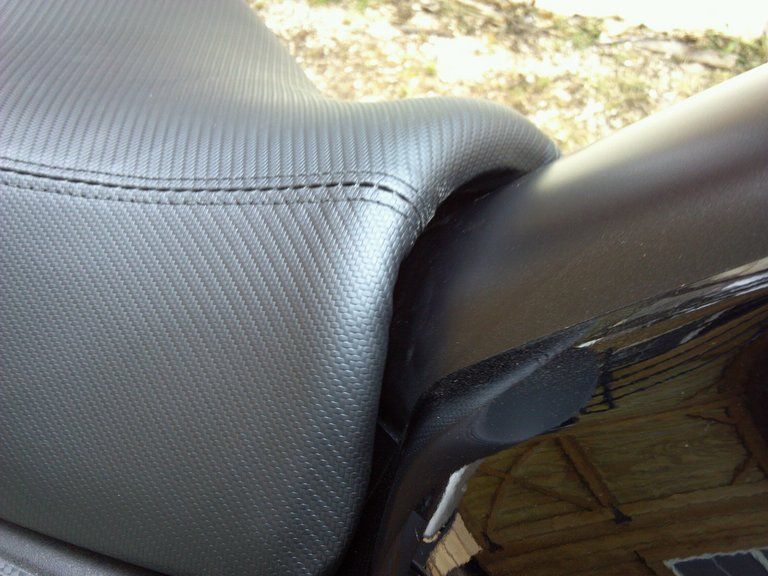 The side view shows The extra height at the front of the pillion.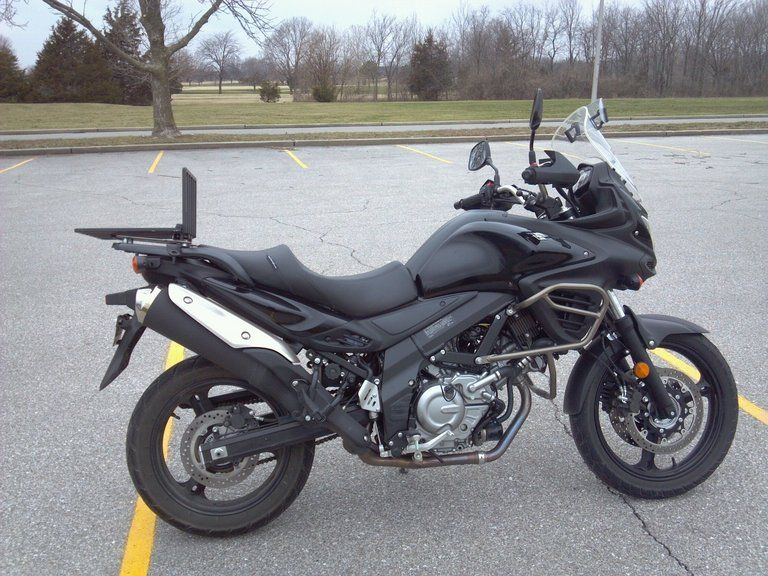 It definitely feels wider and flatter. It does seem a little slippery although I have only ridden it to the park across the street so far and it is to cold out for a real ride. (for me) We are hoping to ride 2 up to Memphis next week though so I will be able to give a more complete review.
---
[SIGPIC][/SIGPIC] L2 DL650A Adventure
I emailed Seat Concepts to see if they had a Tall version, since "Talls" were listed for several other bikes. They replied that they have no plans to do so. That's too bad, because I love the SC seat on my KLR, and my OEM Tall vee seat is good, but not great (even after adaptations of various sorts...)
---
Ken | 2007 DL650
Stromthusiast!
Join Date: May 2010
Location: Nor Ca
Posts: 194
I replaced the seat on my XR650 R with a seat concepts cover and foam. It is much better than stock. My only regret was that I choose the gripper material and would have prefered the non gripper. It makes it too hard to move around
I thought I posted my photos on here, maybe it was in a different thread. I got the carbon with the regular vinyl strip, and orange stitching. I had somebody install it for me since I didn't have a pneumatic stapler that takes small enough staples, and our professional hand stapler didn't do it. The installer used stainless staples too. I too feel the carbon style is a little slick, it also depends on what you wear for gear, my rain pants are more slick than my textile pants. I haven't tried leathers yet, but I'm sure they will be much better. If I could do it again I would most likely go with the grippy version they offer. It's better than stock from what I can tell on my commutes. I sit a bit taller and now want bar risers, but I'll have a better idea this weekend.
---
2006 GSXR 600 - sold March 2013 (it was a sad day)
2012 Glee standard
2009 KLX250S
Stromthusiast!
Join Date: Jun 2012
Location: Mackay, Australia
Posts: 134
I dont have enough kms to really be fair but I am less than impressed with my SC.
Maybe I missed it somewhere in this thread but how is the height of the SC seat compared to the Vee seat? I have a Vee seat on my Wee and like the height of it over the stock seat but I am looking for a little more comfort.
---
'04 Wee -- '97 RMX250--'79 PE175 Project
You can't fix stupid..but you can vote them out of office!