Stromthusiast!
Join Date: Jul 2009
Location: Cambridge, Ontario, Canada
Posts: 530
Just do what I did - buy her a pair of padded bicycle pants to wear under her jeans.

Although this may sound funny it actually worked, my wife can ride with me up to about a 300 mile day without complaining.
---
We've got a Rick Meyer saddle. It's not the end all of saddles, I thought it would be better, but it did help us.
The comments about the bicycle shorts is a good one. If you don't like those try the Under Armor brand or something of that type, just something to wick away moisture.
You can also buy passenger foot peg extensions that will help "open" up the knee a little bit.
http://www.twistedthrottle.com/trade...view/4668/763/
On longer days 300-500 miles, when wife's knee starts to get sore and it's not a good time to stop, I move my legs to the frame sliders and she puts her feet on my pegs. Just 15 seconds or so to stretch out helps her. Brief frequent stops are sometimes needed on the long day. Sometimes she will stand up on the back of the bike too.
Maybe try some Alaskan sheep skin covers. There's no easy one size fits all since everybody is different. The Strom isn't the best passenger bike out there and does take some tolerance to go the long haul. A little fitness can go along way too.
---
[CENTER][B][COLOR="DarkSlateGray"]My turn signals are original![/COLOR][/B]

[SIGPIC][/SIGPIC]
[SIZE="3"][COLOR="Navy"]DL1000
Jesse_Elka_Amsoil
Mayer_Garmin_Conti_Givi_Euro
Arai_Warm-n-Safe_Sonic
Dobeck_StarCom[/COLOR][/SIZE][/CENTER]
---
Last edited by Between the Wheels; 03-06-2010 at

06:52 PM

.
I have a sargeant. It's wider and more comfy. If the wife needs I put an alaskan sheep pad on the back or a gel cushion with sheep skin on for her. Very comfy for long trips.
---
Givi Windscreen, Madstads, E21 & E41 Panniers, E52 Top Case, Scorpion Stainless Exhaust, Famsa Tank Bag & Panniers, Symtec heated Grips w/ Grip Puppies, Pat Walsh Engine Guard / Skid Plate, OEM Handgaurds, OEM Center Stand, SWMotech Mirror Wideners, Metzler Tourance, 4" ABS Tube, AutoCom Pro 7, GIPro, Sargent Seat, BSS Fuse Block & Relay, Garmin Zumo 550, Stebel Air Horn, Aux Powerlets, Alaskan Leather, PIAA xtreme white, Superbrace, ToolTube, Kaoko Throttle Control, Highway Pegs, Risers (1" up 1" back) Sonic Springs, 1" raising links, PIAA 510 ATP, Touratech LED Tail Light, Touratech Zumo mount.
Quote:
Originally Posted by
Between the Wheels
View Post
If you don't like those try the Under Armor brand or something of that type, just something to wick away moisture.
Yuck.
Quote:
Originally Posted by
Between the Wheels
View Post
A little fitness can go along way too.
So, what are you
really
trying to say?
Bicycle shorts are a great idea. I didn't think of that. I think being able to extend the legs a bit might help a good deal, also.
I'll go check out the lower pegs. The only thing I might be worried about is the other day I went into a turn too hot and touched her peg on a lean (folded it up, actually), completely unintentional (lack of experience) and it scared the you-know-what out of both of us. Hope to never do it again, but if I put something lower I'm afraid if I make the same mistake a lower peg is going to lift the back wheel off the ground. I think I know what happens after that.
I've been to the Alaskan Leather site, but it wasn't totally obvious which pad fits the Strom, especially for the passenger. Anyone have a clue? I should search the forum, the answer is probably here somewhere.
Stromthusiast!
Join Date: Oct 2008
Location: Canuckistan
Posts: 833
I have the gel seat on my 650 and really like it. I have done 12 hr days on it and I'm just fine, whereas with the stock I could only go about 2 hours.
Coveter: regarding the pillion comfort, I also really like taking my SO on rides and she says the gel seat is pretty good. For extra comfort for her I also use an Alaskaleather sheepskin seat cover, though it makes no difference to me. The seatcover that I used is a one piece for the KLR which fits the Strom seat perfectly. It was this one:
http://www.alaskaleatheronline.com/s...E--dsh-/Detail
and although they say on the site that it won't work in Step-up seat, I turned it around so that it was back to front and it fit perfectly. I bought mine a few years ago for my old KLR, so I'm not sure if they have changed the design at all, but it looks the same.
For her lower back, I take a fleece blanket, fold it up a few times and just bungee it to my top box as a backrest. Looks a bit ghetto, but she says it's really comfortable and it's totally removable and great as something to sit on if we don't have chairs... She has fallen asleep a few times, so it must be pretty decent.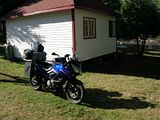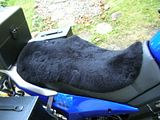 ---
Orange Wee Member #420
consider this
---
I don't think that bicycle shorts would do anything for lower back pain. Knee pain could be lessened with the relocation of the passenger pegs, perhaps.

The Wee is a great bike. For one or two. I believe that your passenger requirements will, in the end, require you to make a choice between your desire to have your passenger and keeping the Wee. Riding should not be painful and there are bikes that better address this.

Sounds like you won't be taking many trips with your wife. How about this? Keep the Wee as it is for you. All the jack you would have spent on trying to improve it would now easily pay for the rental of a more comfortable ride on those occasions when you'd like to take a longer tour with your passenger.

You should also consider rental before making the changes to see if the luxo-seats on the bigger tourers take care of your passengers painful ride.
Stromthusiast!
Join Date: Feb 2004
Posts: 504
Coveter, early on with my wee I had the same problem, particularly with seat comfort and low back pain with my girlfriend, Cheryl. Our particular solution was to create a couple of items to give her a more comfortable and secure ride-- a passenger backrest, wraparound sheepskin seat cover and in her specific case, a sheepskin cover for the backrest pad. These items together have increased her comfort level on long rides.
We've produced and sold these items for a number of years now for the wee/Vee's and you can see them with information on my homepage below:
http://community-2.webtv.net/CHERDAN...omAccessories/
You mentioned ugly aluminum boxes -lol- and we have performed small alterations to the passenger backrest to work with some brands of hard luggage in the past. Any soft luggage works with the passenger backrest as is.
The backrest sells for $125, the passenger sheepskin seat cover sells for $50 and the backrest sheepskin cover sells for $30, shipping not included. I can offer you a package deal on these three items if you're interested, just contact me at
CHERDAN@webtv.net
and we'll be happy to answer any specific questions you may have. Also, if any or all of the above items don't work out for you, you can simply return all or any part of the order for a full refund.
The passenger backrest is approximately 9 inches tall and this height seems to work for most gals but can be increased in height for you if needed.
If you choose to go with a hard topbox, the bolt-on backrest cushion we offer (also shown on my above homepage) along with the sheepskin cover for it is a very comfortable combination to attach to the topbox. Ride safe.
Dan
Seats can suck. I started with the stock Wee seat and found that at the end of a 500 mile day my butt was wasted and I felt like crap. My test of the Suzuki gel seat gave me a 650 mile butt with the sheep skin. Still a little stiff.

Now my problem is the "wife" . Maybe not the wife but her butt. (no that doesn't sound right either).

She has always claimed a 400 mile butt on our BMW which we sold last fall. She loves riding on the Wee and has insisted that we make it a good tourer. (You can see why she is a keeper)

To do so for her comfort I am getting a set of Givi E21 panniers to take the place of the E41's to free up leg and foot room when she is riding with me. I have received(not installed yet) a set of passenger peg lowers which I plan on putting on. But for the piece de resistance we are going to take the Wee up to Rich's in Kingston, WA to get the seat customized to her butt and changed to leather(much better than vinyl). Pricey but worth it I hope. When we go on a ride almost always at least a 300+ day.

We had the seat on our Burgman 650 Executive done by Rich and love it.
V-Tour
I almost know the custom leather seat would be the beat-all, end-all solution, but the cost is so much higher than my self-imposed limits on what I want to spend on the sport it is a non-starter (contacting Bill Mayer was a moment of weakness). Unless, of course, motorcycling floats to the top of the list of things I spend my fun money on. That's difficult with kids. In motorcycling, I've always lived on finding steals, borrowing, and hand-me-downs. I wouldn't be in the sport otherwise.

Rolling up the blanket for a lumbar support? Great freakin' idea! Now all I need is a Givi E36 or E45 top case with a little road rash and included mounting bracket that I can snipe off of eBay at 2 am, and POOF! My wife's a passenger!

Do sheepskins make a difference through two layers of pants? We both wear riding pants over our regular clothes, which are almost always jeans. If it still makes a difference, I might try Dan's covers. I like the fastening system better than the exposed straps on the Alaska covers. Also, it seems that a separate passenger and rider cover would work better. No pulling or tugging if someone is shifting in the seat.
---
Last edited by coveter; 03-08-2010 at

03:15 AM

.