Join Date: Jul 2012
Location: Sachse, TX
Posts: 13
Riding in the Wind
---
I want to start off by saying I only have about 3000 miles of street riding under my belt in the last 20 years.
I have ridding my '12 Strom and when it's windy it is hard to keep on the road. Yea I figure that is normal but my buddy has a Voyager and it doesn't effect him at all. I know his bike weighs close to twice as much as mine. I thought of getting a different winshield but will it really help that much? Also, will I still have the same problem if I went to a heavier bike like a V-Strom 1000? Thanks for any advice.
Stromthusiast!
Join Date: Jun 2011
Location: PA
Posts: 242
Stromthusiast!
Join Date: Dec 2005
Location: Gold Coast, Australia
Posts: 3,232
The 1000 isn't much better, it's height not weight that's the main problem.

Once you catch on to most of the problem being rider input it gets easier.

As Greywolf says a fork brace helps a lot, with a steering damper as well it's very stable.
You shouldn't need to go as far as fitting a damper , I just happen to have one on my bike for other reasons.


The only comment I will make that disagrees with that that thread - I ride through coastal high-rises on my commute, very strong winds and gusty, arms very loose but moving waaay forward with thighs and knees clamping the tank works better in those circumstances. (Narrow lanes, with traffic beside me, I can't afford to let the bike move too far sideways).

With more room, being more relaxed works equally well, but the bike will move around in the lane more.

Pete
Stromthusiast!
Join Date: Apr 2012
Location: Wirral, UK
Posts: 97
It can get a bit weavy behind big trucks too.
+1 on the fork brace. Riding in the wind is just something you get used to the more you do it. I remember when I first got my K7 Wee, I couldn't believe how much the wind blew me around. Now I don't really notice it unless you get a big gust.
---
We interrupt this marriage to bring you the riding season.

2012 Wee - Fox Orange (Gord)
2011 Wee - Black (The Black Heathen) - Traded in
K7 Wee - Silver (Thunder) - Sold
Stromthusiast!
Join Date: Jun 2012
Location: PA
Posts: 964
Quote:
The 1000 isn't much better, it's height not weight that's the main problem.

Once you catch on to most of the problem being rider input it gets easier
+1. I was amazed how much less jittery the bike feels in the wind when I was less jittery.
Also, more windshield makes it worse, not better... besides a cut-down short screen, I'm not sure there's an aftermarket screen which would improve it.
Stromthusiast!
Join Date: Sep 2012
Location: Texas
Posts: 261
After nearly 25 yrs of riding many styles of motorcycles, I seem to notice crosswinds and gusts more on my V-Strom than all the others I've owned. Lots of factors involved but it doesn't seem to be a real hazard as much as an annoyance. I'll probably add a fork brace eventually and just deal with it from there. IMHO, the bike works well in so many ways that a little compromise here and there is to be expected.
Moderator++
Join Date: Jan 2006
Location: Evanston IL USA
Posts: 36,361
I live in Corpus Christi TX. Among other things, it's one of the primo windsurfing spots in the world. We just about always have some kind of wind. I was skeptical about the fork brace, but I can say that there is a noticable improvement in handling characteristics with it. Wind here in a fact of life, I'm just used to it and you learn to adapt your riding and your golfing (disc and traditional) to it.
---
[FONT="Comic Sans MS"]"Life is what happens to you while you're busy making other plans"[/FONT]
Fork brace can and will help, but the fundamental issue is that the bike is very tall and light. As a result it feels the wind more than a lower heavier bike.

The biggest answer is jsut to relax and look at your job as to just gently steer it as opposed to keeping it in an exact spot on the road. The bike is naturally stable and the front wheel needs to track to corret for side gust. If you let go of the bars you would find the bike actually will want to travel more or less straight in the heaviest winds although it leans a lot to do so.

..Tom
---
2006 DL650: 202,000 km 125,500 miles,
2012 DL650
139,500+
km,
86,700+
miles. Sold.
2015 DL1000 New July 2015 80,000+ km, 50,000+ miles.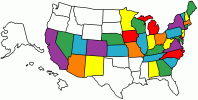 This can help preventing from cars pulling out in front of you (SMIDSY)
SMIDSY detailed report
.