Stromthusiast!
Join Date: Sep 2012
Location: Virginia
Posts: 202
Note that both the links you posted are for the racks only - which mount to the bike rear rack and let you mount that specific vendor's top-case (at additional charge).
Don't go cheap-o, but you don't need to spend top-dollar (or top-Euro) to get a functional case.
That's a decision only you can make because top-cases are built to meet certain needs. For some it's camping and touring, others commuting, others going to school, some it's groceries, etc.
What purpose do you want to meet?
These forums are a great way to get feedback on one or another case. Both the racks you linked are for good equipment.
Stromthusiast!
Join Date: Mar 2011
Location: Pasadna area
Posts: 8,867
If you wanna go cheap, JC Whitney top box. If you want to brag, get a Givi or other high end box.
You might consider getting a Pelican and mount if flat. Depends on what you want to carry.
Stromthusiast!
Join Date: Jun 2012
Location: PA
Posts: 964
Bestem is another cheap option. Lightweight, vibrating piece of crap - but the price was right, rack included, holds bunches of stuff, and keeps it dry.
Givi V46 Monokey
---
Givi V46 Monokey - I love it

so much better then the smaller Monolock I used to have on my EX250.

ITs bigger than I need - and that turned out to be ideal!
Top boxes are very personal indeed and the way they are used should always be considered. Mine is to specific for most people and required a custom built rack to mount it . It has air vents and a built in leash and even came with food and water dishes. But it works. And cost less than most.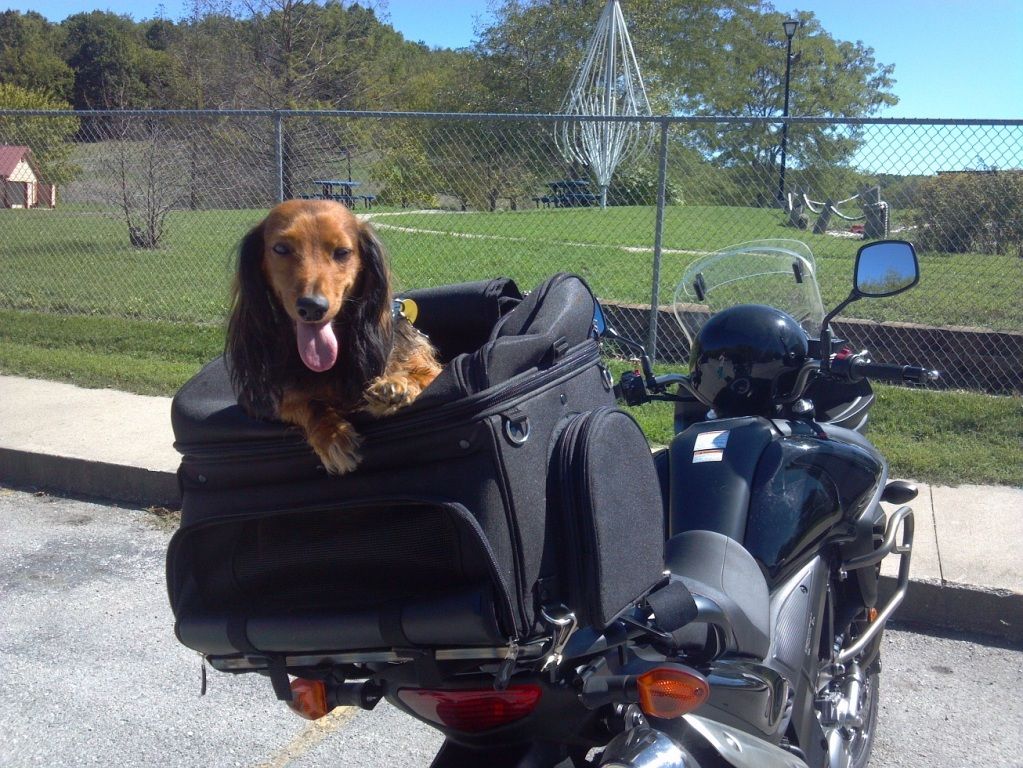 Its different but for a good reason.
---
[SIGPIC][/SIGPIC] L2 DL650A Adventure
Appreciate the replies so far...
---
Remember, depending on your body's "Build Quality" (i.e. waistline, height, etc), you might find it hard to swing your leg over (around??) one of the taller topboxes?? Other members have posted here how THEY mount their steed without having to swing their right leg back and around, but I'm old fashion and do it that way.........hence the reason I like my Pelican flat top box. It will not hold a helmet, but the flat surface allows me to mount a big Dry Bag up there on top of it when I go camping (.......and "yes", the Dry Bag does interfere with my leg-swinging antics occasionally).
Just wanted to throw out another option........with Pros and Cons.
---
www.easternvstromrally.com
(make plans NOW if you have never attended....GREAT Event!!!)
Stromthusiast!
Join Date: Mar 2011
Location: Pasadna area
Posts: 8,867
Who has legs long enough to swack the top box while mounting the bike? When traveling I have to lift my leg to slide over the seat because the gear U-pack is on the back seat.
Bikerdanny, you seemed to have gravitated toward the most rugged looking and expensive of the top box set. Even Pelicans in the square style are less pricey, I think. And very stout too.
BMW has nothing on Touratech prices!
And BMW means Bring My Wallet!
Stromthusiast!
Join Date: Apr 2012
Location: Aberdeenshire
Posts: 865
I've got the Hepco & Becker Black Gobi on my bike, easy to get on / off and has a 42 litre capacity. Only downside I think is you can't fit either of the full face helmets we own.