Stromthusiast!
Join Date: Nov 2012
Location: NC
Posts: 165
I am looking for a rack solution for my wife's 2004 wee. Posting here because I wanted to chime in on the ebay racks. We started riding hoping to hit trails, and do motorcycle camping. She has a DR 650 and I had a Honda XR650L. We figured after a few camping trips that we rode more street than we ever would dirt and started looking at the wee's. Anyway, I used the ebay rack on my XR 650 with no problems.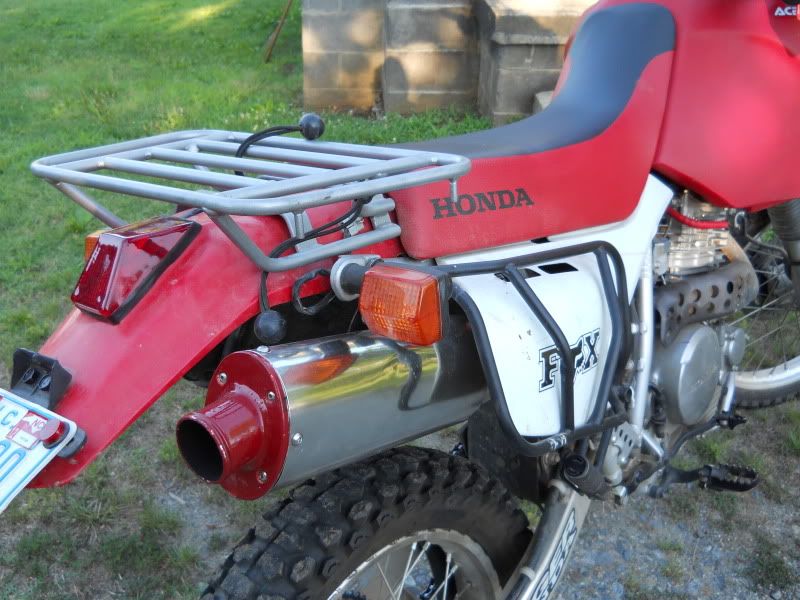 We used tourmaster cloth saddlebags, hers is an earlier version that I liked better than my newer ones. Both bought cheap/used off of ebay.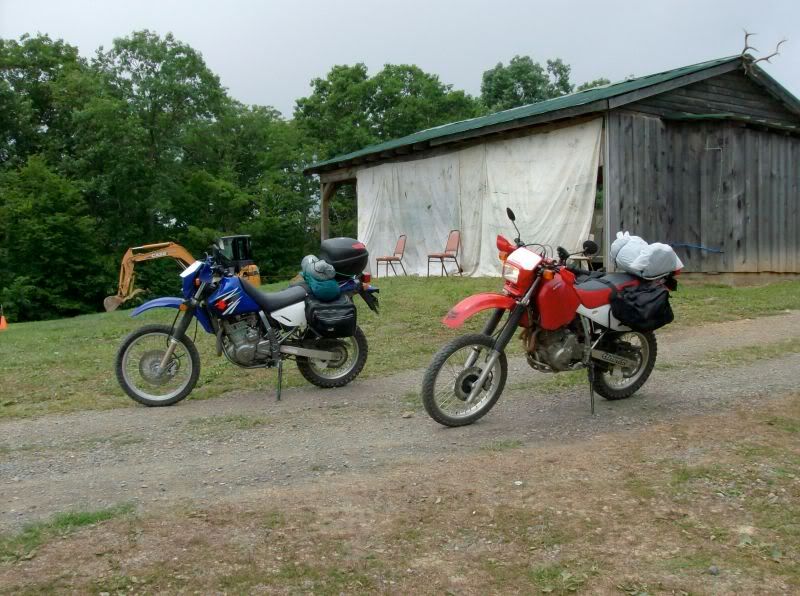 We did several multi-day camping trips with no problems. The bags lashed down to the side racks and were stable, fully loaded. The DR in the picture had homemade racks installed that had to be wielded after our second trip.
BTW - if you think a DL seat is uncomfortable, try 8 hours on an XR.
I have a set of those bag racks on mine.
I started with soft bags (racks were great) and have since installed some homemade hardbags on them. They are still great-especially for the price.
That is a nice set up, they also have a nice looking top case plate as well for Pelican and similar cases and Rotopax.
Precision Motorcycle Racks - Products
Very reasonable prices too.
---
'12 DL650A VStrom
soft luggage side racks
---
i've been using those racks for several years

1st on my '06 klr-650 & now on my WEE

i have only used them for about 10k miles, on camping trips, but so far i am quite happy with them

i'm betting you will be too

shiny side up

sw
---
Everyone crashes. Some get back on. Some don't. Some can't.
--------------------------------------------------------
steve
--------------------------------------------------------
'05 WEE (LRW)
'99 DR TREE FIDDY SEX
plus several BRAND X
Precision Racks
---
Once again, this forum rocks!!. After reading all the above comments about the Precision Racks I finally decided that for about $90.00 I can't pass it up. I ordered the racks via their website on Thursday the 13th. They arrived via UPS on Tuesday the 18th. I immediately realized that either I mis-ordered or they mis-shipped. I got the ones for 2011 and earlier. I called them and left a message and Lee called me back about an hour later. He told me their was some part number confusion on the web site. He wouldn't let me re-order. and that he'd take care of it.
This guy is great and stands by his word. Today, Thursday the 20th, the replacement racks came in on UPS and they fit perfectly. I am taking the original to the UPS store this afternoon for return.
This kind of customer service is really rare these days. I highly recommend Precision Motorcycle Racks. Whatever else he makes I am sure would please the most discerning trooper out there.
Now I need to order those bags!: