Stromthusiast!
Join Date: Jun 2012
Location: Seattle
Posts: 1,059
Grats to all you Iron Butts. I'm on the short bus with 6500 miles.
Join Date: Oct 2012
Location: Bay Area, CA
Posts: 1
1550mi and I've had it for three weeks. Thinking of making the trip down Hwy 1 from San Francisco to LA in a few weeks. Looking for fun local rides to start doing.
I'm averaging about 900 miles a month. I'd love to ride more but can't fit ti in. I don't have a job where I commute.
Stromthusiast!
Join Date: Oct 2008
Location: Brooklyn
Posts: 38
Just hit 10k riding only on weekends for fun and one 10 day trip. , put 25% of that on in the first 2 weeks of ownership .
Stromthusiast!
Join Date: Jul 2012
Location: Columbia, SC
Posts: 170
I'm getting about 1000-1500 miles a month riding, but I do split it between this and my 2012 CBR250R (FUN little bike!). So it'll be about a year for me. Sigh. Still enjoying it though!

Alexi
Stromthusiast!
Join Date: May 2010
Location: Oklahoma
Posts: 116
I thought I rode a lot. I can see that others ride as much or more. I've got 12500 on mine. Purchased May 15th 2012. Been having to use the gerbings a few days lately.
Quote:
Originally Posted by
Stromin'Nroman
View Post
So Tom, you're on target for 30,000 miles this year?
So far I'm at about 42,500 km or a bit over 26,300 miles. (Way less than the 35,000+ miles I did last year. When you are single and not attached to anyone you sure can do a lot more riding! [I'm not even remotely complaining!!!!]) Odds are I won't get much more in this year but the bike is ready to ride any day.
..Tom
---
2006 DL650: 202,000 km 125,500 miles,
2012 DL650
139,500+
km,
86,700+
miles. Sold.
2015 DL1000 New July 2015 80,000+ km, 50,000+ miles.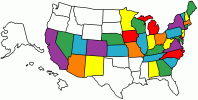 This can help preventing from cars pulling out in front of you (SMIDSY)
SMIDSY detailed report
.
35k??
Are you retired? If I was I'd get my passport and head down to Mexico, today.
---
2005 Suzuki SV1000R, 1985 Yamaha XT608N, 2012 Suzuki DL650AL2, over 25,000 miles already!

>:)
Between the two Glees that I've owned, I've just hit 10,000 miles, but the first was totaled after 3300mi, so I'll claim the milestone later.
Stromthusiast!
Join Date: Aug 2006
Location: Granbury, TX
Posts: 1,041
---
OK I'm in. 10,200 miles now. Mostly commuting. Bought it in late April.
---
Kevin

L2 DL650A The Orange Machine
K7 DL650 Hi Yo Silver R.I.P!