Stromthusiast!
Join Date: Nov 2012
Location: SEPA
Posts: 57
Great ride. You can try tire studs to expand your riding season
---
06 Wee; the Red one.
Quote:
My favorite part of your pictures is that it looks like you've got it parked on the balcony (though context would have helped). Which means you might have had to drive it through the house to get it there (doubt it) which means you might have it parked in your bedroom so you can see it at night (likely) and speak sweet nothings to it. Tip: Your wife will only let you keep the bike so long as you every now and then turn over and speak sweet nothings to her too.
Hahahahaha Funny....I was thinking the same thing.....how in the heck did he get it on the balcony?
And I thought motorcycles in Australia were expensive.....sheesh!!
Nice bike though...as all Stroms are....I too loved the Stroms when they first were introduced but they were outside the power restrictions of a learner rider over here but I did get one eventually.....I looked at many bikes of all sizes and styles and I just kept comming back to the DL650 theres something that's gotta be said about that
If you want to ride your strom all year round...bring her downhere in OZ ...mine gets used 12 months of the year.
Cheers
wobbly_boot
Dave
Stromthusiast!
Join Date: Jul 2012
Location: Norway
Posts: 42
I could ofcourse tell you how i got the bike on my balcony, or if it actually IS on a balcony...But i think i`ll just let it hang there
I`de love to take a month or two in australia, riding around proper adventure style!! But that would not go down well with the missus
. I did get a whole day of biking this summer when we where on holliday on Crete, that was the best damn ride of my life!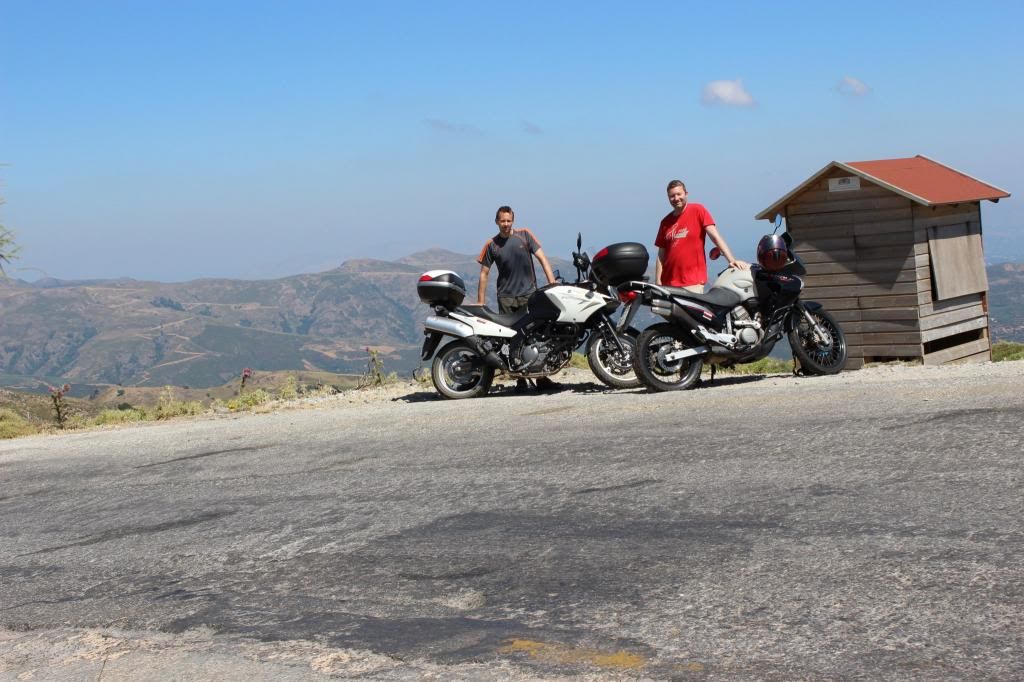 Thats me to the left with my rented wee and my mate with his rented Transalp. This was actually the first time i ever drove a wee and i was well impressed with it. Comfortable, powerful and decently nimble. Even after 6 hours of driving i didnt feel worn or beaten.
5 more months until the season starts......
Tai
sounds like a blast! is that the facility right there? also, you guys look pretty tall to me, next to your rides.

so how did you get your bike on the deck?
---
'12 vee, '07 bandit 1250s, '15 bmw f700gs


'08 suzuki gsxr (sold)
'11 wee, (sold)
'07 honda shadow aero (sold)
'06 honda shadow sabre (sold)
'07 honda shadow sabre (traded)
'01 honda valkyrie (sold)
'07 kaw meanstreak (sold)
'01 honda shadow ace (sold)
'71 (?) honda z50 trail (first bike, wish i still had)
Congrats, enjoy the new ride.

Don't forget to post up your thoughts.
---
-rodney

2012 G-Strom - White
Stromthusiast!
Join Date: Sep 2012
Location: MN
Posts: 16
Wee
---
Nice Wee, Had one just like it on ebay last year but lost it in the last 30 sec.
I found an 09 Wee 100mi from my house with 3990 miles and the guy delivered it to my door. She a beauty. I know how you feel.
Grats on the new bike! I just got mine in november so I know how you feel. I'm glad to hear you got your dream bike.
---
2011 Black Wee
2006 HD 1200c
Stromthusiast!
Join Date: Sep 2012
Location: MN
Posts: 16
Wee goodies
---
It has been fun finding components for my 09 Wee that make the ride right for me. So far I've installed a Givi windscreen, Sargent seat, Murph's C stand and Adventure Tech mirror extenders.

A Yann skid plate soon. Still searching for the best luggage combo for the least amount of $$$. My go with SW Motech rack system and some alum pannier from Potvin Cycleworks, West Bend, WI. Still searching. What else do you do when there's a foot of snow and -13 outside. Any other ideas are welcome??
Awesome looking bike...you'll need it to get off the balcony.
---
https://www.youtube.com/watch?v=EeB5ZraUeYQ