Stromthusiast!
Join Date: May 2010
Location: Whitefish Montana
Posts: 128
Macho mega crash bars?
---
does anyone on here have a wee that they've built super macho crash bars for? i am soon to pay a welder to make me some REAL crashbars, unlike the noodle givi's that Loli came with which folded under a driveway nap last year. i'm thinking a double horizontal bar hi n low around the tank, then across the front under the radiator for low bar, and infront/under the fairing nose for the high bar. anyone build them on here?
---
'09 Wee (silver) ABS


'05 Honda Big Ruckus 250 scooter
Stromthusiast!
Join Date: Jun 2011
Location: New Jersey
Posts: 220
Maybe something like this
---
Well, there's always this idea...
---
Bob A.
Current bikes:
1990 Kawasaki Ninja 250 (Rebuilt)
2011 Suzuki DL650A
One nice thing about super strong crash bars is that in a crash you will bend the bikes frame and not the crash bars. This way you can get a new bike with your insurance money, that is if you have insurance. Crash bars were designed to protect your plastic, if that.

John
---
Last edited by trainman; 12-07-2012 at

12:07 AM

.
Moderator++
Join Date: Jan 2006
Location: Evanston IL USA
Posts: 36,651
Black Lab made his own.
Black Lab Adventures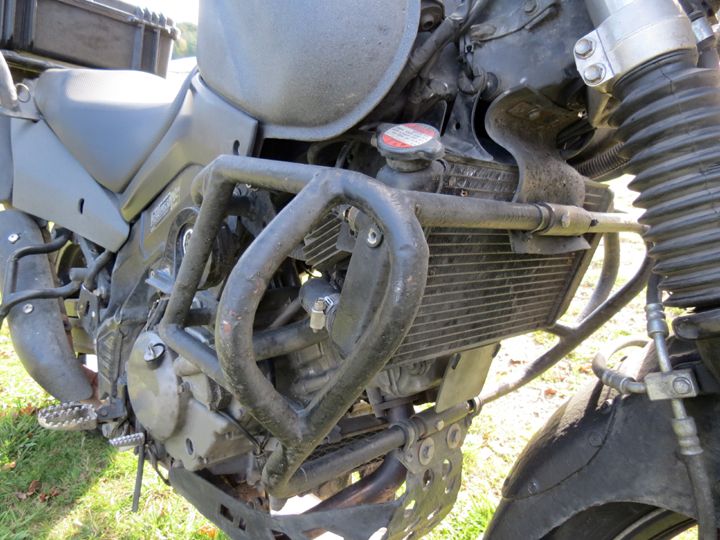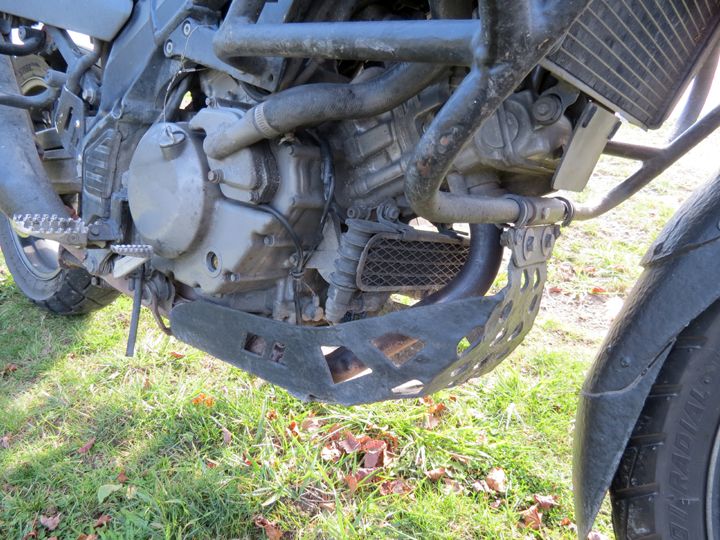 Stromthusiast!
Join Date: Mar 2011
Location: Pasadna area
Posts: 9,088
Quote:
Well, there's always this idea...
I met a guy years ago that modded a R100BMW with a full crash cage very similar to this drawing
Remarkable bit of work and effort. Butt ugly. He was happy with it though.
It's not rocket science to design the strongest crash bar configuration possible: identify as many solid mounting points as you can and connect them all with a cage of mild steel tubing. It's the number and location of mounting points that determines how strong it is.

But if you are willing to hang an ugly cage around the thing, why not just strip off the plastic parts and live with some dents and dings in the rest?
---
2008 DL650A
2016 KTM 390 Duke
"All you need in this life is ignorance and confidence, and then success is sure."
- Mark Twain, 1887
Stromthusiast!
Join Date: Apr 2012
Location: Western CT
Posts: 186
Any of those bars will crack the plastic if the bike is dropped.
---
'09 Wee Strom
'08 Triumph Tiger 1050
I've crash tested both my Givi crash bars and no damage to plastic underneath.
And
The marks on the plastic in the last one are just mud no scratches.
Sent from my iPhone using Motorcycle
---
'09 Wee, Orange. Uh, Er...White, No, Wait, ORANGE!


" I like my Motorcycle's Loud and my Firearms Quiet." -Me