98 Octane Fuel (Good Bad Pointless ?)
---
The Owners manual says that the Wee Strom should be run on 91 Octane fuel (87 octane for USA and Canada)

I have always (90%) used Shell Optimax in my bike , it has an octane rating of 98. I personally feel that my bike runs better on it, but it does cost upto 20c a litre more than regular unleaded.

Does anyone know if I am putting my motors health at risk by running 98 Octane fuel, If running 98 Octane is not going to cause any harm I will keep using it, cause as I said above I really do beleve that it runs better on Optimax....

As a point of interest this is an example of the Shell Fuels available in Australia
Shell Optimax Extreme 5% Ethonol 100 Octane fuel <- Not Common Yet
Shell Optimax is a High Density, High Octane (HDHO) 98 octane fuel.
Shell Unleaded 95 Petrol 95 Octane fuel
Shell Unleaded Petrol 91 Octane uel
---
Mussie
QLD Australia
[url=http://mussiesblog.blogspot.com/]Mussies Blog[/url]
[url=http://stromtrooper.com/forum/viewtopic.php?p=55778&highlight=#55778]05 DL650[/url]
81 GSX1100E
84 GSX750SE
83 GR650D
83 XLX250R
Stroms on the "average" hate high octane gas. The only time that you may benefit some......is during VERY hot temps. I would NEVER exceed 93 octane IMHO!!! The consensus for either Strom is 87.
---
BRIAN "GO Buckeyes, GO Wildcats"!
2015 DL650 XT "Drill"
Stromthusiast!
Join Date: Mar 2006
Posts: 184
Running higher octane than 87 will harm nothing but your pocketbook. It will also do nothing to make the bike run better.

- Mark
Please also keep in mind that the Octane rating system in Canada and the USA is different than the rest of the world.

I don't have the info in front of me but I know that European octane ratings are much higher for the same fuel in North America.. I don't know how this works out in Australia.

North America uses RON+MON / 2, the rest of the world uses just RON (I think that is the one.)

..Tom
---
2006 DL650: 202,000 km 125,500 miles,
2012 DL650
139,500+
km,
86,700+
miles. Sold.
2015 DL1000 New July 2015 80,000+ km, 50,000+ miles.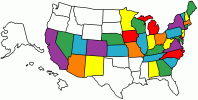 This can help preventing from cars pulling out in front of you (SMIDSY)
SMIDSY detailed report
.
Moderator++
Join Date: Jan 2006
Location: Evanston IL USA
Posts: 36,356
87 for North America and 91 for the rest of the world is the same with the numbers determined by different methods. It's what the bike is timed for. Higher octane fuel resists combustion more to avoid detonation so burns slower and with less energy than regular gas. It's the higher compression engines with more radical cam timing on engines requiring premium that provide the extra performance, not the fuel. The best fuel for an engine is the lowest octanne that will not cause pinging.
The other part of the situation is that many premium fuels have better detergent additive packages than lower octane fuels of the same brand. Top tier fuel has the same additive package in regular as it does in premium. Use a top tier regular fuel for the best performance. See
http://www.toptiergas.com/
Higher octane fuel resist explosion (detonation) desired combustion is fuel burn not explosion. Don't know about the Wee but the 1k engine will detonate on 87 octane fuel from 95 to 115 degree plus temps. This detonation equals less performance and slower acceleration. The 1k has in excess of 11 to 1 compression ratio which does not always get along with 87 octane. The timing on the 1k is retarded in the first 4 gears to allow it to burn 87 octane but 5th and 6th are not retarded and these engines will ping. With a timing retard bypass installed these engines will ping in every gear in high temps. Something to think about for a fuel use reference, a smart system as used on new cars can be monitored with a scanner, 87 octane will always show more timing retard then will 89 or 91 octane. So can you use 87 octane yes you can is always the best NO. You guys don't agree with the factory on much of anything else so why agree with their recommended octane usage.
---
"Life's Tough.....It's even tougher if you're stupid" __ John Wayne

He who dares to not offend cannot be honest. REMEMBER!! You can't fix Stupid and Stupid HURTS 2006 DL-1000
Stromthusiast!
Join Date: Jun 2006
Location: New Zealand
Posts: 156
I have kept an exact record of my fuel consuption ever since I bought my bike. The main reason was to see if Shell's claim that their new fuel will really improve fuel consumption is correct. Although I haven't yet confirmed or disproved Shell's claim, I can say that my 1000 gets a major improvement in fuel consuption with 95 octane compared to 91. Here in NZ our 91 is equivilent to USA's 87. The results are:

Fuel type - Litres - Distance - Km/l - Average

Unknown - 20.29 - 288 - 14.19 - 14.19
Shell 91 - 19.21 - 288 - 14.99
Shell 91 - 17.64 - 230 - 13.04
Shell 95 - 15.26 - 245 - 16.06 - 14.70
Caltex 91 - 16.99 - 253 - 14.89
Caltex 91 - 6.45 - 84 - 13.02
Caltex 91 - 18.00 - 260 - 4.44
Caltex 91 - 19.06 - 264 - 13.85 - 14.05
Caltex 95 - 16.40 - 249 - 15.18
Caltex 95 - 11.42 - 190 - 16.64
Caltex 95 - 10.47 - 146 - 13.94
Caltex 95 - 18.51 - 275 - 14.86 - 15.16

My next 3 - 4 fill ups will be on Shell 95, then I'll go back to trying Shell 91.
---
DL 1000 K6, RE5
If it doesn't ping at lower octane there is no benefit to using higher.
I think user manual says 87 octane.
but many no name gas stations have too much MTB - Ethanol ...Bad stuff for your bike.
---
2006 Red V-Strom 650
Moderator++
Join Date: Jan 2006
Location: Evanston IL USA
Posts: 36,356
MTBE and ethanol are oxygenates used for a cleaner emission. They are different. Methyl Tertiary Butyl Ether is not ethanol. It's main ingredient is methanol. Ethanol is becoming the preferred oxygenate as MTBE is more toxic to the water supply when spilled. Except for E85 which cannot be used in traditional standard fuel systems, most areas limit oxygenates to 10% of the fuel. Stick to top tier gasolines for better additive packages in all grades.