Hard or Soft Panniers
---
As some of you folks know, I'm in the market to get some panniers of some description and have really taken a shine to the new Givi Tracker type boxes but like most of Givi stuff, is quite pricey although I'm sure of great quality as they are reknown for.
GIVI TRK33N - Side hardbags
My Local Suzi dealer (Boyds @ Broadmeadow Nctle) has a New 2012 DL1000 with the full kit including topbox which tops out to about $1,700 for the kit.
I was prepared on getting the 2 side panniers and racks for just under $1,200 but are now having major 2nd thoughts.
I just don't know if I can justify spending that sort of dollars for luggage if I'll probably only use it around 4 times a year if that.
Now I'm thinking, untill I really know what I really want in luggage (I only have a couple of yrs total experience in all this touring thing) I'm now bending towards either the Wolfman Dry expedition Pannier bags or Andy Strapz Exp bags and frame sets. The Strapz set are about $100 more expensive than the wolfman but after seeing another V-strom with the Wolfman yellow set strapped on, I'm now moving towards these.
Expedition Dry Saddle Bags
These are $625 for a set of 2 bags and frame set for the DL650.Seems more reasonable or do you guys think it's better to go all out and invest in a solid set of hardcases first-up?
Has anyone here have any experience with these bags? Would you think having an extra 38 litres (19 litres per side) of luggaage space would be enough for a decent tour (say about 4-5 weeks) I would have my RJays Topbox on the back, possibly the Andy strapz A bag on the pillion seat, the 2 Wolfmans on the side and my Givi tankbag. I guess it'd all boil down to wether I was free camping with tent and stuff I know.
I do like the way those wolfman bags strap to their own pannier frames.
I'd like to get a set of something before I go away up North to the Xmas do at Brett's but am still undecided which way to go.....I was also keen on the Hepco & becker Gobis cases and yet I am not keen on those top loader Aluminium cases like the hardcore adventure cases you see on Beemers and some Stroms.
Anyone who can share their knowledge and experience would be appreciated as I'm not knowing which way I should go with this.
Cheers
wobbly_boot
Dave
If your only going to need them a few times a year go for for the soft set up, however I never take the pelicans off and do not notice the difference unless I'm doing hard cord off road. Some use the top box all the time but I use the panniers as the weight is lower, you won't be sorry if you spend the cash on a good luggage set up, but that's just me and I use my bike as my primary form of transport.
---
Live to Ride
DL650 2012
XR400 2002
JR50 2006
Stromthusiast!
Join Date: Dec 2005
Location: Gold Coast, Australia
Posts: 3,232
I prefer the soft bags, but I only use them a few times a year.

Top box is brilliant though.

Pete
Top box and soft.

There are cheaper alternatives than Givi and Wolfman [but the Wolfman are supposed to be very good]..

I have alloy boxes for the Wee and soft bags on the KLE, the top box transfers between the two bikes as I have a second mount plate for it.

I'm thinking of using the soft bags on the Wee for most trips as well now though as the alloys suck fuel noticeably.

I use the top box on my commuting as it allows me to get through traffic easily, the boxes make the bike too wide [the soft bags on the KLE only come out about as far as the handle bar width so I still leave them on if I take it to work].
---
Ock. in Oz

Windsor (near enough)
NSW
Australia
Rest in Peace
Super Trooper!
Join Date: May 2010
Location: blue mountains
Posts: 1,331
NOW THIS IS NOT A TIP OK?! Not going down that road again!
FFFAAAAR OUT!!
Ditto Ockerstrom. I made my top box out of 3mm Aluminium. From memory about 550L X 330w x330 h. Cost me less than $150 all up. I had a truck body fabricator cut and bend it to my design, cash job, and I bolted it together and added the hinges and locks. Having square corners adds heaps to the volume and usability over the commercial rounded box's. Looks real adventure, well ,to my biased eye.
I had cheap soft panniers when I used to do outback trips, made from a pair of suitably modified backpacks. No frames just looped 50mm straps over the seat each side, under the bottom of the backpacks, up the outside and joined over the top with stitched on velcro. $55. I have a 100mm plastic tube opposite the muffler, bags rested on the muffler heat shield (which runs barely warm) and on the tube.
If you ride dirt or maybe this applies to sealed road too, ..... I had my only off from the Strom coming out of Brachina Gorge in the Flinders in 2008. In a sandstorm I came down in gravel and finished with my leg stuck firm under the soft pannier. Had it been a hard box I'd have broken my lower leg for sure. Just something to think about.
I think Andy Strapps soft panniers and frames look the goods if you want to spend a few dollars. You'd recoupe some $s come the time to sell.
Saturn 5
¿ Hard / Soft ?
---
being a chronically advanced crepitation, i guess i'm relegated to SOFT, by the nature of things

as i was pondering the same question, i got to wondering how much fun ti would be to find myself in a situation where direction & balance were somehow out of my control

the inevitable(for m/c riders) came to mind & i decided to choose to NOT HAVE A HARD ANGULAR OBJECT CHASE ME DOWN THE PIKE

pavement, fenders & bumpers are scary enough, w/o having to worry about trying to escape my own contraption

&, while pondering the inevitable, i thought about protecting the machine & it's parts

MY(as opposed to THE) answer turned toward SOFT LUGGAGE & SIDE RACKS, to go along w/ my engine guards & OVERSIZED TAIL RACK(the infamouse BBQ GRILL)

the side racks & tail rack were acquired from a fleabay vendor

my soft, WATERPROOF saddle bags are the LARGE ORTLIEBS, in yellow

my tail bag is also an ORTLIEB, in yellow

this system served me well, in the past, & i see no need to change

plenty room for stuff & it all stays DRY

when riding w/o the bags, the racks give me peace of mind, knowing that if/when i allow the bike to slip from my hands & she takes a nap, in the drive way, the turn signals & side plastics are protected

i guess i'm more of a practical thinker than a fashion statement kind of guy

the WEE is a kinda sporty looking UTILITY VEHICLE that CAN DO...

there are several kinds/brands of dry bags out there & the choice, there, is more individual taste than a question of right or wrong

i am attaching pics of a side rack, like the ones i got off fleabay & of the way i pack, some times

there are a couple complete sets, out there, to be had

1-set w/ top & side racks that have soft sided bags to fit

1-set w/ top & side racks that have pelican styled cases

lotsa options, in addition to the S branded stuff which can be pricy

& that's my 2¢ worth, this morning

shiny side up

sw
---
Everyone crashes. Some get back on. Some don't. Some can't.
--------------------------------------------------------
steve
--------------------------------------------------------
'05 WEE (LRW)
'99 DR TREE FIDDY SEX
plus several BRAND X
So you can spend $600 to support a local manufacturer who is dedicated to making an excellent product and who stands behind what he makes 100% or you can spend $1700 to support a multi national corporation and about three distributors various transport companies to get a product that effectively is no better and if you intent to go off road is actually less useful.
Hmmm let me think about this one.
I'm about to advertise the Givi topbox, panniers, and racks I bought recently off Cooldollar on the forum. I've realised I'll never do the trips for which they would be ideal.
---
Ron B. VK2OTC
2007 Yamaha XJR1300

RIP Bucko
1979-2008 - Riding on forever
FWIW, the hard panniers are a nightmare in strong wind and when passing trucks...
I prefer the soft as the profile is smaller....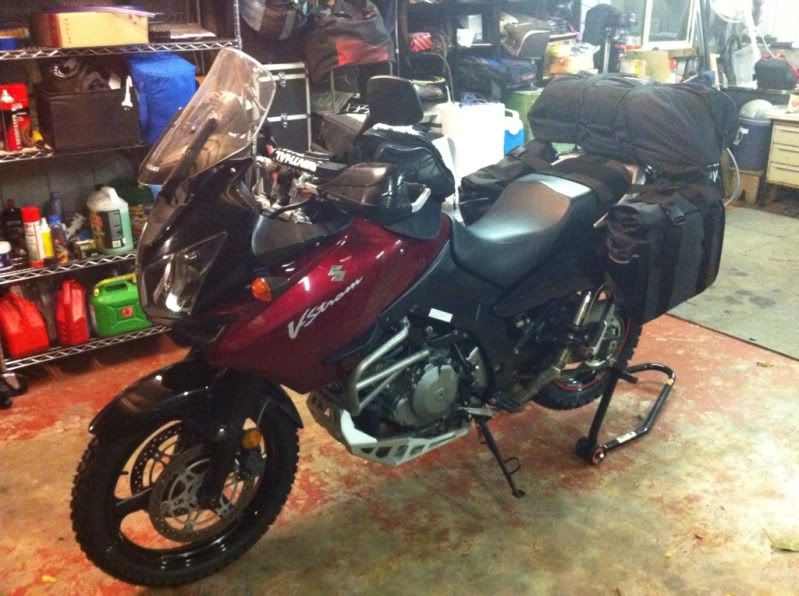 Wow.....some great input and tips/advice there....thankyou very much guys.
After reading through your answers, the vote strongly veers towards the soft bag option and this is interesting considering the set-ups I seen at the Bingara gathering where in most cases...hard cases ruled which has influenced me somewhat in this direction but at the same time, I didn't really want the Utility look of the Aluminium cases and so preferred the rounder (for aerodynamic purposes) shapes like the Givis and some of the H&B's.
I don't think that I'll be doing a lot of camping out, just occassionaly due to needing to regularly use a CPAP machine which I always carry in my top box for protection, most my stay-overs will be in pubs or motels nowadays. But I do like to have the option to part motel it and part camp and therefore like to have the space of good panniers.
I was also thinking that if I got a good used set of hard panniers and frames like the ones that p38arover maybe be looking to sell, I could also buy some Andy Strapz soft bags to use on those frames if I was to do more gravel on a trip or something like that so the best of both worlds so to speak.
K1W1, I understand what you mean about supporting the local bloke and Andy's stuff is right up there in my books...I love the A bag.
PiJiL, same colour strom as mine and both those combinations look so bloody good.Can see what you mean though comparing the 2 combos..the andy's look very snug but the soft option doesn't seem to have the capacity of the hardcases...or is that more of a good thing than a minus?
Crikey....how hard can this be
Cheers
wobbly_boot
Dave