Rest in Peace
Super Trooper!
Join Date: May 2010
Location: blue mountains
Posts: 1,331
Ear Plugs----Don't leave home without them
---
A comment by Pais prompted me to bring this topic to members attention, again.
First let me say that to my knowledge there is no such thing as a quiet helmet. A tight helmet is the best you'll do ( they all loosen with time) but too tight to start with and you will experience a sore head pretty soon.
I am sure that my poor hearing is mostly a result of for years riding without ear plugs. This type of hearing loss is permanent and for me is progressive. I have, for the last several years, always worn earplugs unless to the local shops just 1km away but these precautions are just too late.
The greatest problem for me is that it prevents normal conversation unless one on one with no ambient noise. Otherwise I'm constantly asking people to repeat what they said. People tire from repeating themselves very quickly.
I realized just how bad it had become for me when several years ago I joined a group of off-road power jockeys ( Ulyssians and fast, let me tell you) non of whom I'd met before. On the first night around a blazing fire in the pub ,with lots of noise going on I could not understand a single word spoken (OK Chops .. I was jober as a sudge
) Rather than stand there and nod and grin like the Cheshire Cat, I ate dinner on my own and went to bed early. It really gutted me and made me realize how bad it had become. It's an anti-social problem and it is permanent, you will regret it when it's far too late if you don't use plugs.
Also there is the tinnitus that can at times drive you to the brink...and I rarely hear a bird song anymore.
Always wear your ear plugs!!
Saturn 5
Sorry to hear about your hearing loss, Saturn. But thank you for the warning, it's a timely reminder for me. Got back into riding less than a year ago and there were so many tbings to deal with for a 'newbie' that earplugs just sort of disappeared under the radar. Bought some a while ago and now will make sure that I actually start to use them.
Won't help. I work in a lab environment when the constant buzzing and humming of servers, aircraft equipment, and more....Bio-environmental says the noise level is "safe," but they only look at peak decibels and not prolonged exposure (because they are stupid). I already can't concentrate when in a large crowd and everyone is having a conversation.
---
2006 Vstrom 650

1999 Triumph Trophy 1200

2012 Vstrom 650 (current)
Quote:
Won't help. I work in a lab environment when the constant buzzing and humming of servers, aircraft equipment, and more....Bio-environmental says the noise level is "safe," but they only look at peak decibels and not prolonged exposure (because they are stupid). I already can't concentrate when in a large crowd and everyone is having a conversation.
Most people are not riding their bikes for eight hours five days a week, so I am not sure that the 'prolonged exposure' you encounter in your work environment comes anywhere near the exposure of an average rider.
Stromthusiast!
Join Date: Mar 2011
Location: Pasadna area
Posts: 8,867
Stromann, the sound damage is cumulative. A little here, some more there, all add up to CAN'T HEAR.
Shooting guns, flying personal aircraft, your F-ing Harley with no muffler and no ear plugs makes Jack a deaf boy.
Those pricey custom ear plugs are nice. USed at night at campouts blocks the noisey snorer in the next tent too.
I lost some hearing when I whacked my head and broke the helmet during a get off last year.
My 25 years in a building with overhead conveyors hasn't helped the ears either. The sound tests showed a peak DB supposedly less than a problem threshold but it do add up.
Stromthusiast!
Join Date: Mar 2012
Location: Southwest Virginia - West of I-77
Posts: 1,376
Thanks to Saturn 5 for mentioning this. I'm sorry to learn of your hearing loss. Wish there was something some of us could do to help, but I think there isn't, unfortunately. I have a fairly good sense of your problem since my elderly mother also suffers from poor hearing and I and others frequently repeat comments to her.

This (wearing ear plugs while riding) idea probably wouldn't have occurred to me. It's only one of the many good bits of knowledge I've picked-up reading on this forum.

Since becoming aware I've used ear plugs fairly faithfully. I keep perhaps a half-dozen cheap ones in a very small zip-lock baggie in my topcase with my helmet & gloves. For me it's much more pleasant to ride with hearing protection. I like it when, at the end of a ride, I pull the plugs out and can hear all the sounds I can't with the plugs in. It reminds me I still have good / decent hearing and that it's something definitely worth protecting.

I now always wear hearing protection (generally the over-ear / headphone style) when mowing, using my farm tractors, using chainsaws, using weedeaters, etc. Makes all these experiences more pleasant.

Regarding workplace hearing protection, at the factory where I work there seems to be growing awareness of hearing, vision and breathing threats and growing acceptance, among the work force in general, of persons wearing whatever kind of protection is appropriate. Eye protection is required everywhere at all times. Hearing protection is provided and encouraged in high-noise areas of the plant. "Spacesuit-type" coveralls (including full head coverage) with built-in respirators are provided and used in coating-application areas. At other companies I doubt anyone would complain about persons providing their own hearing protection and using it continuously in high / constant-noise areas, if the company won't provide the appropriate protection.
I've had some hearing loss for most of my life, but after 8 years of working on helicopters in the Navy, a lot of my conversational hearing is going too. Any moderate amount of white/background noise, and I have a hard time hearing what a person is saying. And then, I too have the tinnitus. It often flames up and can overpower low levels of sound too. Occasionally when it is really bad, I might have to have to turn the TV up to compensate.
Anyways, my scoot is now my main mode of transportation with a 92 mile round trip, and even though my Neotec is a quiet, I have to use ear-pro otherwise my head is a ringing mess at the end of the day. In fact I just picked up a pack of ear plugs just this week.
I'm hoping eventually the photo I have will show up in here as my hosting site is experiencing problems. I bought a 200pair refill pack of Howard Leight Max ear plugs. They are the orange bell shaped ones.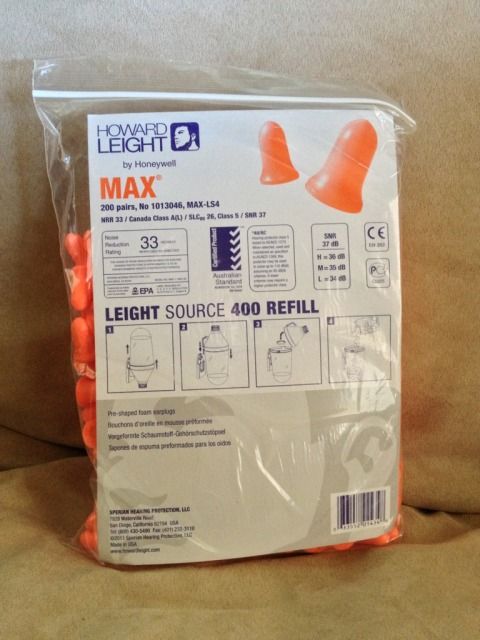 $15 for 200 pairs on Amazon w/ free shipping... Very comfortable, not too much outward canal pressure but snug, soft foam good for long saddle days, 33db attenuation. I even use these for shooting.. I keep a ziplock bag full of these in my topcase.
---
---
His -[INDENT][/INDENT]'07 Wee-Strom - '07 Kawi KLX250s
Her's -[INDENT][/INDENT]'13 Genuine Buddy 170i Pamploma
---
Last edited by bbg.will; 10-25-2012 at

12:39 PM

. Reason: photo hosting issues
Saturn 5 - I am a big proponent of hearing protection, for mowing the lawn, motorcycling, Ted Nugent concerts, whatever. A little too much heavy metal as a teenager and a genetic pre-disposition to fading hearing doesn't help either.

As an early adopter of hearing protection, though, I think I'm just barely avoiding what you're experiencing, except for the difficulty of hearing in crowds that you were describing. A hearing specialist who examined me wasn't quite ready to start me on a hearing aid, but the information and insights I received just from the examination are invaluable.

The doctor also went through current hearing aids. The technology has advanced significantly from the big ear additions my father used to wear, and they are no longer just amplifiers of sound. A couple of the hearing aids available could be tuned for frequency ranges like a multi-band stereo equalizer. What I'm suggesting is that you consider going to see an ear doctor to see if there is a workaround for the hearing loss you already have. Best of luck.
---
'04 650, and goshdarnit it's fun - matte silver (#9 in the Silver 'Strom Club)
farewell to an '81 KZ550, '83 GPz750, '83 V45 Sabre, R-Reg GT380, '84 GPz550, early '70s DT175, and a '72 Peugeot 102
Stromthusiast!
Join Date: Oct 2009
Location: Fincastle VA
Posts: 574
Yeah, light aircraft and motorcycles did it for me. Usually the first sign is not being able to pick out words in high ambient noise.
One warning though. Earplugs and headphones help a lot. They will not block certain frequencys that can do damage. The only way to deal with those freq's is to use active noise cancelling headphone like the helicopter pilots. Everyone in aviation is using them now. My hearing loss comes from years of flying using the non-active headsets and sometimes even ear plugs on top of that.
I'm not saying don't use hearing protection. Just that there's more to it. Maybe someday they will make a helmet with built-in active noise cancellation. The ringing in my ears and the inability to join in on conversations drives me crazy sometimes. It really does cause a form of social isolation. At least the digital hearing aids are really good now. Trying to hold off though.
---
2009 DL650
Stromthusiast!
Join Date: May 2012
Location: Brisbane Australia
Posts: 318
Excellent advice from Saturn 5
Hearing loss can sneak up on you for years,then suddenly its all too late and your just about deaf.
After military service and a life of bikes and noisy tools my hearing has progressively deteriorated to the stage where hearing aids are compulsory.
Unfortunately the ability of hearing aids to restore my hearing to anything like normal is sadly lacking.What they will do(badly) is allow me to hold a conversation IF the background noise isn't too loud,IF the person speaking has a clear,lower pitched voice,isn't a squeaky voiced kid or a mumbling teen.
What they wont do is every other blood thing you need your ears for.
No TV,movies,decent conversation in groups,parties or pubs etc.
No phone use whatsoever,and just try to do a insurance claim without using the phone.And the list goes on----and on.
Now its too late
I have hearing protection for everything as I desperately try and hang onto the little hearing that remains.
My advice-get good hearing protection and always use it.
Macca