Australia-New Zealand Flea market
---
This will be your own 4sale "FLEA MARKET" section, for "want to trade, want to buy, and for sale items". DO NOT POST ANY LINKS TO EBAY OR GUMTREE etc..... or they will be deleted. Please try to delete any items that are sold, traded, or found that were wanted....Things will be cleaned up and kept orderly from time to time.

Edit by K1W1:

Read this before you post!

To keep consistent with the rules on the For Sale section of the forum these things will apply;

This section is for member to member sales only. Do not "post for a buddy".

No listing items in this thread unless you have posted at least 20 times previously and have been a member for 20 days. Post padding for the purpose of selling can and probably will be cause for banishment.

Items listed will be deleted after 90 days.

All items for sale must have a price shown.

It's a good idea to indicate the location of the item for sale at least generally (Northern NSW, SE Victoria, whatever).

This thread is for people to advertise items for sale or items that they want to buy only. If you see something that interests you respond by Private Message. Only post a query in the thread if it is relevant to everybody. DO NOT post off topic comments or discussions in this thread.

To people who post items for sale or to purchase. If your post has been satisfied either clearly mark your post or notify an Admin and ask for your item to be removed. The assumption is that the item is still for sale or that you still want one until you let the world know otherwise so be considerate to other forum users and keep your post information current.

Have fun and enjoy!!!!!
---
BRIAN "GO Buckeyes, GO Wildcats"!
2015 DL650 XT "Drill"
---
Last edited by p38arover; 08-01-2016 at

10:53 PM

. Reason: changed Craigslist (not in Oz) to Gumtree
Stromthusiast!
Join Date: Aug 2009
Location: Sydney , Australia
Posts: 34
Givi Touring Screen D260ST
---
Brand new never used, Givi Screen D260ST , it's about 70cm , 22" high and drilled for V- Strom . $150 ono , pick up Inner West Sydney (preferred) or can post . PM me and I can send you a pic or 2 , otherwise look up Givi website. , cheers. Steve
---
Last edited by ruffred; 04-11-2016 at

11:50 PM

.
Stromthusiast!
Join Date: Dec 2015
Location: Australia
Posts: 124
I don't suppose anyone has DL1000 fork tubes and internals available? I'm thinking of putting them in my DL650 lowers (2008, so same-gen DL1000 should work but I'm looking into Vee2 as well...) EDIT: forgot the Vee2 had UD Kayaba forks. So Vee1 forks then!
---
Last edited by J58943; 04-13-2016 at

09:37 PM

.
Quote:
Suzuki Burgman 650 as soon as I can find a good one (they seem pretty good things for old fellas)
You might find it a handful unless you are touring with it. It's a 600 lb bike.
Miss mine - 63,000 km of trouble free riding cept for one battery and too many tires.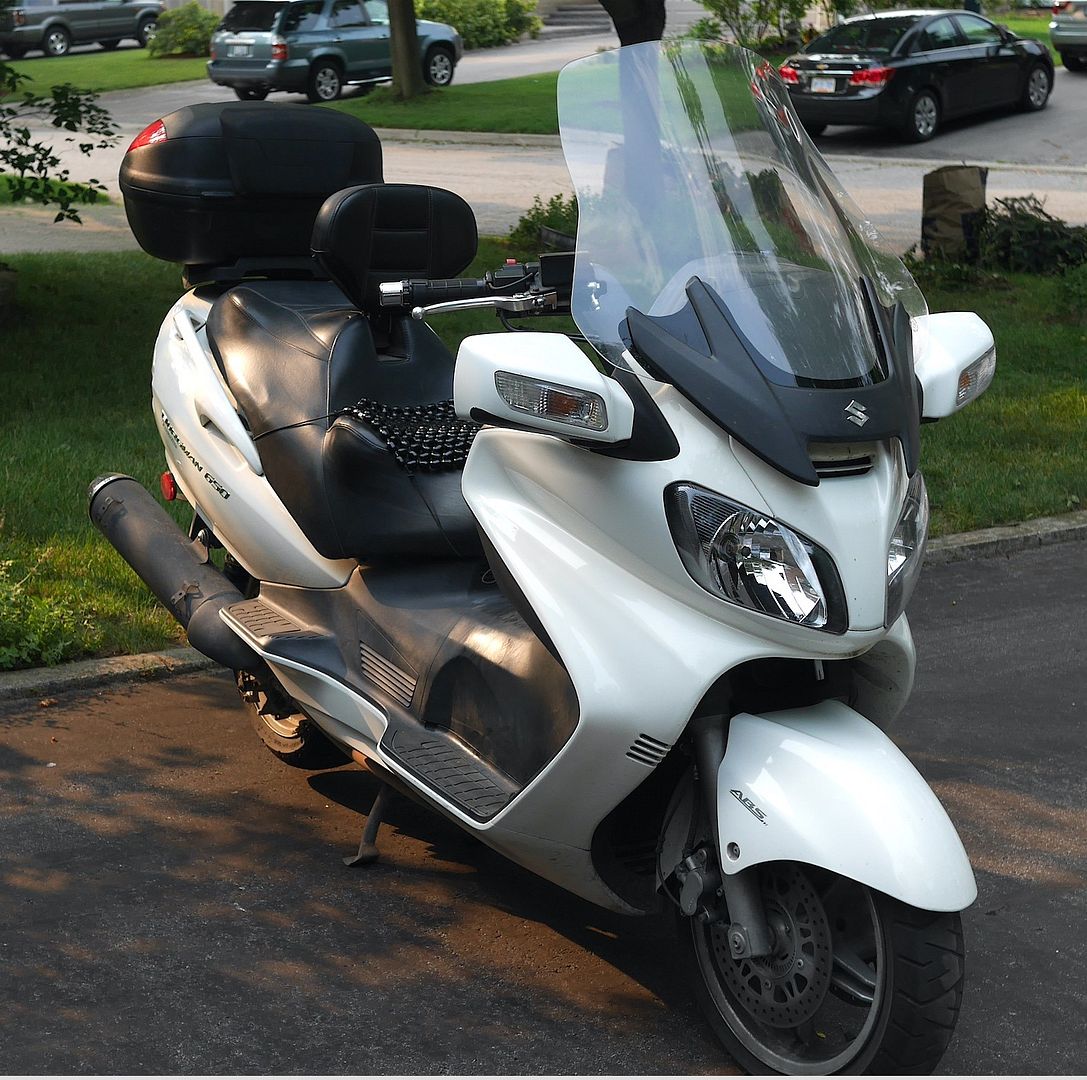 For city - local rides ....the 400 might be better
Ask here
Suzuki Burgman Forum
---
Ontario Canada rider staying in Cairns Australian Feb to May & Aug-Oct each year
Australia> 04 KLR650 • 93 ST1100 sold • Canada >• 10 Wee ABS • 2009 CBF1000 • 09 Burgman Exec sold • 10 NT700v sold
Travel photos>
https://500px.com/macdoc/galleries
Ok, selling my K7 Wee. Need the money for a bigger bike more suitable for touring two up with two larger individuals plus luggage. Would not want to sell if I only rode solo
but wife has developed a taste for riding.
Asking $5K (AUD)
Pickup only, will not ship.
Red K7 DL650.
October rego (NSW)
72,000Km (just changed oil K&N filter and Motul 5100)
Staintune pipe (with compliance plate, 'citizen bung' installed)
Oxford heated grips
Protaper SE ATV High bars
Braided Stainless brake lines (red sleeved)
Anakee III tyres front and rear (worn)
Chain and Sprockets all replaced 20,000Km ago
Tutoro Auto chain oiler (fitted before chain replaced)
K&N Air filter (with recharge kit, cleaned and re-oiled at 72,000Km service)
Starter switch headlight bypass (removable, heavy wiring, my own build)
Dimple magnetic sump plug (plus a couple of spare crush washers if I can find them, original plug available if you want it, going in bin if you don't)
Mesh radiator guard
For full asking price comes with:
Pilot Road 4 Trail front tyre (under 1000Km on it, removed as they're crap in mud but magic on the tar)
Complete original exhaust system
Original Bars (replaced due to my weird wrists)
Strike Genius GPS with FM headset (missing headset charger, never had it, Maps updated Feb '15)
Healtech ECU cable (software free download from their web site, can burn to CD if you want)
Remainder of Motul 5100 oil in bottle (I won't need it)
Givi Flow top box and mounts
Givi Monokey panniers and racks
"Tool tube" with folding stool inside (not mounted)
https://www.dropbox.com/s/j12bqd147t...32015.jpg?dl=0
https://www.dropbox.com/s/e3dyuomn12...32048.jpg?dl=0
https://www.dropbox.com/s/0t1vhy4j72...32100.jpg?dl=0
https://www.dropbox.com/s/c4ixkc8pe3...32032.jpg?dl=0
https://www.dropbox.com/s/c4ixkc8pe3...32032.jpg?dl=0
---
"I've recently come to the realization that true happiness can often be found at the bottom of an empty gas tank" - Prime
Stromthusiast!
Join Date: Aug 2015
Location: Alstonville NSW Australia
Posts: 650
Good to see another pillion on the forum
good luck with the sale
Quote:
FOR SALE....GIVI 2 piece Air flow screen suit V1000ABS (current model) Good used condition. Can ship by post if required at buyers cost. Photo available. Screen is in Brisbane. $120.
Still sitting in the cupboard.
---
old bikers never die....they just smell like it.

2014..V1000 with bling.
---
Last edited by beagle; 05-04-2016 at

03:31 AM

.
Bike For sale
---
2011 650 V-Strom
25000 km
Coffs Harbour
Price $6400 ono
contact Alan 0424399122


Excellent condition with full service history,mechanic's details available if you wish.
Many extras including B&B Bashplate, Radguard, heated grips, taller touring screen from Screens For Bikes, Garmin GPS mount hardwired ,SW Motech pannier mounting system with hard cases.
Has a brand new front tyre fitted Mitchelin Annakee 111.
Great touring bike or weekday commuter.
6 months rego
---
Life is too short to ride shit bikes.
So does anyone want to sell a scotts damper?
My K7 Wee is still for sale
Willing to sell most accessories/spares separately. Still pick up only unless buyer wants to risk postage/insurance as I'll take no responsibility for freight damage.
---
"I've recently come to the realization that true happiness can often be found at the bottom of an empty gas tank" - Prime